Amar'e Stoudemire's Punch Will KO His New York Knicks Career
May 2, 2012

Marc Serota/Getty Images
The damage inflicted upon Amar'e Stoudemire's reputation on Monday night will long outlast what he did to his hand.
It may not have been the most premeditated of actions, but it was certainly a costly and foolish one. And as much as it will cost his fellow Knicks, it could cost Stoudemire even more.
If the New York Knicks find a way to unload their once-promising star acquisition, it won't be because of this one misstep alone. Based on basketball considerations alone, there was already a good case to be made for making Stoudemire a sixth man.
The once-explosive power forward hasn't lived up to the promise he exuded in his first year with New York, and there's no longer much doubt that he's a bad fit alongside Carmelo Anthony.
To be sure, his lackluster defense and declining productivity may have been inevitable with or without Anthony around. Injury and family tragedy have piled on to an already-difficult season in which Stoudemire also lost the coach he came to know so well with the Phoenix Suns.
We should also remember something about which New York was oblivious when it committed five years and $100 million to Stoudemire.
His success over the years was built upon superior athleticism and a sometimes-consistent mid-range jumper. The jumper will remain a valuable asset, and the explosive ability will show glimmers of a return from time to time.
But this isn't Tim Duncan or Kevin Garnett we're talking about here.
Stoudemire has never been an elite rebounder, and his defense is neither fundamentally sound nor aggressive. There's a reason the Suns weren't willing to invest so much in this guy—they knew his best days were behind him, and overrated at that.
Amar'e will turn 30 this year, and that's bad news for a franchise on the hook for three more contract years.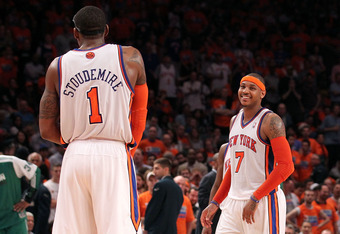 Nick Laham/Getty Images
It's hard to imagine many other teams wanting anything to do with that kind of money, even if it were remotely worth it.
Still, teams looking to turn around years' worth of losing might be tempted by the prospect of anyone resembling a dynamic scorer. Teams might also be willing to bet that Stoudemire would benefit from a change of scenery.
The Knicks almost certainly wouldn't get equal value in return for Stoudemire, but he should have enough salvage value to at least generate a decent draft pick or two, some cap relief and perhaps a serviceable starter.
As tempting as it may be to give Stoudemire and Anthony another shot at finding the right chemistry, it's in New York's interest to make changes sooner rather than later. If this roster needs to go in a different direction, it would be nice to have an entire offseason to get any new pieces on the same page.
This team has already been through more than enough changes—it may take one more to get this mix just right, though.