Stanley Cup Playoffs 2012: Coyotes Not Concerned with Predators' Issues
May 2, 2012

Christian Petersen/Getty Images
Regarding yhe absence of Predators' Alexander Radulov and Andrei Kostitsyn from Game 3, the Coyotes could not care less.
Focused on the task at hand, Phoenix looks to put a strangle-hold on Nashville, and hopes to split the upcoming two games in Bridgestone Arena.
If that happens, the Coyotes skate back to the desert with a commanding lead in this Western Conference semifinal round and an opportunity, should they close out Nashville, to play for the conference championship.
When news broke that Radulov and Kostitsyn were banned from Game 3 for breaking a team curfew prior to the second game in Glendale, the immediate response was the effect, or lack thereof, to the Predators' scoring punch. To date, the pair has accounted for only four goals in Nashville's seven playoff games this spring.
For his part, Radulov has essentially disappeared in the Phoenix series while Kostitsyn has been more of a force. Still, their absence should have more of a psychological affect than lack of a physical presence.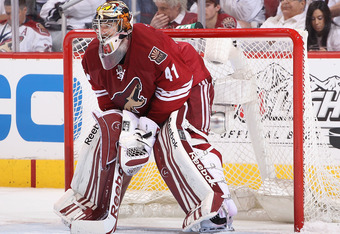 Christian Petersen/Getty Images
"What their lineup is remains inconsequential to us," said Phoenix coach Dave Tippett. "We've got to concentrate on the things that we have to do to that we think would improve in our game. Game 2 was obviously a better game than Game 1 for us, but we feel like there's still upside in our game. There's some things, we were able to get to the net and score some goals but there's still some issues."
Coming into the Bridgestone Arena, the Coyotes are 2-0 this season, and spoiled the Predators' home opener with a 5-2 win last Oct. 13. That seems ages ago, and Nashville will likely hit the ice in Game 3 with a vengeance.
Not only are the Predators hoping to climb back in this series, but the club, collectively, will try and put the Radulov-Kostitsyn affair in the rear view mirror.
"It's everyone out there," said Nashville captain Shea Weber. "People are pointing the finger at the two guys who are sitting out—that it's their fault. Maybe they broke the rules, but it's everyone in here's play that's cost us two games. Our performance out there hasn't been what it should be and it's everyone."
If Nashville is to get back in this series, they need to be more aggressive from the start.
In the previous two games, the Coyotes were able to jump out to leads, and while the Predators were able to catch up with Martin Erat's power-play goal in the third period to send Game 1 into overtime, they had no answer in Game 2.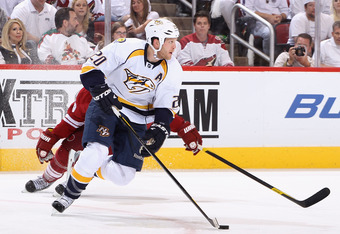 Christian Petersen/Getty Images
Here, the Coyotes were able to manufacture two-goal leads three times, and held off Nashville to win by that two-goal margin in Game Two.
Clearly, the Coyotes realize Nashville net minder Pekka Rinne will much better at home than the nine goals he allowed in the desert. And Phoenix says it is prepared to meet that challenge.
"Obviously, it's nice to be up two games, but (there's) a lot of hockey left to be played," said Coyotes goalie Mike Smith. "We had done some good things the last game, I think we were happy with the way we came out and established our forecheck and played more to the identity of our team. So we've got to build on that."
Throughout the playoffs, the Coyotes continue to receive strong scoring from their third and fourth lines. One key player is Antoine Vermette, who has chipped in with five goals and three assists for seven points in the Coyotes' eight playoff games.
"He's really solidified our forward lines," Tippett said of Vermette's play. "When you bring a guy in that can play in as many situations as he does; good center man, good faceoff guy, plays both sides of special teams, just a good all-around two-way player, as well as a good person."
The Coyotes had their eye on Vermette for some time, and just before the trade deadline in late February, general manager Don Maloney pulled the trigger and made the deal with Columbus to acquire the 29-year-old native of St. Agapit, Quebec.
"(Maloney) watched him a lot before we got him and thought he would be a great fit on our team, and he has been," Tippett added. "He's a guy that's obviously getting rewarded for goals and points in the playoffs, but has been a steady player for us since he came. Like I said, he really solidified our forward lines."
Game 4 in this series is slated for Nashville on Friday night (NBCSN). Should a fifth game be necessary, it is scheduled for next Monday night at Jobing.com Arena, 7 p.m. local time and 10 p.m. Eastern (NBCSN).
Game 6 (if necessary) is in Nashville is next Wednesday (May 9th) and a seventh game (if necessary) would be played at Jobing.com Arena on Friday May 11th.