Orson Charles Could Be the Cincinnati Bengals' Biggest Impact Rookie in 2012
May 2, 2012

Scott Cunningham/Getty Images
The Cincinnati Bengals had a critically-acclaimed draft class when the dust settled on the 2012 NFL draft.
With such a solid crop, it could be hard to guess which rookie could have the biggest impact on the upcoming season.
The Bengals managed to hit the majority of their major needs while finding great value at each selection. Cinicinatti was also able to use their fourth-round pick to upgrade the tight end position, despite it not being a massive area of need.
And what an upgrade it was. The Bengals selected former Georgia tight end Orson Charles with 116th overall. Charles is a physically dominant player, standing at 6'3" and 250lbs.
Charles was originally slated as a high second-round selection before seeing his stock take a major hit when he was arrested for DUI in March.
This isn't your typical late-round Bengals gamble on a prospect with character issues. In fact, it's the exact opposite. Before the arrest, Charles was considered one of the prospects without any issues at all. This one incident is something the 21-year-old appears to have learned from:
I can only pray that you all will forgive me. Thank you for all of your support

— Orson Charles (@O_Charles80) March 17, 2012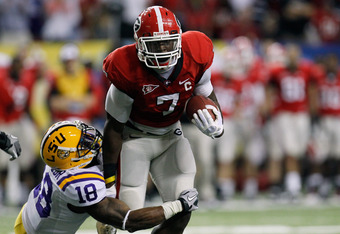 Kevin C. Cox/Getty Images
it willnever happen again. Im sorry for the embarrassment I put my family , Georgia fans and my God through

— Orson Charles (@O_Charles80) March 17, 2012
Twitter fam, I would like to sincerely apologize for my actions. I accept full responsibility for themistake I made this past week

— Orson Charles (@O_Charles80) March 17, 2012
Despite this one blemish on Charles' record, he has consistently been an All-Academic SEC athlete, won Offensive Coaches Leadership Awards and was voted a team captain throughout his tenure at Georgia.
On the field, Charles was unstoppable in college despite having spotty quarterback play. Last season alone, Charles caught 45 passes for 574 yards and five touchdowns. He's got sure hands and can make the adjustment to any pass thrown his way. Charles is a serious threat in the red-zone.
What may have sold the Bengals completely on Charles is his excellent blocking skills. He's ridiculously strong and aggressive in the running game. At the scouting combine he led all tight ends in the bench press drill with a jaw-dropping 35 reps.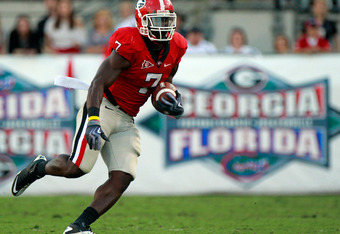 Sam Greenwood/Getty Images
This natural strength is something that will likely see Charles rocket up the depth chart over other players like Donald Lee and Colin Cochart. In the AFC North, having a mauler blocker at the tight end position is something of a major advantage.
Of course, Charles won't beat out Jermaine Gresham for No. 1 on the depth chart at the position. But that's why he'll be the biggest impact rookie of the class this season.
Charles is a perfect complement to Gresham in the passing game. Teams are going to be concerned with stopping Gresham and wide receiver A.J. Green, which will free up Charles for a plethora of reception opportunities in Jay Gruden's West Coast Offense.
As teams realize Charles is a threat, they'll have to shift some of the focus to him, which will free up others in turn. The fact that Charles can stay in and block or sneak out to catch passes just like Gresham is something that only adds another dimension to the quickly evolving offense.
Other candidates outside of Charles to have the biggest rookie impact next season are players like corner Dre Kirkpatrick, guard Kevin Zeitler and receivers Marvin Jones and Mohamed Sanu.
However, Kirkpatrick may not see as many snaps as the other veteran corners on the roster. Jones and Sanu will be taking snaps away from each other, limiting their production. Finally, Zeitler will see all the starting snaps at right guard, but it's hard to quantify his overall impact.
Charles, on the other hand, will likely have solid numbers in the passing game. He'll also open up opportunities for those around him. As long as he works hard and proves he belongs, Charles will likely be the second tight end on the depth chart.
The Bengals appear to be looking up to the New England Patriots with the Charles pick. The two tight end sets the Patriots run with Aaron Hernandez and Rob Gronkowski have terrorized the league consistently. Now the Bengals may have a formidable duo of their own in Gresham and Charles.
It's a good sign for an NFL franchise when it consistently finds impact rookies with fourth round selections. The Bengals did it two years ago with defensive tackle Geno Atkins and could have done it again this year.
While Charles wasn't the biggest name drafted by Cincinnati and wasn't interviewed immediately after he was drafted, he could be the biggest rookie difference-maker for the Bengals this upcoming season.