Dwight Howard Trade Rumors: Magic Must Stop Trying to Appease D12
May 1, 2012

Chris Trotman/Getty Images
Dwight Howard clearly wants out of Orlando and he's dragging the Magic organization down, so why continue wooing him?
Last week, Stephen A. Smith of ESPN reported (via iamgm.com) that Howard will ask for a trade out of Orlando this summer.
But still, the organization is basically on its knees begging Howard to stay.
Despite the Magic being in the playoffs right now, general manager Otis Smith is flying to Los Angeles today to see how Howard is doing and how his back is feeling. He may as well give him a back massage while he's at it.
Smith said, via the Orlando Sentinel:
I've got one of them that's not with the team, that you want to have with the team that's injured, that's down. So you've got to go see him. You've got to pep him up a little bit and tell him he's doing the right thing by his body. He can't travel and he can't do much. His doctor's orders and pretty much our orders are to get his back right. He can't do anything for anybody at this point in time, so he has to get right.
Ah, that's nice, Smith just wants to "pep him up a little bit."
I can see the conversation going something like this:
Smith: Hey Dwight, brought you some flowers and some balloons.

Howard: Not interested.

Smith: OK, I'll just set them over here...so...how's your back feeling? Can't wait until you are better, then we can go out there and win a championship!

Howard: Not interested.

Smith: Oh, don't you worry, Dwight. We are going to surround you with a lot of high-end players next season. Just because they are aging and not as good as they used to be doesn't mean we can't win a title! You know, Hedo Turkoglu, Jason Richardson, players like that.

Howard: Not interested. Take the flowers and balloons back and bring in a star and then I will consider it.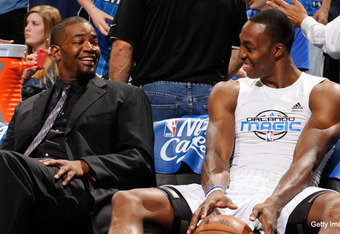 It really has gotten out of hand in Orlando. It's almost become pathetic. This is worse than the usual analogy of crying over a breakup. This is like crying over a breakup, finding them on Facebook again after being deleted from their friends list and asking them to be your Facebook friend again. It's stooping to a new low.
Howard doesn't care about the Magic, so the Magic shouldn't care about him. It's a lost cause trying to make good. They've had their chance and they've failed to appease the Great Dwight Howard. Move on and get back to being a reputable organization.
You will probably lose this playoff series to the Indiana Pacers, but it's not the end of the world. Nor is losing Howard. It's time to look at a new, bright horizon, where superstars don't keep you in the dark.
Follow me on Twitter. We can talk about the NBA together.