Green Bay Packers 2012 NFL Draft: Dealing for Defense
April 29, 2012

Kevin C. Cox/Getty Images
Leading up to the 2012 NFL draft, I had a feeling that Ted Thompson was going to be aggressive during the draft. I mentioned that a number of times in stories I had done leading up to the draft as a matter of fact.
Thompson definitely exceeded my expectations, as he traded up three times to select players he saw as great fits for the Packers. Before this draft, Thompson had traded up three times...total...in the seven years he had conducted the draft for the Packers.
Most notable was the trade up he made in 2009, when he traded away three draft choices to move up and select OLB Clay Matthews. Thompson traded up in three straight drafts from 2008-2010. Before those years, he had never traded up in his first three years running the draft for the Packers.
Bottom line: I expected to see Thompson as being aggressive in this draft, knowing that the Packers had so many holes to fill on a defense that ranked 32nd in the NFL in 2011. Still, even with that, the team finished 15-1 in the 2011 regular season.
Why? The prolific production by an offense led by QB Aaron Rodgers, the 2011 NFL MVP. But the defense became exposed again in the divisional playoff game against the New York Giants, in which the Packers lost to the eventual Super Bowl XLVI champions.
Thompson knew he had to improve the personnel that defensive coordinator Dom Capers would be able to utilize each game in 2012. Before last year, Capers had fielded two top-five defenses in 2009 (second) and 2010 (fifth) in the three years he has been the coaching leader of the Green Bay defense.
Thompson knew that going into this draft. Give Capers some talent and he will deliver a very good defense.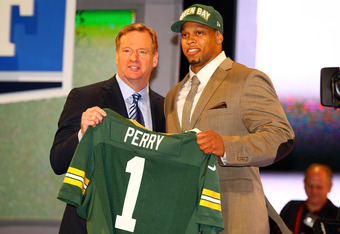 Al Bello/Getty Images
Thompson was rather patient in the first round Thursday night, when he waited and saw that a few defensive options were falling his way at the No. 28 pick. Thompson was more than happy to select OLB Nick Perry with the 28th pick of the draft.
Perry by himself will help the Packers pass rush in 2012. 
When the second and third rounds of the draft took place on Friday night, Thompson became Trader Ted...twice. First he traded his second-round (No. 59) and fourth-round (No. 123) picks to the Philadelphia Eagles to move up to the 51st pick of the draft.
Thompson saw a run on defensive linemen coming after he saw the San Diego Chargers select DL Kendall Reyes with the 49th pick of the draft. He immediately traded up and selected DL Jerel Worthy.
Then a short time later, Thompson once again threw away caution and traded up yet again. He traded his third-round (No. 90) and fifth-round (No. 163) picks to the New England Patriots to move up to the 62nd pick of the draft.
There he drafted Casey Hayward, a ball hawking CB from Vanderbilt.
Both of those selections will also enhance the defensive capabilities for the Packers in 2012 and beyond. 
As the third and final day of the 2012 NFL draft proved on Saturday, Thompson wasn't done trading either. But first he surprised some folks with his two selections of the fourth round, both of which were compensatory picks.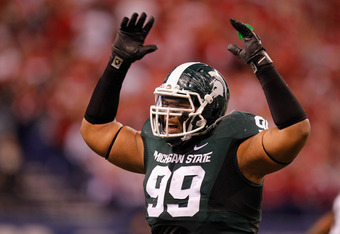 Gregory Shamus/Getty Images
Thompson picked DL Mike Daniels out of Iowa and then S Jerron McMillian out of Maine. I'm sure some folks were scrambling to find out information about these players.
Daniels is a bit undersized (6'0", 291 lbs), but is very explosive and quick for his size. I've heard some compare Daniels to Warren Sapp in that regard. He has proven to be quite the athlete, as he has run the 40 in 4.86, has a vertical jump of 36.5 inches and a broad jump of 10'4".
I have heard a number of people question Daniels' fit in the 3-4 scheme that Capers uses. First, because of the way the NFL has evolved into a pass-happy league offensively, the defenses have had to adjust. The Packers rarely play their standard 3-4 defense.
Most times the defense is in the nickel look, where an extra defensive back is used. Coordinators like Capers also use a number of sub-packages, in which players like Daniels and newly acquired free agent Anthony Hargrove would be used on passing downs in the defensive front, where as players like Ryan Pickett would be utilized on early or rushing downs.
Daniels had 15.5 sacks in his career at Iowa, including nine his senior year. Daniels also had 27 tackles for losses as a Hawkeye defender as well.
McMillian is very similar to Nick Collins, as he doesn't come from a big time college football program. Be honest here, how many people ever heard of Nick Collins in 2005, when Thompson selected him out of Bethune-Cookman (FL)? Not many, I can assure you.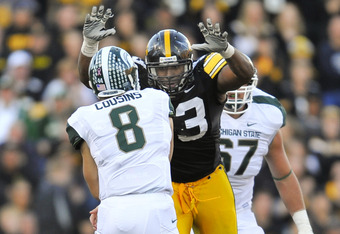 David Purdy/Getty Images
McMillian impressed the Packers with not only his play on the field, but also at his Pro Day, when he ran a 4.36 40-yard dash. McMillian was considered to be a tackling machine, as he had 229 tackles, nine interceptions, 13 passes defensed and 5.5 sacks in his career at Maine.
After the selections of Daniels and McMillian, Thompson let his silver hair down again and traded up again to get a selection in the fifth round, which he had originally traded away. Thompson traded a sixth-round pick (No. 197) and two seventh-round picks (Nos. 224 and 235) to the New England Patriots to get the 163rd pick of the draft. Ironically, Thompson also traded that pick to the Pats when he moved up to select Hayward in the second round.
In the fifth round, Thompson selected LB Terrell Manning out of North Carolina State. Manning was considered by many to be a third or fourth-round value and that is why Thompson once again pulled the trigger to nab the former Wolfpack linebacker.
Manning had left college as a junior, but his last two years showed some real ability. He had 151 tackles, including 25 tackles for losses, 10 sacks and four interceptions. Right now it looks like the Packers will plug in Manning at ILB. Manning looks pretty good in pass coverage, which was an issue last year with the ILB's of the Packers.
With all the trading up Thompson had done, that left the Packers with only two compensatory picks in the seventh round. Thompson decided to throw a bone to the Packers offense, when he selected OT Andrew Datko out of Florida State and QB B.J. Coleman out of Tennessee-Chattanooga.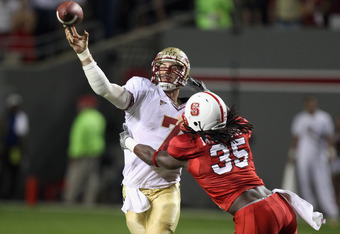 Streeter Lecka/Getty Images
Datko has a ton of ability and was a four-year starter with the Seminoles. Shoulder problems caused him to slip down the draft board, but has been cleared medically to play. Datko played LT at FSU, but can also play RT.
In Coleman, the Packers drafted a QB who is bit high-strung, but who also has a strong arm and excellent work ethic, plus looked very good at the East-West Shrine game.
Thompson talked about his unusual behavior in this draft. "It's horrible," Thompson joked about his riverboat gambler-type performance in this draft. "I felt about as ashamed—I'm not my father's son anymore, because my father's very frugal. It's pathetic. But in this case, I felt like it was appropriate.
"I felt like we had a good, solid team, and I felt like, where we felt like we were getting quality, we should try to do it. So we made three trades up."
Head coach Mike McCarthy isn't complaining. "The ability to get more athletic and the ability to have more pass rush from both the inside and outside players on the defense was a focus," coach McCarthy said. "That's reflected in the people we've acquired."
Capers isn't complaining either. Capers also knows that the flow of the game has changed in the NFL. "We opened with the New Orleans Saints out here (last year)," Capers said. "We did not play one snap of our base defense because of the style of play they play. They're always looking for matchups.
Matt Ludtke/Getty Images
"The game has changed."
The game certainly has changed. So has Thompson's approach to the draft. That was pretty obvious with the three aggressive trade up moves made by the usually conservative Thompson.
Time will tell whether this draft will be the defining moment of whether the Packers can win their fifth Super Bowl trophy and their 14th overall NFL championship in the near future.
I for one, think it will be a defining moment that will indeed lead to another championship.