New England Patriots 2012 Draft: No Trading Down This Time
April 27, 2012

Win McNamee/Getty Images
It's a beautiful day in Patriots Nation! You know why? It's because Bill Belichick correctly realized he needed to suspend his usual modus operandi for this year. The "trade down for value" system does not really apply to the 2012 Patriots.
A sense of urgency needs to be developed in Foxborough. Over the past three years, it made sense to trade down and accumulate extra picks, but not anymore. The team's roster is thin because of the team's '06-'08 draft slump.
Holes are all over the depth chart. What's the best way to plug those holes? Use extra picks on inexpensive talent they can groom themselves.
The tables have turned. Trading down and out is no longer the wise move. Mr. Bundchen is turning 35 in August. He's not going to play forever. Besides, the team did an excellent job filling the holes on the depth chart through free agency.
Nothing is sweeter than seeing your favorite team get back to the defensive philosophy that made it so successful. Why did the Patriots have such an unreal run of success over 11 seasons? One of the reasons is because they spent their high picks on impact defensive linemen like Richard Seymour, Ty Warren and Vince Wilfork.
Over the past 12 years, Bill Belichick has shown that he has a fantastic eye for first-round talent. Trading up can be smart if you get the right guy. All throughout last night I kept saying, whatever you do, please don't trade down for extra picks in the lower rounds.
Why? If there has been any area in which you could criticize the Patriots, it's their judgment when it comes to the second- and third-round picks they have made.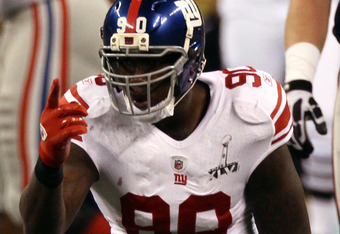 Win McNamee/Getty Images
In the past, Belichick was right to spend resources on guys who can cover, but defensive linemen should be a higher priority. In fact, in the modern-day NFL, I say defensive linemen should be priority No. 1, with linebackers No. 2 and corners No.3.
Let's take a look at the 2011 New York Giants. Were there flaws on their defense? Definitely. Did their fearsome defensive line cover up those flaws and lead them to a Super Bowl title? Yes they did.
Every year when the draft rolls around, I think back to when Bill Parcells lost his power struggle with  Terry Glenn. At his outgoing press conference, he uttered his famous quote. "They want you to cook the dinner, at least they ought to let you shop for some of the groceries."
The wit of Mr. Duane Charles Parcells makes me wonder...if the NFL draft were a grocery store, what would I shop for? Here is what I hope the Patriots get with their remaining two picks. If the team addresses any of these areas I'll be thrilled.  
Defensive End: Spend one more high pick on a QB-crushing defensive lineman who can also stuff the run. Andre Carter has played 11 NFL seasons. Who knows how much longer he'll play? In retrospect, the team hasn't really replaced Seymour since they shipped him to Oakland. Wilfork needs another guy to strike fear in the minds of opposing quarterbacks.
Bottom line is, how many times were the Patriots unable to get off the field because the competition had all day to complete a pass? Way too many to count.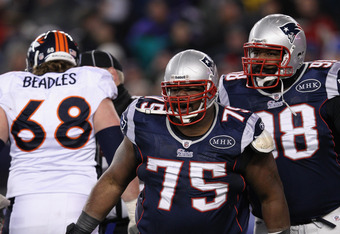 Elsa/Getty Images
Defensive Tackle:  Wilfork is money in the bank, but he needs help. It would be nice to grab another defensive tackle as insurance if (God forbid) Wilfork were to get hurt. Regardless of what system they play, it would be smart to try to grab another one.
Albert Haynesworth was a misfire and Ron Brace hasn't played much in three years. All I want is one more guy who is quick off the ball, can overpower guards and force QBs to throw bad passes.
Offensive Tackle: Matt Light is going to retire. Tom Brady will have peace of mind because Nate Solder will protect his blind side. Sebastian Vollmer has had some serious injuries. In three years, he has played in 36 of 48 regular-season games.
Marcus Cannon is versatile, but you have to figure he'll play one of the guard spots in 2012. Logan Mankins is gone for the year with an ACL tear and we don't know for sure if Brian Waters will be back. Robert Gallery is a quality starter, but the cupboard is bare after that.
Safety: This is pretty basic. Grab another safety who can take good angles, cover skill players, force turnovers and work well with Pat Chung.
Cornerback: One more pick addressing the corner position would be superb. Devin McCourty was great in 2010 but not very good last year. If he becomes a safety I'll understand. But we'll need to reload at corner.
Ras-I Dowling has talent, but I don't trust that he'll stay healthy. Kyle Arrington looks like a fine starter. Sterling Moore made some plays in the playoffs and I'm confident he'll get better. Even Julian Edelman looked like a nice little two-way player. Nevertheless, it looks like they'll need at least one more cover guy.
Normally, a Super Bowl loss can derail a franchise, but the Patriots are in a good position to stave off that trend. The quarterback, wide receiver, running back, kicker, punter and tight end spots are in good shape, and there is some talent on defense. All they need is a couple of impact guys there.
Once they get that, I think we'll finally see Brady hoist his fourth Vince Lombardi Trophy after two soul-crushing misses.