Detroit Lions 2012 Mock Draft: One Last 7-Round Mock for Draft Week
April 23, 2012
Streeter Lecka/Getty Images
The Detroit Lions seem poised to trade down in the 2012 NFL draft as Martin Mayhew has gained a reputation as a wheeler and dealer on draft day.
In Peter King's most recent mock draft, he speculated that the Lions could trade down with the Baltimore Ravens and select Amini Silatolu (OG Midwestern State). For the purposes of this seven-round mock, we will be using the same trade partner, but selecting a different player for the Lions.
1.29 (From Baltimore)—Andre Branch (DE Clemson)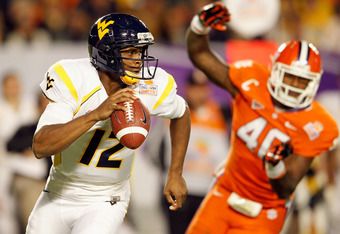 Mike Ehrmann/Getty Images
The more mock drafts one does, the clearer it becomes that the first-round pick will not be a "need" position for the Lions. Instead, like every other year, Mayhew will select the best available player the team can use over a lesser player the Lions might need more.
Think about it. The Lions did not need a TE in 2009, a RB in 2010 or a DT in 2011, but they came out of those drafts with Brandon Pettigrew, Jahvid Best and Nick Fairley. Just about everyone argued that the Lions needed an offensive tackle more in 2010 than a defensive tackle as well, but Ndamukong Suh was the second-best player in the draft.
Branch isn't a pure luxury pick, though. With Kyle Vanden Bosch's age and Cliff Avril's contract status, the Lions defense cannot afford anything less than elite pass-rushers backing them up. The only reason Branch will fall in the draft is his lack of size, which won't be a problem in the Lions' wide nine defense.
2.22—Brandon Brooks (OG Miami-Ohio)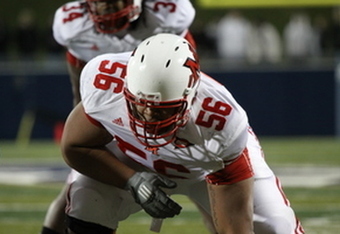 Looking at Brooks, he appears to be lean for an offensive lineman and one might estimate he's an undersized 6'4", 315 or so. Actually, Brooks is an amazingly compact 346 lbs and both lifts and plays like he is all muscle.
While he played at Miami (Ohio) and wasn't invited to the combine, the Lions have had Brooks in for a private workout and likely saw this video of Brooks dominating a positional coach at his pro day which was well attended.
Brooks would immediately challenge Stephen Peterman for the right guard position and would be a near lock to start there by 2013. 
3.23—Josh Norman (CB Coastal Carolina)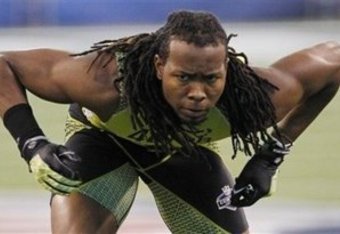 After a tremendous week of practice before the East-West Shrine Game, it was clear that Norman was a top-100 pick. With skill in both man-press and zone coverage, Norman would fit in a variety of defensive systems and has elite ball skills for a player out of a small school.
Reportedly, some teams have been put off by character concerns, but it is difficult to decipher if his problems go past the normal swagger scouts would expect out of an NFL cornerback.  So, honestly, Norman could go higher than this, but if he's available, he won't get past this pick for the Lions where he would immediately step into the No. 2 cornerback position.
3.29 (From Baltimore)—Rishard Matthews (WR Nevada)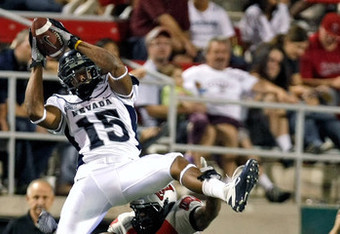 When Scott Linehan got to Detroit, he consistently lobbied coaches and scouts to find him a player, "like Nate Burleson." Then, in the second year he was there, they went out and got Burleson himself. He responded by being the Lions' clear-cut No. 2 receiver and a valuable leader in the locker room.
The problem is, Burleson just eclipsed the 30-year-old mark and may be losing his No. 2 wide receiver status to last year's rookie standout, Titus Young. Young, however, has a completely different skill set as Burleson and the Lions can't afford to suffer any hiccups on the offensive side of the ball. 
Matthews, like Burleson, is tough and compactly built and even went to the same school. Most importantly, he's quick and runs polished routes the can give inside cornerbacks fits. He'll start as the fourth receiver in Detroit, but expect him to mature into a great slot receiver just as Burleson starts slowing down.
4.22—Leonard Johnson (CB Iowa State)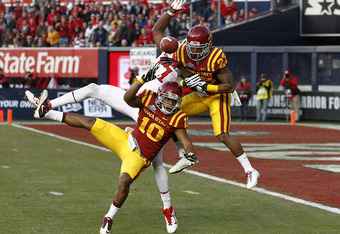 Jeff Zelevansky/Getty Images
Johnson is a little smaller-than-ideal for a cornerback at just under 5'10" and 197. So for the Lions, he likely projects as a guy who plays mostly in subpackages. However, with Alphonso Smith likely out the door, Johnson is much-needed depth at a position the Lions have been decimated at in recent years.
He's tough, physical and a willing tackler—all traits that the Lions look for in their cornerbacks. He also has ability as a special team's returner and could conceivably take over for Stefan Logan, whose roster spot isn't as solidified as in year's past.
5.23—Travis Lewis (LB Oklahoma)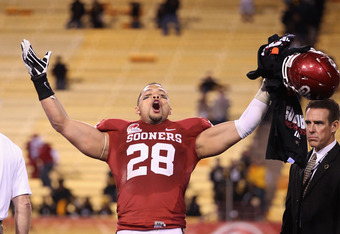 Christian Petersen/Getty Images
Once upon a time, it looked like Lewis might be a first-rounder, but a disappointing senior season and limited athleticism leaves him clearly as a mid-to-late-round pick. That said, there's a lot to like about Lewis, especially for a 4-3 team that has talented linemen in front of him.
Lewis doesn't shed blockers well, but is a sideline-to-sideline chase tackler who can clean up a lot of rushing plays that get through the Lions defensive line (and let's face it, a lot of running plays do).
In 2013, both DeAndre Levy and Justin Durant are free agents and Lewis and Doug Houge could fight for those spots. In the meantime, Lewis projects to be a solid special teams player and wouldn't kill the Lions in spot starts or subpackages.
7.12—Case Keenum (QB Houston)
Ronald Martinez/Getty Images
When Drew Stanton left for the New York Jets (and then the Indianapolis Colts), the Lions committed to finding another developmental quarterback in 2012. While they may wait until undrafted free agency or even camp cuts, this draft is rife with late-round quarterback talent.
Keenum is maxed out physically and has as much injury history as anyone possibly could and still get drafted. Yet, when healthy, he was able to lead Houston to heights few people thought possible.
While he doesn't project as a long-term starter at the next level, Keenum should mature into a solid backup quarterback who's able to run the scout team and not kill a team when forced into a spot start.
7.23—Kevin Murphy (OT Harvard)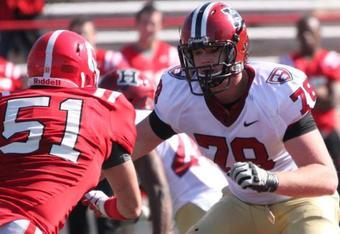 A lot of media scouts loved the pick of Johnny Culbreath in the seventh round of the 2011 NFL draft and some even thought he could project as a potential starter down the road. Culbreath killed a lot of that good will by spending 2011 on IR with an unspecified illness and then recently being arrested on marijuana possession charges.  
Murphy, hailing from the Ivy League, may be a little bit safer of a pick than Culbreath and compares favorably to Jeff Backus when he came out of college. Murphy wasn't as strong on the bench as Backus, but plays with a low base and is very athletic.
Murphy would be another long project for the Lions offensive line, but would give the Lions one more body to potentially protect Matthew Stafford's blindside down the road.
Michael Schottey is an NFL Associate Editor for Bleacher Report and an award-winning member of the Pro Football Writers of America. He has professionally covered both the Minnesota Vikings and the Detroit Lions, as well as NFL events like the scouting combine and the Senior Bowl.