Hideki Matsui's 163rd Game: How Godzilla Played in a Game That Never Happened
April 20, 2012

Ezra Shaw/Getty Images
Last Saturday, I was at Yankee Stadium with my father taking in the Yankees' 7-1 loss to C.J. Wilson and the Angels. One staple of between-inning entertainment in the Bronx is the "Yankees Trivia Game," where a fan projected on the scoreboard is asked a multiple-choice question about Yankee history.
That day's question was, "Which Yankee holds the franchise record for most games played in a season, with 163?"
I generally pride myself on getting these questions right, since I probably know a bit too much about Yankee history (for example, I once won Yankee tickets by knowing that Babe Ruth was sold to the Yankees by the Red Sox so the Red Sox's owner could produce the Broadway show "No, No, Nannette" — why would I know that?).
However, on Saturday, I have to confess that I did not know the answer. Instead, I tried to use my powers of deductive reasoning to make an educated guess.
In order to play 163 games in a season, the Yankees would have had to play in a tie-breaking 163rd game, or the player would have to be traded from one team to another mid-season.
Three of the four options, including Matsui, were Yankees who played during my lifetime. The Yankees haven't played a 163rd game since I've been alive, and I knew that none of them were traded in the middle of a season.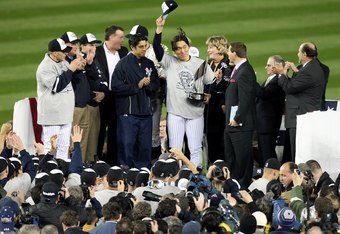 Al Bello/Getty Images
That left Roy White, who I knew was on the 1978 Yankee team that beat the Red Sox in a tiebreaker on Bucky Dent's legendary home run. He had to be the answer; there was no other way!
You'll be as shocked as I was to find out that I was wrong; Hideki Matsui, apparently, holds the Yankee all-time record for playing 163 games for the club in 2003, his rookie year.
How could this be? Matsui spent all of '03 with the Yanks, and they did not play a tiebreaker that year.
My dad and I spent the rest of the day asking ourselves this question, as well as the bartender and a gentleman sitting with us at a bar after the game. I decided it must be a mistake, and that I found a mistake in the Yankee and all-time record books.
But alas, I gave myself a little bit too much credit, and it turns out that Hideki Matsui actually is officially credited with playing in 163 games during the 2003 season for the Yankees, even though the team only played 162 games, going 101-61.
Here's how it happened:
On Sept. 18, 2003, the Yankees were in Baltimore to finish their last road series against Baltimore. Hurricane Isabel was coming, and officials from both teams and Major League Baseball knew it was unlikely the teams would get in a full nine innings, but were hopeful that the teams could get in a five-inning official game that would count in the standings.
The Yankees had not yet clinched a playoff spot, and it was important not to have to play a makeup game after the season since the Bombers were not scheduled to return to Baltimore again.
So, the Yankees and Orioles played five innings before the game had to be called, but there was a problem: the game was tied! It was one to one after five, and the game was called.
The game was an official game; five innings had been played.
But no team was winning, so neither could be credited with a win or a loss. And it would be impossible to resume the game, since the Yankees were not returning to Baltimore.
So, major league officials decided to consider the game a tie, in which players' statistics would count, but the game was to be made up as a new game the next week at Yankee Stadium as part of a doubleheader, since the Orioles still had a three-game series to play in the Bronx.
Matsui played in both the original game and the makeup game, plus 161 others, and hence his baseball card says that he played 163 games for the Yankees in 2003.
I had never heard that a "tie" could be declared, but Matsui is actually not the only player in baseball history who was the beneficiary of this same situation.
For example, Albert Belle was on the White Sox when they "tied" Toronto 5-5 after a game was suspended after six innings in 1998. Belle played every other game that season, and hence played in 163 games.
After carefully pondering the moral, ethical and practical implications of these decisions to allow players to be credited with an extra game played, I feel very uneasy about this.
If neither team won or lost, then the game, for all intents and purposes, didn't happen. Why should a player have a game count for him, but not for his team?
If this had happened in A League of Their Own, Tom Hanks' legendary quote would have been, "There's no tying in baseball!"
What do you think?  Vote in the poll, and feel free to comment with your thoughts.