Shabazz Muhammad to UCLA: High School Star Will Reportedly Select Bruins
April 4, 2012
If Jerry Meyer is correct, Shabazz Muhammad should get used to rocking the Adidas shoes he sported during last week's McDonald's All-American Game.
Meyer, a Rivals.com recruiting analyst, had said during the All-Star game that Muhammad was reportedly leaning toward choosing UCLA.
On Wednesday morning, Meyer reported on his Twitter page that, according to "a couple reliable sources," Shabazz Muhammad has picked UCLA. The other two schools he had been considering were Kentucky and Duke.
He had 21 points on 10-of-18 shooting (1-for-1 from three) during the game itself, displaying a tenacious demeanor rarely seen during All-Star events. Nearly half of his points came by way of sensational acrobatic dunks. 
He also grabbed six rebounds and committed six turnovers during 22 minutes of action at the United Center in Chicago, Ill.
The No. 1-rated player in Rivals' high-school-basketball Class of 2012, Muhammad is scheduled to make his official decision on April 10. He will be able to sign his letter of intent starting April 11.
He has not made an official visit to UCLA but has extensive ties to the area. His father, Ron Holmes, played for USC from 1981 to 1985, and they still have family in the area.
If he does choose UCLA, it would give head coach Ben Howland the top-two players in the 2012 class. (Kyle Anderson, who has already signed his letter of intent, is currently ranked No. 2 by Rivals.)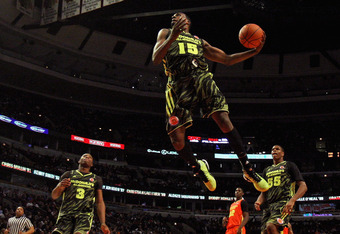 Speaking to the Los Angeles Times, Anderson offered this appraisal of Muhammad.
"He's the perfect example of a slasher," Anderson said, "but he can also go on the perimeter and knock down a three or go inside and make a nice post move."
Muhammad is a proven winner, with three state titles in four seasons playing varsity basketball at Bishop Gorman High in Las Vegas, Nev.
UCLA also has a letter of intent from shooting guard Jordan Adams, who is ranked No. 74 by Rivals. Adams is the first-ever recruit from prestigious Oak Hill Academy (Va.) to come to UCLA.
Howland is also in the mix for center Tony Parker (another McDonald's All-American), who is ranked No. 33 by Rivals.
Muhammad, a 6'6", 225 lb. swingman, has been compared to former UCLA Bruin Arron Afflalo (2004-07) for his relentless work ethic.
Combined with his transcendent talents, that makes for a a player who could certainly lend a (huge)  hand to helping UCLA extricate themselves from a harrowing 2011-12 season in which they battled off-the-court incidents and slumped to a 19-14 record (9-7), missing out on the NCAA tournament for the third time during Howland's tenure (which began in 2003).
Should Muhammad add his name to UCLA's 2012 class, it would shoot the Bruins up in the rankings. They are currently listed at No. 12 in the latest ESPN batch (April 2).
There are worries that Muhammad may encounter some trouble with the NCAA, which is currently investigating potential improper financial benefits during his recruiting. Holmes, Muhammad's father, is pleading innocence in that matter pertaining to a couple of unofficial recruiting visits, saying that everything was "above board."
Should Muhammad be found guilty, Scout.com analyst Greg Hicks has said that, citing precedent in similar cases, the worst punishment would be a suspension of several games next season.