WWE Rumors: John Cena, Undertaker, Brock Lesnar and Thursday's Top WWE News
March 29, 2012

Jacob de Golish/Getty Images
Unlike most things that WWE tries to do, the WrestleMania press conference was a rather subdue affair. All of the major players took the stage to talk for about two minutes before walking to the back. 
While there could have been some big angle run between The Rock and John Cena, they opted to keep it classy. A simple staredown was all that we got. 
Nothing about this article, with all the latest news and notes from WWE, is going to be subdued. We will come at you full force, with a rage the likes of which you have never felt. You're welcome. 
JOHN CENA ALMOST GOT FIRED...A LONG TIME AGO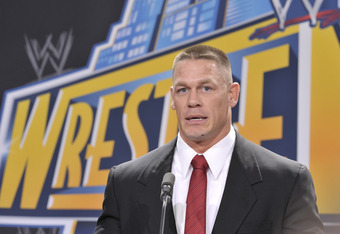 Michael N. Todaro/Getty Images
Look at where John Cena is now, in the main event of WrestleMania against The Rock, and realize that it was so close to not happening. In an interview, Cena was candid about his past in WWE and how close he came to getting fired. 
Question on Everybody's Mind: What does this say about WWE's ability to judge characters?
Our Take: It is pretty telling. Cena found a niche that worked for him and made him a star in the business. WWE tries to give these performers gimmicks that are so cartoony no one can get behind them. 
Hype Meter: 5 out of 5 Fruity Pebbles
While everyone has their own opinion about Cena as a wrestler, he at least gives all of us something to talk about. In a watered-down WWE, he is the best performer they have. Just think what the product would look like without him. 
Deeper Dive
Why John Cena Will Beat The Rock (B/R)
John Cena Interview (Mix Philadelphia)
-------------------------------------------------------
THE UNDERTAKER READY TO KEEP ON STREAKING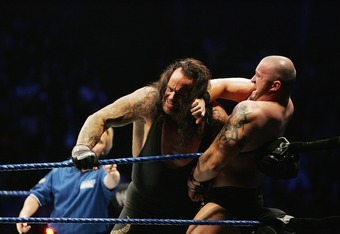 Gaye Gerard/Getty Images
Despite WWE labeling the Hell In a Cell match at this year's WrestleMania "The End of an Era," it turns out that Undertaker might not be ready to ride off into that sweet sunset once he has his hand raised. 
Question on Everybody's Mind: Where does he go from here?
Our Take: The most likely scenario is probably going to be a match with Brock Lesnar at next year's WrestleMania. That has been talked about for the last 18 months, and Lesnar is supposedly itching to get back in the ring for one more match. 
Hype Meter: 5 out of 5 Bald Phenoms
Undertaker has the perfect gimmick to wrestle on one show every year. He comes back from whatever death hole he is in the other 11 months of the year to keep his streak alive, then he goes away again. 
Deeper Dive
Undertaker vs. Triple Will Fail To Match Hype (B/R)
Undertaker's Future (Wrestling Observer)
---------------------------------------------------------
DISGRACED MMA STAR COULD PURSUE WWE CAREER
Muhammad Lawal—aka King Mo—a former Strkeforce fighter who was recently fired after failing a drug test, could be looking to resurrect his career as a WWE superstar. He is an avid wrestling fan, as you can tell if you have ever heard him talk. 
Question on Everybody's Mind: Will WWE take him?
Our Take: As long as he shows an aptitude for wrestling, there is no reason Lawal shouldn't get a chance to work for WWE. Of course, knowing Vince McMahon's feelings about MMA, he would probably be buried as soon as he showed up.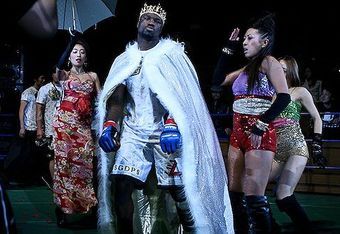 Hype Meter: 4 out of 5 Wrestler/MMA Crossovers
Lawal has an interesting personality with charisma on the microphone, so it wouldn't be that hard to get him over. It would be cool to see how someone like Lawal's MMA skills transferred over to a sport like WWE. 
Deeper Dive
Successful WWE Gimmicks That Never Should Have Worked (B/R)
WWE Looking at King Mo (Wrestling Observer)
--------------------------------------------------------------
ALBERTO DEL RIO SAVED BECAUSE HE'S NOT A COMEDY WRESTLER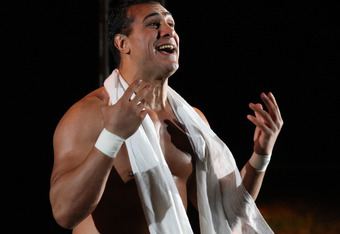 Gallo Images/Getty Images
One of the names often mentioned for the 12-man tag match at WrestleMania was Alberto Del Rio. As everyone knows, WWE kept him off the card entirely. Apparently that happened because WWE sees him as a serious star and doesn't want to subject him to the comedy of this match. 
Question on Everybody's Mind: Did WWE just bury one its own WrestleMania matches?
Our Take: Looking at the t-shirts the match participants were wearing, the fact that John Laurinaitis and Teddy Long are the reasons for this taking place, you can understand why WWE would want to keep the bar low. 
Hype Meter: 4 out of 5 Personal Ring Announcers
Del Rio has been ready to return for a while, so it is alarming that he didn't get a match on this show. That said, WWE deserves to be commended for trying to keep him out of this particular match because they don't like the direction it could send him. 
Deeper Dive
Plans For Alberto Del Rio's Return (B/R)
Why WWE Pulled Del Rio Out of WrestleMania (NoDQ)
--------------------------------------------------------------
Check back for more on the WWE as it comes, and check out Bleacher Report's Wrestling Page to get your fill of the WWE. For more WWE talk, check out Ring Rust Radio for all of the hot topics you just can't miss.