New York Jets: Why Team Will Return to Playoffs in 2012
May 4, 2012

Rob Carr/Getty Images
Beginning with the voicemail Rex Ryan left New York season-ticket holders before the start of last season, the Jets gradually abandoned the identity that had propelled them to consecutive AFC Championship games.
"We're gonna air it out," Ryan told excited fans last August. Yet the Jets remained grounded in 2011, failing to reach postseason heights.
GM Mike Tannenbaum took Damien Woody, Braylon Edwards, and Jerricho Cotchery away from quarterback Mark Sanchez and expected him to improve? Sanchez was left with fewer weapons and a gaping hole where the right tackle should have been.
Combine that with the losses of Shaun Ellis to free agency, Bryan Thomas and Jim Leonhard to injury, and the fact that Bart Scott and LaDainian Tomlinson each lost a step or three, and it's easy to see that the Jets simply weren't as good as they had been.
If New York is going to return to the playoffs in 2012, the task is simple: get back to basics. Blocking and tackling were major issues for the Jets last season, and the lack thereof led to big plays for opposing teams–both offensively and defensively.
The inability to protect Sanchez cost New York the game against Baltimore, the inability to tackle cost the Jets the Oakland game as well as the home finale against the Giants, and the loss to Tim Tebow and the Broncos was caused by both of the aforementioned ineptitudes.
Specific plays include the 99-yard TD by Victory Cruz, 75-yard TD by Darren McFadden, 20-yard TD by Tebow, and the numerous turnovers-for-touchdowns mixed in.
There is good news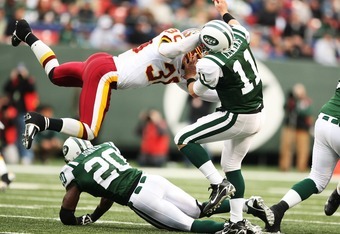 Al Bello/Getty Images
The good news is that, unlike prior to last season, the Jets have improved. They brought in safety LaRon Landry from Washington – a big hitter with speed who possesses the talent to be a pro-bowler, should he stay healthy. Landry should improve tackling in the secondary.
New York drafted imposing defensive end Quinton Coples, a linebacker with upside in Demario Davis, and a pair of safeties to compete for the job opposite Landry. They also gave Sanchez another weapon through the draft by selecting receiver Stephen Hill, who has the potential to be a long-term complement to Santonio Holmes.
All of the sudden, I don't see too many holes left to be filled. Let's assume (and pray) that the Jets do something to improve the right tackle position, the Jets roster looks to be playoff-caliber.
Rex's defense should be stout once again, with Mo Wilkerson, Sione Pouha, and Coples anchoring the line, while David Harris, Bart Scott, Calvin Pace, Bryan Thomas, Aaron Maybin, and Davis cover ground in the linebacking corps.
And of course the solid secondary of Revis and Cromartie, is now bolstered by Landry.
Coaching staff
Rex had a rude awakening last season, and knows that the public only puts up with his antics when he's winning. If the Jets have another disappointing season, he will surely be on the hot seat (if he's not already).
He understands that he has to bring back that fiery mentality on defense, and now has the players to bring pressure again. The defensive line should be able to hold its own, allowing room for linebackers Harris, Pace, Maybin, and Davis to get off blocks and attack the quarterback. The addition of Landry should also ease his mind and allow him to be more aggressive.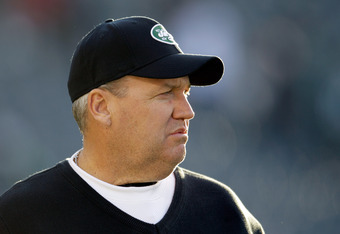 Rob Carr/Getty Images
Ryan also now knows that the Jets have to run the ball well in order to succeed on offense. Which is why they brought in Tony Sparano. The former offensive line coach and offensive coordinator is responsible for figuring out a way to maximize the talent up front and in the backfield, and turn it into production on the ground.
I think Sparano simplifies the offense for Sanchez, while complicating it for opposing defenses. Tim Tebow will give the offense a new wrinkle – something that could drive defensive coordinators crazy. That should boost the running game that ranked 22nd in the league last year, and take pressure off Sanchez. That number has to be in the top half of the league this season.
I like Sparano and trust his veteran offensive mind, and I think the players will buy in too. Which is more than I could say about Schottenheimer. Sparano should get Shonn Greene consistent touches, and turn him into a consistent back.
Plus:
Tebow has done this before
The last time Tebow was used as a situational quarterback, he won a national championship.
Newsday's Tom Rock recently described former Florida offensive coordinator Dan Mullen's thoughts on Tebow:
"'Watching him on film in high school, you could see that he could do other things,' said Mullen, who became head coach at Mississippi State after Tebow's junior season at Florida.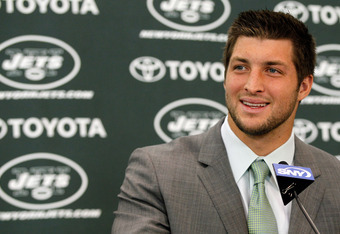 Mike Stobe/Getty Images
Mullen kept him at quarterback and, when Tebow was a true freshman, used him much the same way the Jets have said they plan to. Tebow would come in with his own package of plays to spell starter Chris Leak, who played the majority of the snaps that season. Florida won the national championship, beating Ohio State, 41-14, in the BCS title game. Tebow threw for a touchdown and ran for another score against the Buckeyes."
As a Jets season-ticket holder, I'm honestly not all that worried about the QB situation. Tebow is not here to compete with Sanchez, but to take pressure off of him. Ryan isn't going to choose between the two because he knows Tim's limitations as a starting quarterback. He will remain the back-up and wildcat QB throughout the season.
Tebow obviously can only help what was a mess of a locker room, and hopefully will support Sanchez for the good of the team. The players in the locker room, like Holmes, also better realize that they're on thin ice too. They have to understand that it's not about one player – it's about one team. 
I think Holmes knows he was wrong last season, and it certainly seems he and Sanchez have settled their differences. They have to commit to each other, and once they do, they can't go back no matter how bad it gets.
Schedule
But as long as the Jets survive the first five games, it shouldn't get that bad.
New York opens the season at home against Buffalo, then goes on the road to face Pittsburgh and Miami, before returning home to host momentous games against San Francisco and Houston.
If the Jets can go 3-2 or better during that stretch, the path to a 10-6 season is theirs for the taking. They play the NFC West and AFC South divisions this year, which were both relatively weak a season ago. And they will have already faced both division winners after Week 5.
If they defeat the rest of the teams in those divisions (Cardinals, Seahawks, Rams, Titans, Colts, Jaguars), and go 4-2 in the AFC East, they could easily win 11 games. New York also hosts the Chargers again this year in Week 16, and should the Jets win, they could even challenge for 12 victories.
But right now I'm going to slate the New York Jets for 10 wins in 2012-13, which should get them into the postseason. An improved defense and offense, a more serious locker room and coaching staff, and the maturation of Sanchez, Greene, Holmes, and yes, even Tebow, earns Gang Green another playoff berth.
Anything less would be another disappointment.