NIT 2012: Recap of Yesterday's Scores and Winners
March 19, 2012

Stephen Dunn/Getty Images
Yesterday featured plenty of good college basketball including three games from the 75th NIT, even while most eyes were focused solely on the NCAA Tournament's Round of 32 games. 
With a chance at the NIT's version of the elite eight on the line, Oregon hosted Iowa, Drexel hosted Northern Iowa and Nevada hosted Bucknell. 
Drexel(3) 65, Northern Iowa(7) 63
Drexel used an 18-3 run midway through the first half to open up an a 33-15 lead on the Northern Iowa Panthers. Sammie Givens fueled the run, scoring six of his game-high 28 points and Chris Fouch, who knocked down three triples during the run, put an exclamation point on the run to go up 33-15 with 5:48 remaining in the first half. Fouch finished the game with 16 points, off the bench.
Northern Iowa stuck around and ended the first half on a mini-run of their own, getting to recess down only 10, 38-28. After shooting 3-9 from three-point land in the first half, Northern Iowa was able to knock down some shots and fight their way back, shooting 7-14 in the second half. Senior guard Johnny Moran was 5-11 from downtown, hitting four in the second half as Northern Iowa chipped away at the Drexel lead. 
Northern Iowa got to within one after Moran's three-pointer made the game 61-60, with 39 seconds remaining. From that point, Northern Iowa missed a shot to tie with 17 seconds left and a shot at the buzzer that would have given them the victory.
Drexel(3) moves on to the quarterfinals and will play host to Umass(5), who knocked off the one-seeded Seton Hall Pirates, on Tuesday, Mar. 20 at 7 p.m. ET.
Oregon(3) 108, Iowa(7) 97
Andy Lyons/Getty Images
In an explosion of offense, Oregon outlasted Iowa to win their NIT 2nd round matchup. Iowa got off to a hot start and jumped out to a 19-5 lead just 4:36 into the game. They extended their lead all the way to 15 as a Matt Gatens' three gave the Hawkeyes a 31-16 lead with 10:46 remaining in the first half.
At that point, the teams stopped missing and finished the first half on a frenzied pace, at one point going a combined seven possessions without missing or failing to score. Oregon stayed hot while Iowa sizzled with just over three minutes to go in the half, allowing Oregon to close the gap and go into the break trailing 51-47.
Iowa tried to hold off Oregon's hot shooting as long as they could, but Tony Woods layup made the score 62-61, giving Oregon its first lead since 2-0 at the start of the game. The team's traded buckets and they were tied at 68, but Devoe Joseph hit a three that gave Oregon the lead for good. 
Forward E.J. Singler lead Oregon with 25 points, six rebounds and four assists, while Forward Olu Ashaolu added 22 points, six rebounds and four assists off the bench. Iowa was lead by high-point man Roy Devyn Marble, who scored a season-high 31 points going 7-8 from the three-point line.
Oregon(3) advances, and will now travel north to face their Pac-12 rival the Washington Huskies(1) with a trip to Madison Square Garden on the line. The game will be played on Tuesday, Mar. 20 at 9 p.m. ET.
Nevada(5) 75, Bucknell(8) 67  
The Nevada Wolf Pack grabbed control of the game immediately following the tip and never gave it up, leading by as many as 13 at one point. While the Bucknell defense focused on stopping the Wolf Pack's leading point man, Deonte Burton, they were unable to slow down the rest of the team including senior forward Olek Czyz, who scored 24 points.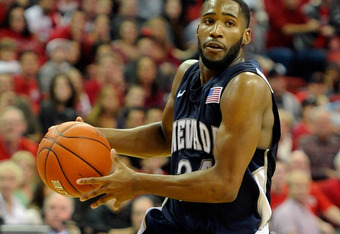 Ethan Miller/Getty Images
Bucknell, a team that relies heavily on the three, struggled from long-distance hitting just eight out of their 25 attempts, good for 32 percent. Outside of guards Bryan Cohen (2-5) and Cameron Ayers (4-5), the team was a combined 2-15 from deep.
While Nevada controlled much of the game, including a 13-point halftime lead, Bucknell fought back throughout the second half. Bucknell got within three as a Bryson Johnson three made the score 68-65 in favor of Nevada with 1:54 remaining.
Bucknell got within three once again after a pair of made free throws from Mike Muscala with 44 seconds left. From that point on, Nevada hit 5-6 free throws down the stretch and Johnson missed three shots from long distance.
Nevada(5) moves on to the quarterfinal round to play the winner of the Illinois State(7) and Stanford(3) matchup. If Illinois State wins, Nevada will get to play another home game. If Stanford wins, a trip to the Bay Area goes on the schedule.