NHL Trade Deadline: Grading the San Jose Sharks' Moves...and Non-Moves
February 27, 2012
Thearon W. Henderson/Getty Images
San Jose Sharks general manager Doug Wilson waited until the 12th hour ("11th hour" being a misnomer) to pull the trigger.
Many Sharks fans will be disappointed in his choice: Just about a half-hour before the deadline, NHL Network reported a trade of Jamie McGinn and two prospects to the Colorado Avalanche for Daniel Winnik and T.J. Galiardi.
NHL.com has now reported the two young players to be 22-year-old college standout Mike Connolly (20 points at NHL Worcester this season) and 19-year-old Michael Sgarbossa (88 points in 57 games in the OHL). The Avs also threw in a seventh-round pick.
Neither forward is on the Sharks' radar to play at the NHL level anytime soon. With a plethora of young talent in front of them (Tommy Wingels, Benn Ferriero, John McCarthy, Andrew Desjardins, Frazer McLaren, Brad Mashinter and maybe even James Sheppard), the chances of them playing at the NHL level during the next two or three years were low.
Make no mistake: San Jose has a two- to three-year window with the current roster to win a Stanley Cup. If they need to replace over-30 players like Dan Boyle, Joe Thornton and Patrick Marleau, they will need a lot more than those two forwards.
Giving up Jamie McGinn hurts. McGinn was having a career year, with 12 goals and 12 assists in 61 games. He leads a big team that nonetheless lacks physicality in hits, and seemed to mesh well with linemates Michal Handzus and Torrey Mitchell.
However, he has been maddeningly inconsistent throughout his career, and this year is no exception. The former early second-round pick has gone south along with his line, with no goals, three assists and a minus-6 rating on the team's 2-6-1 road trip even though he spent time on the power play.
Daniel Winnik replaces some of that physicality the Sharks lost from McGinn. The former ninth-round pick is just over three years older and has 177 PIM and 96 points in 345 career games. He is an unrestricted free agent this summer.
He is expected to help on the penalty kill, as is Galiardi. Aside from a peak of 39 points in 70 games from 2009 to 2010, the 23-year-old has been a point-per-three-games producer and is a restricted free agent at the end of this season.
The Sharks made another similar move in the last two weeks, acquiring Dominic Moore for a second-round pick. Moore is clearly the best player the Sharks acquired for the stretch run, but also offers less chance for development than any player involved in this trade.
Now that we know the trades are over, what can we assess from the moves, and what impact will they have on turning the Sharks' season around?
The Sharks are lacking in forward depth. This look at their road trip shows problems, including one goal from their third and fourth lines over the nine games. Everyone with any sense understood the team needed to make a move, and they were mentioned by both Pierre McGuire and Ray Ferraro as one of the two teams most in need of a move.
Did any of these players solve that problem? No.
McGinn offered more scoring than any of the trio acquired. They collectively offer little if any upgrade over him and the list of young players listed above, all of whom have NHL experience. The Sharks now have twice as many players capable of playing on the two checking lines than they can even use.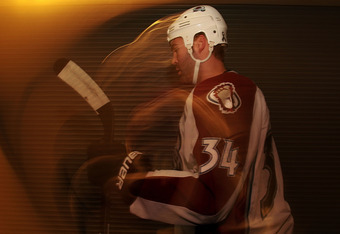 Ronald Martinez/Getty Images
Unfortunately, three teams the Sharks are chasing—the Nashville Predators, Vancouver Canucks and Phoenix Coyotes—improved more than San Jose. Detroit and St. Louis look like better teams that the Sharks did not catch with these moves.
So does that mean Wilson has failed the Sharks? No.
Fans always want their team to make the trade that matters and never want to see anyone of value moved. General managers are much more limited by realities.
NHL Network also reported the Sharks re-engaged in talks for Rick Nash as well as Philadelphia forward James Van Riemsdyk. Either would have provided the team what they needed to go from pretender back to contender.
But based on all analyst accounts and the lack of moves league-wide, the asking prices were simply too high. Everyone in the league was asking for a top-six forward.
Reports were that the Columbus Blue Jackets originally asked for Logan Couture in return for Nash. Couture might be a better player than Nash right now—probably not, because his support on the Sharks' second line is still better than the first line talent surrounding Nash in Columbus, but he is at least close.
But they wanted a player four years older and much more expensive who has not proven himself in the playoffs like Couture has? No way. If the Sharks had a one-year window, maybe, but Couture is going to be a cornerstone of this franchise into the next decade.
Maybe the price came down a little, but the best player the Sharks could even think about moving is Ryane Clowe. If they or the Flyers, who still have dreams of a Stanley Cup themselves, wanted anything more than that, Wilson was right not to mortgage the future for a negligible increase in their title chances.
However, there was a trade that Wilson could have made to restock the cupboard he has raided in a quest to win now.
The Ottawa Senators needed a goaltender to back up Alex Auld while Craig Anderson recovers from a laceration. With Anderson aging and Auld looking like he is not part of the team's future, they sought a player capable of not only playing the backup role now, but also grow into a starting role for the foreseeable future.
They sent a second-round pick to St. Louis for Ben Bishop. He was a standout at the University of Maine and has been considered among the best goalies in the AHL right now. With Jaroslav Halak and Brian Elliot being a very successful young duo in net for St. Louis, there was no place for Bishop any time soon with the franchise.
But the Sharks are in the same boat.
Despite recent struggles, Antti Niemi is viewed as a franchise goalie for a reason. He has had over a .910 save percentage in all three seasons as a starter. More importantly, he has six wins in seven playoff series (24-15 overall) and a Stanley Cup.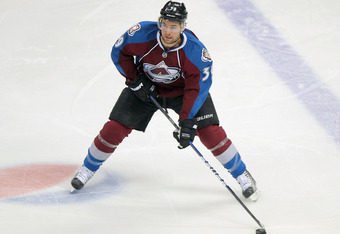 Doug Pensinger/Getty Images
Thomas Greiss has proven a more than capable backup, and is under contract for just over $1 million over this year and next combined. There is little reason not to think he will continue to progress, nor will he be hard to re-sign for a reasonable contract or replace with low-priced solid vets commonly available.
That leaves fantastic prospects Tyson Sexsmith, Harri Sateri and Alex Stalock as unusable options. In fact, the team had so much trouble finding them all time in net that they recently let Carter Hutton go and loaned former starter Antero Niittymaki to the rival Ducks' minor league system so he could get playing time.
Three of those players had been with San Jose for stints and could play in the NHL right now. They are all potential starters down the road, and while they may not have been sought as much as Bishop, getting even a later pick for any of them might have released the logjam.
The Sharks also failed to move Niittymaki or Colin White. For anything. Neither has any value on this team now or (as unrestricted free agents this summer) in the future.
With Douglas Murray expected back as early as the end of this week, White needs to be taken away as an option for Todd McLellan who inexplicably keeps giving him ice time over Jim Vandermeer.
White was once again "defending" when Minnesota scored their first goal to put them back in the game Sunday. A player who provides no scoring help needs to be better defensively—his plus/minus rating is second worst on the team.
Yet if the Detroit Red Wings can get a seventh-round pick for the higher-priced Mike Commodore (who also has fewer Cups won), the Sharks could have gotten someone to give that up for White.
In the end, Wilson acquired three players who provide almost no upgrade over the young talent they could develop on the fourth lines right now. None of the players let go or acquired are or were especially a part of the team's long-term plans. He lost a high pick and acquired two low ones.
Too little gained, but not a lot lost. This deadline is more about the moves that were not made: Wilson deserves props for not overpaying, but he may have missed opportunities for trades that could have gotten the team more draft picks down the road. Grade: C-.