NHL and MLB: Milwaukee Brewers Outfielder Nyjer Morgan's Day as a San Jose Shark
February 2, 2012
Christian Petersen/Getty Images
Nyjer Morgan emerged from a line of Sharks players, skated to center ice, gathered a puck, skated a few feet and fired a wrist shot through goaltender Thomas Greiss' five-hole.
Yes, you read it right: Brewers outfielder Nyjer Morgan got a shootout goal in Sharks practice.
"Greiss was giving me the stick side," he told the media in the locker room after the practice, "but for some reason I saw the five-hole so I had to go with the five-hole instead of the stick side. He seemed pretty strong on the stick side."
Morgan went all in for the Sharks practice. He was wearing the team's alternate sweater with his pseudonym 'Plush'* stitched cross his back.
*Plush, Tony Plush.
"We love him for it," said Sharks captain Joe Thornton, in reference to Morgan's support of his team.
"He wears the Shark and is proud to be a Sharks fan, so we're kind of a Brewers fan now, I guess."
Morgan even had a signature celebration following the goal.
"He was happy," said Greiss. "It was great."
It took Morgan/Plush four tries, but the former junior hockey player was satisfied with his effort.
"How many athletes do you know that can just jump out there on the ice and do what I just did?" he asked a reporter.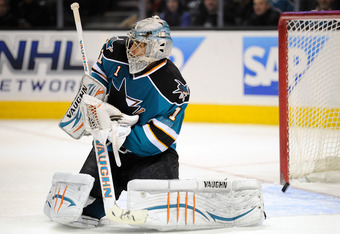 Thearon W. Henderson/Getty Images
"None," she replied.
"Exactly."
***
"It's been many moons, many moons," said Morgan when asked how long it was since he last played hockey.
To be honest, it's surprising that Morgan ever played hockey in the first place.
Morgan was born in San Francisco and raised on the east side of San Jose. In fact, he was born an entire decade before the Sharks franchise was established.
"Not too many African Americans, especially in San Jose, can relate," says Morgan. "I would actually like to encourage people out here to actually come out and try skating."
Morgan began supporting the team in 1991, their inaugural season. His favorite player was Owen Nolan.
"That's basically Mr. San Jose Shark," he says of Nolan, who spent eight years in San Jose and last played for the Minnesota Wild in 2009-10.
Morgan grew up playing baseball and hockey and decided to move up to Canada at age 16 to play major junior hockey for the Regina Pats of the Western Hockey League.
"I moved up there," he said, "played at the highest level you can get to…but eventually baseball was my calling."
When asked why he felt that way, Morgan provided a simple response:
"You hit the crossroads and you know which way to go. I wanted to get right instead of getting left."
After playing seven games with the Pats in 2000, Morgan committed fully to baseball and was drafted by the Pittsburgh Pirates in the 33rd round of the 2002 MLB Draft.
In Sept. 1, 2007 he would get his major league call-up*, and that was that.
He was a major league baseball player.
*Ironically, Morgan's first game was against the Milwaukee Brewers.
 "My dream has always been to be a professional athlete and I accomplished one of them," he says, "but to be out there to skate with my childhood team and just be out there with the boys is just an unbelievable feeling."
Asked which sport he liked better, Morgan answered immediately.
"It was hockey all the way. More action."*
*Remember, this is the guy who punched out a Florida Marlins pitcher during a blowout game when he was with the Washington Nationals in 2010.
***
I've met an NHL hockey player from the Bay Area.
His name is Casey Wellman. He grew up in Brentwood. His father played for the Giants in the '80s.
I interviewed Wellman when he came to San Jose to play the Sharks in December. Interestingly, when asked why he chose baseball, he gave a similar answer.
"When I was younger [baseball] was a little boring for me," he told me. "I just had too much energy for it."
Safe to say Morgan's energy levels are off the charts. He makes the Energizer Bunny look like Jabba the Hutt.
"He's very charismatic and very bubbly," says Thornton. "He'd fit in great with us."
***
I love the relationship between hockey and baseball players.
After all, for every Tony Plush decked out in a Sharks sweater, there's a Logan Couture rocking a Blue Jays cap.
"It's just relaxing to watch," Couture told me in October when I was doing a feature on baseball players that liked hockey and vice versa.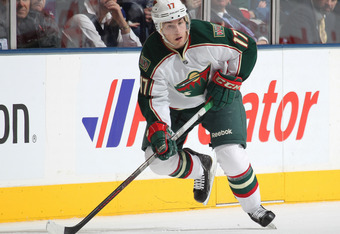 Claus Andersen/Getty Images
"I just enjoy sitting down, spending three hours watching the ballgame."
In fact, players from both sports appreciate what the other activity has to offer.
"It looks easy," Thornton says in reference to hockey, "but it's not too easy and I'm sure if we go over to his sport it wouldn't be too easy as well."
Greiss was asked if he thought that he could get a fastball past Morgan, who hit .304 last season, now that he knows the outfielder can score a shootout goal on him.  
"I have no clue," says Greiss. "I never threw a baseball."
"[There are] not too many similarities," said Morgan when asked to compare baseball and hockey. "Just being around the guys and just being around a hard-working corps like the San Jose Sharks is just a dream come true.
"It was a blast—especially Jumbo Joe. That's my guy."
Morgan chuckled as he completed the last sentence.
Tom Schreier is a Featured Columnist at Bleacher Report. He covers hockey and baseball.
All quotes were obtained first-hand.
Follow him on Twitter @tschreier3.