Miami Heat: How D-Wade, LeBron and Co. Are Looking After a Dozen Games
January 14, 2012

Doug Pensinger/Getty Images
After feeling like it would never get here, the 2011-12 NBA season is finally in full swing, meaning we've more or less reached that point—adjusting for a condensed schedule—where we can start to take stock of different teams' performance thus far.
The Heat have 12 games under their collective belt, and along the way we've already seen a wide spectrum of performances, from well-oiled machine and late-game killer to detrimentally laid back or un-clutch.
As of this writing, things have gotten a tad dark in Mouth Beach.
After dropping their third straight game in Denver last night, the Heat stand at 8-4, good for sixth in the East. Underdog fans will also get a mild kick out of the fact that they currently sit only two spots ahead of the team LeBron guillotined nearly two years ago...
It bears noting that the Nuggets game was their first really decisive loss of the year, which seems like a mitigating factor in their recent road woes, when in reality, it's the opposite. It's actually a bit damning in that it points to a lack of closeout basketball in the end of some perfectly winnable games.
At the forefront of the Heat's recent late-game letdowns is... wait, see if you guess this one for yourself...
Key-rect. It's LeBron.
Again.
In the midst of his usual buffet of ridiculous numbers, James has found a way to disappoint in the late stages of two straight losing efforts against the Warriors and Clippers.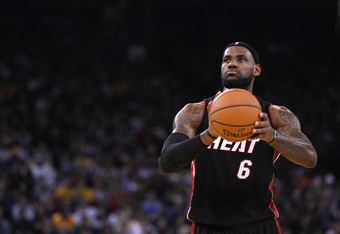 Ezra Shaw/Getty Images
Along the way, the Heat have squandered large leads, and also failed to surmount two upper-crust teams, which will no doubt be hastily construed as an inability to handle the league's elite.
Deja vu, anyone?
Well, not really. Unlike those Finals stinkers everybody loves to point out, these late-game problems were different; at least the guy was there and trying.
At worst, a lack of focus seems to be the culprit, after bad execution in Oakland, and the Clips game coming down to bricked free throws (lots of 'em).
Put in perspective, that's actually a good sign for James and the Heat, as they aren't being beaten by some bizarre and inexplicable phenomenon... they're just taking shots and missing them.  Basically, Erik Spoelstra just needs to cure a common cold instead of some weird Martian strain of the Ebola virus.
It's far too common and treatable an issue to assume it's going to keep happening with this kind of regularity.
No way LeBron spends the season shooting free throws (and threes) as badly as he has of late, and no way Miami keeps giving away games like this all year. So how much of a red flag, really, were those losses?
There has, however, been a certain laxity (win or lose) in some of these games that seems much more telling than makes and misses, and it's a far less obvious fix. Meanwhile, it's not like they were ever really over that hump to begin with; this isn't really news to Spo and Co.
At least it's not a chronic thing, it just seems to come and go; witness their locked-in play and late-game prowess in downing Charlotte and Minnesota—and by "their," I mean "D-Wade's."
On the whole, even while downplaying the Heat's recent woes, it seems they are in fact retreading old ground, running early on into roadblocks they otherwise seemed to be above, half-limping to a record un-befitting a team with their dynastic aspirations.
Let's assume for a moment that this it true; that would mean the Heat are on the verge of sputtering right into overdrive—perhaps once again after joyfully battering Cleveland into the dirt—and losing only one game over the following two months or so. But I digress... or do I?
Heat critics, look at the standings and rejoice now. Take a screenshot and save it—like I did early last year when the Cavs were above them in the standings—because it will last you much longer than the real win column will.
Look, even Superman sneezed in the third movie...Aside from the Heat's episodic too-cool-to-try mode, these are issues nobody is above, not even the monstrous, bulldozing uber-teams of the world—and I have no idea why I decided to pluralize that.
Remember that Miami was 8-1 before this little road trip started going south. With so few games played, a three-L streak is just mathematically more damaging to your record, but who really thinks that this streak will continue for much longer, or that it will repeat every dozen games? A team can only get pushed to overtime so many times.
We all would be well advised to continue considering Miami an 8-1 team in the middle of a (very temporary) rough tilt. Ask Dallas, Boston and Charlotte (as of their last game) if they'd like to take on Miami again sooner than later, and...well, they'd lie and say they can't wait.
But I'd wager they'd rather see just about anybody else this side of the Thunder or the Bulls. We all still have every reason to be scared shirtless of this team, speed bumps or no.
The real question mark for Miami these days is Dwyane Wade's wheels... stay tuned.
UPDATE: It seems Wade suffered a second or third degree ankle sprain, so he'll miss a couple of weeks of action... this definitely puts a damper on Miami's immediate outlook.