Detroit Lions: 2009 Draft Review Matthew Stafford Head of the Class
January 10, 2012
Kevin C. Cox/Getty Images
It takes at least three full seasons to evaluate a draft class. Often times, it takes rookies a season or two to crack the starting rotation, and later (developmental) picks often don't see the field in their first two years as pros. As we are getting into the playoffs and the Lions are actually IN the playoffs, let's take a look back at the draft which set the Lions up for their first playoff game in twelve years.
Entering the 2009 NFL draft, the Lions had undergone some serious change after compiling a 0-16 record in 2008. They hired a new head coach and general manager. Both Jim Schwartz and Martin Mayhew talked about building through the draft.
With the first pick in the 2009 NFL draft, the Lions selected quarterback Matthew Stafford from the University of Georgia. There were some who thought Stafford (sadly myself included) was simply another big-armed quarterback who lacked the accuracy to effectively use his arm strength. There were others, including the Lions, who saw Stafford as the future leader and pro-bowl caliber player he has become.
The first two years of Stafford's career were marred by a series of injuries. He had not missed a game in college due to injury—just or not, he was developing a reputation for being "fragile." Stafford had only started 13 of a possible 32 games and had only finished a handful of the games he started.
However, in 2011, Stafford went from a question mark to an exclamation mark. He became one of only four quarterbacks (Drew Brees, Tom Brady and Dan Marino) to throw for over 5,000 yards (5,038). He set single-season passing records for yards (5,038), touchdowns (41), touchdowns in a game (5, which he did twice), most completions (421), most completions in a game (36) and the highest QB rating for a season (96.2).
If the Lions had a do-over in the 2009 draft, they would still select Matt as their No. 1 pick.
Courtesy of the trade with the Dallas Cowboys (which sent former first-round pick Roy Williams to the boys), the Lions received the 20th overall pick in the 2009 draft, selecting tight end Brandon Pettigrew.
Pettigrew (despite his periods of drops) has developed into a solid receiver and blocker. Slowly, Pettigrew has become one of the top receiving tight ends in the game. In 2011, he posted his second consecutive season with more than 70 receptions and 700 yards (71 rec, 722 yards and 83 rec, 777 yards respectively). This season, Pettigrew essentially became the "run game" on short passes and passes to pick up first downs in short yardage situations.
It's hard to fault the Lions for drafting Pettigrew: Teaming with the trio of receivers, he has helped form one of the most potent passing attacks in the game. Some of the other players who were drafted soon after include Alex Mack and Clay Matthews. Mack has become one of the top centers in the game and Matthews is one of the elite linebackers in the game.
For the first round I believe the Lions deserve an "A." They have their franchise quarterback and a still improving tight end.
In the second round, the Lions drafted safety Louis Delmas as their 33rd overall pick. Safety might not have been the area of "greatest" need, but the Lions believed Delmas was the best available player. Delmas has rewarded their trust by developing into the "quarterback" of the defense. Coach Jim Schwartz has said the defense has better energy when Delmas plays.
The knock against Delmas has been his durability. He has played through a number of injuries,  limiting his effectiveness and missing five games this season. The secondary plays better with Delmas there; however, he is better in run support than in coverage.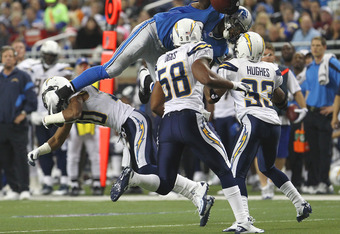 Dave Reginek/Getty Images
The only player Detroit should have seriously considered is running back LeSean McCoy. McCoy has become one of the best 'backs in the NFL, but Schwartz and Mayhew believe in building a dominant defense. Delmas gives Detroit a piece of that puzzle.
I would give the Lions an "A-" for this second round. Delmas is an upper tier starter.
In the third round, Detroit made its only draft-day trade by sending the New York Jets their third round pick (65th) in exchange for the Jets' third (76th), fourth (115th) and seventh (228th)-round picks. Detroit also had Dallas' third-round pick from the Roy Williams trade.
With the Jets' third-round pick (76), Detroit selected linebacker DeAndre Levy. With Dallas' pick, (82) the Lions selected wide receiver Derrick Williams.
Levy has been a starting middle and weak-side linebacker for Detroit. While he didn't have the year he and the Lions had hoped for, he did start all 16 games and compiled 109 tackles. Levy might be better suited to being a situational linebacker and backup at both middle and weak-side linebacker.
Considering his draft pace, he's been a solid pick. Sadly, the same can't be said for Derrick Williams.
When Williams was drafted, the Lions hoped he would be able to slide into the third receiver role and provide a spark on punt and kickoff returns. He failed miserably in both roles. Williams is now out of football completely.
For this third round, I give the Lions a "C" (Levy "B" and Williams "F"). The "C" might be a bit generous given the Williams flop. The Williams pick is especially depressing when noted WR Mike Wallace was still available. Imagine a receiving core of Calvin Johnson, Mike Wallace and Nate Burleson or Titus Young.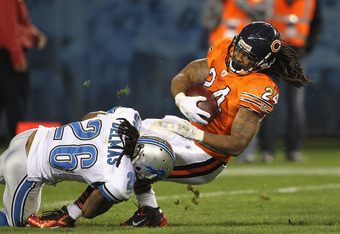 Jonathan Daniel/Getty Images
The Lions sent their fourth-round pick to Dallas in the Williams trade. With the Jets' pick, they selected DT Sammie Lee Hill 115th overall.
Hill was viewed at the time as a developmental tackle because he had played a DII school. Hill has flashed serious potential and made three starts in 2011. If the Lions weren't so deep at DT, it's safe to bet Hill would be a starter. The Lions could have gambled on a few other players, but overall, I think they are pretty happy with the way Hill has played. If given a redo, they would still pick Hill.
This fourth-round receives a "B" grade, as Hill has been a solid role player and has shown the ability to be a starter when called upon.
Detroit did not have a fifth-round pick due to a 2008 draft-day trade.
In the sixth round, the Lions traded their sixth-round pick to Denver for a seventh-round pick (235) and a fifth-round pick in 2010. Detroit had Dallas' sixth-round pick (192) where they selected RB Aaron Brown.
Brown never gained any traction in Detroit and was cut this year. He was drafted with the hopes that he would be a home-run threat and provide depth and competition in the return game. He managed to do neither.
Sixth-round picks are pretty difficult and can really be considered crap-shoots. There are two players who would have better served Detroit: OG Matt Slause and RB Bernard Scott. Slausen has developed into a starting quality guard, and, considering the issues Detroit has had at right guard, a consistent and better-than-average interior lineman would be nice. Scott is not a feature back, but he's played well in spurts. Considering the total lack of production from Brown, Scott could have provided the depth the Lions were seeking.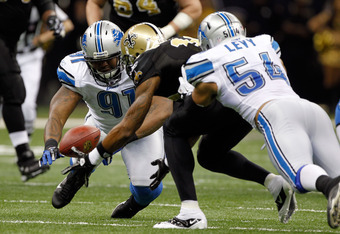 Chris Graythen/Getty Images
My grade is a "D" for the sixth round. Brown had essentially no success in the NFL, but he was on the active roster for three years. Many sixth-round picks don't even make the team.
The Lions had three seventh-round picks via the various trades. With the 228th pick, the Lions took OT Lydon Murtha, pick 235 netted the Lions LB Zach Follet and finally pick 255 netted them TE Dan Gronkowski. Of the three, Follet showed the most potential until a serious neck injury ended his career. The Lions were hoping Murtha could be developed into a solid backup or starter, but after not making the team, he was signed by Miami off the Lions' practice squad and spent 2011 on IR. Gronkowski is still in the NFL as a backup TE/special teams player.
The 2009 seventh round hasn't produced much "big name"-caliber players, and there are two notable undrafted players who could have better served Detroit: Ashlee Palmer (currently a Lion, a good replacement for TE Gronkowski) and RB Arian Foster instead of OT Murtha.
For the seventh round the Lions get a "C." Follet played well on special teams and made several starts. Murtha and Gronkowski are basically backups, but both are still active. For a round where teams take players with major questions, the Lions didn't land a star, yet they did get production. 
Overall, I would give the Lions an A- for the 2009 draft. They found their franchise quarterback, starting tight end, safety and linebacker. They also found a rotational DT. Not a bad haul for the first year of the Schwartz-Mayhew partnership.