Chris Jericho's Awkward WWE Return Will Surely Lead to Huge Heel Run
January 3, 2012
Chris Jericho made his return to the WWE on Monday night after a long absence and a series of cryptic vignettes. However, to the roar of the crowd and his constant smile, his "say nothing" welcome back promo will lead to a huge heel push. 
When Jericho came out to reveal himself as the person behind the "It Beings" promos, he did it by starting to walk backward down the isle towards the ring in a jacket that looked like something from the movie "Tron." The crowd ate it up, because it was Jericho, and it was who the fans wanted to see as the person behind the promos. 
The initial "Hey, I'm glad to be back" smile and fist pumps from Jericho seemed to appease the crowd. Jericho used his stage presence to get the crowd fired up while holding the mic, but never talking into it. 
But if you started to listen closely toward the end of Jericho's return segment on Raw, you could start to hear the crowd boo when he was about to head backstage. 
Jericho's return was going to be met with a huge reaction from the fans. However, when he was at his best during his last run, it was when he was a heel. Having Jericho say nothing was the only way that they could turn him against the crowd, without seeing Jericho interfere in a match against a face. 
Now it's going to be interesting where they go with Jericho. Jericho could continue to come out on Raw every week and continue to say nothing. The more that he keeps the fans wanting to hear why he is back, plus the continue silence, will upset the fans. 
It's not like Jericho really cares what the fans think. He has shown on his Twitter page that he likes to play up the heel angle with his followers.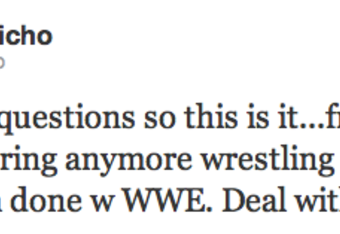 So the more that people will want to hear what is going on through Jericho's head, the more that he will stay silent, which means the more people will boo him. 
This will lead to a huge heel run, with Jericho playing up his "happy to be here" persona, which will make fans hate him. 
Hopefully, the "say nothing" promos will continue, which will lead to a big match at this year's WrestleMania against WWE Champion CM Punk. 
The less Jericho says, the more people hate him, which is exactly what Jericho and the WWE want.