Indiana Hoosiers Hope for Another Improbable Upset Against Ohio State on NYE
December 31, 2011
Andy Lyons/Getty Images
Same time. Same place. And the Indiana Hoosiers are hoping for the same result. Saturday will mark the three-week anniversary of Indiana knocking off the top-ranked Kentucky Wildcats, and the Hoosiers (12-1) will attempt to do it again when the No. 2-ranked Ohio State Buckeyes (13-1) come to Assembly Hall tomorrow night.
The problem is that this time around, Indiana won't be sneaking up on anyone, and they will have to do it against a much more experienced team.
Ohio State's only loss of the year came against Kansas in Allen Fieldhouse, and it came with National Player of the Year favorite Jared Sullinger out of the lineup. The Hoosiers won't have the luxury of playing against a Sullinger-less Buckeye team.
When scouting the Ohio State Buckeyes, Indiana can go ahead and forget about Sullinger. He is going to get his 20 points, and he's going to get his 10 rebounds. It's the rest of the team that Tom Crean has to game-plan for.
Offensively, the Buckeyes are a very unselfish team that can really move the ball well, as evidenced by the fact that they rank sixth in country in assists per game. Where a team like Kentucky relies on many athletic individuals to play an isolation game against their opponent, Ohio State's offense is about off-the-ball cuts and rapid ball movement. This used to be the type of system that gave a team like Indiana fits due to their lack of defensive communication and slow reaction on ball reversals. But the Hoosiers have been talking a lot more on defense and their defense away from the ball has improved vastly this season; their closeouts on the perimeter are also much better.
Aside from Jared Sullinger, Ohio State has two other players that are very dangerous offensively. Senior guard William Buford, though not lightning quick, is a very smart and effective scorer. He is shooting 41.4 percent from three-point range, and he has an even better mid-range game. Then there is 6'7" sophomore forward Deshaun Thomas, who should frighten Indiana more than any other player on this roster. Sullinger gets all of the hype, but Thomas may be the better all-around player (I'm not kidding). He is incredibly explosive and is also developing a much better jump shot. Indiana needs to focus on keeping him off of the offensive glass.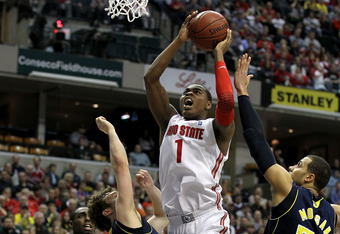 Andy Lyons/Getty Images
Christian Watford is better suited to guard William Buford because he has the length to bother  Buford's jump shot. Meanwhile, Tom Crean will most likely go with Victor Oladipo to challenge Deshaun Thomas, as Oladipo has often drawn the assignment on the opponents' most athletic player. It will be Jordan Hulls' job to lock down Buckeye point guard Aaron Craft, and he should be more successful than he was against Marquis Teague and Keith Appling—Craft isn't nearly as dangerous off the dribble.
Craft is a whole different story on the defensive end of the floor. He is the best on-the-ball guard defender in the Big Ten. Hulls struggled mightily turning the ball over with the ball pressure of Keith Appling, and he will have an even tougher test with Aaron Craft Saturday night. Indiana needs to be a lot more active with their screening, both on and off the ball, than they were against Michigan State.
Cody Zeller, coming off his worst performance of the year in his first Big Ten road game Wednesday night, will have it just as tough against Jared Sullinger tomorrow night. Zeller doesn't have enough lower-body strength to compete physically with Sullinger in the post. Indiana needs to get Cody out in space away from the basket, and he will need to finally show that mid-range jump shot that made him so dangerous in high school. The Hoosiers cannot continue to try and force the ball into the post or else it will be a long night. If Zeller can knock down a few mid-range jump shots, that will force Sullinger out of the paint and allow lanes for Oladipo and Watford to get to the basket.
Indiana's offense is purely a function of their defense, and it has been the entire year. They are at their best when they are creating transition opportunities off of turnovers and missed shots.
The biggest issue with that is Ohio State doesn't take many bad shots, and they don't turn the ball over, ranking ninth in the nation with only 10.7 turnovers per game.
The Buckeyes are the best team in the country right now when Sullinger is in the lineup. Kentucky has more talent than Ohio State (not by much), but they are young, and Indiana was able to take advantage of that youth in their own building. They won't have such luck with Ohio State, who won't beat themselves tomorrow night.
The Hoosiers are a good basketball team, and they have gotten to a point where every home game is winnable, no matter the opponent. However, with Will Sheehey expected to be out again tomorrow night, depth is going to be an issue. Combine that with Ohio State's discipline, and Indiana's margin for error is even less than it was against Kentucky.
I have been wrong before, but I would be incredibly surprised if they were able to pull off another upset tomorrow night. Please don't let it ruin your New Year's celebration.
This article originally appeared on Hoosier Cafe.