Why Larry Fitzgerald Deserves Better Than Arizona Cardinals Can Provide
December 31, 2011
Christian Petersen/Getty Images
Prior to the start of the 2011 regular season, the Arizona Cardinals signed wide receiver Larry Fitzgerald to an eight-year deal worth $120 million, making him one of the richest men in the NFL. Still, Fitzgerald deserves better.
Also in the 2011 preseason, the Cardinals landed the most sought after quarterback in the shortened free agency period when they signed Kevin Kolb to a five-year deal worth $63 million. Still, Fitzgerald deserves better. 
Since being selected third overall in the 2004 NFL draft, Fitzgerald has been a rock for Arizona's offense. Fitzgerald has topped 1,000 yards in six of his eight seasons with the Cardinals (Fitz had 780 yards in his rookie season and in 2006, he played only 13 games and had 947 receiving yards). 
Fitzgerald has made franchise history by breaking Roy Green's touchdown record (69) after hauling in two touchdown passes against the Philadelphia Eagles on Nov. 13. He's allowed Arizona fans to be privy to 73 of his touchdown celebrations. He also holds the franchise record for most receiving yards at 9,466, and he has the most receptions (684) in Cardinals' history.
Fitzgerald is making history without much help.
Last year, the Pro Bowler was forced to catch passes from the likes of Derek Anderson, Max Hall and John Skelton.
Anderson has since flew the coop and is backing up Cam Newton for the Carolina Panthers. He has had more rushing attempts (1) than passing attempts (0) this year. Carolina kept the ball out of Anderson's hands—something the Cardinals should have done.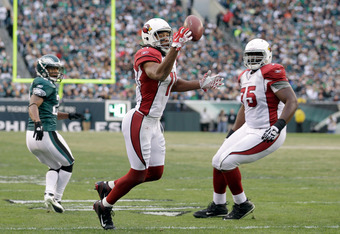 Rob Carr/Getty Images
Hall injured his non-throwing shoulder and passed through waivers and then reverted to injured reserve for the 2011 season. He'll most likely be back with the Cardinals this offseason battling for the No. 3 quarterback position, which is a mistake.
And as far as Skelton and his success this season is concerned, it was a facade. If you take the veneer off of Skelton's victories, you'll discover a dominant defense, not a rising young quarterback.
Kolb is not the answer either; he is one more concussion away from what should be retirement. Fellow Featured Columnist Shaun Church dissected Kolb's outlook with amazing precision—Kolb's future is not promising.
Fitzgerald's supporting cast isn't helping much either. 
Prior to this season, Fitzgerald huddled up with other talented wideouts on his team—that's a thing of the past.
As Fitzgerald said himself, "I had some talented guys around me."
Had.
Fitzgerald, although maintaining his high level of play, feels that if defenses didn't have the luxury of keying in on just him, the offense would be more potent.
"Look at Green Bay, they have a plethora of talented guys," Fitzgerald said. "When you have so many things teams have to worry about defensively, you're going to get open, you're going to get the big shots for your offense."
Fitzgerald's comments are a direct indictment of Early Doucet and Andre Roberts, and deservedly so.
The Cardinals won't be able to adequately address every one of their needs during the offseason. The greatest need, at this point, is protecting whichever quarterback will start in 2012. That protection will translate into more success for Fitzgerald by allowing him the needed time to run routes. But it won't be enough; Fitzgerald deserves more.
After watching Doucet do his best river dance impression with his feet and fall to the turf against the Cincinnati Bengals, Arizona is under mandate to add, not only a capable starting wideout but a talented one.
Ideal pickups for the Cardinals would be either Mario Manningham or Pierre Garcon. Both have shown promise at their position while at the same time cannot demand blockbuster contracts. Presently, the Cardinals are $7.2 million under the salary cap but still need to sign defensive end Calais Campbell.
In order to give Fitzgerald what he deserves, the Cardinals would have to replace just about every member of the offensive line, the quarterback and the No. 2 starting wideout. Arizona will not be able to meet these needs in just one offseason. And with the Cardinals' notorious cheap front office and lack of aggressive offseason moves, the fixes are likely never to occur—at least not all at the same time.
The bottom line is that Fitzgerald is the West's Calvin Johnson. Both have had to somehow excel on inept quarterback play. This year, Johnson was treated to Matthew Stafford and history was made. Fitzgerald deserves the same. Unfortunately, the Cardinals won't be able to provide it.