Leafs Talk: James Reimer Still Hurting or Is He Andrew Raycroft Version 2.0?
December 30, 2011
Joel Auerbach/Getty Images
When the Toronto Maple Leafs finally introduced goaltender James Reimer to the NHL last season, he took the league by surprise by all accounts. Reimer debuted with the Leafs mostly because he was their last line of defence after goalies Jonas Gustavsson and Jean Sebastien Giguere were lost to injury.
With no scouting book out on him, he took his steady play with him to the NHL and helped guide the terrible Leaf squad at the time back up the standings, contending for a playoff spot.
The Morweena, Manitoba native enjoyed a stellar 2010-11 half-campaign with the Leafs, finishing with a 2.60 GAA and a .921 SV%.
Because of his stellar play down the stretch, he "earned" himself an invitation to play with the Canadian World Hockey Championship team that was actually being ran by Assistant Leafs GM Dave Nonis.
Nonetheless, Reimer was initially named the starter of the team, but eventually lost that title to Kings back-up goalie Jonathan Bernier. With or without Reimer, the Canadians would have lost anyways, so at least Reimer got some international game experience and some confidence to boot.
Reimer, fresh off a hot start to his NHL career, signed a new contract with the Leafs in the offseason and officially became the club's number one goalie, after they opted to not re-sign JS. Giguere to a new, smaller contract.
Reimer began the 2011-12 season pretty decently, recording a shutout in his first game and eventually recording a 2.57 GAA, along with a respectable .912 SV% through six games. At 4-1-1, the Leafs stood at the top of the Northeast Division.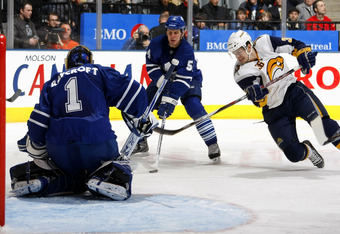 Dave Sandford/Getty Images
Then came the night that might forever change the career of James Reimer. An errant elbow to the head by Canadiens forward Brian Gionta knocked Reimer out for about six weeks.
Whether its rust or him just being afraid of getting injured again, Reimer hasn't been the same. What started out as a huge present underneath the Leafs' Christmas Tree has turned into a huge ball of coal in the Leafs' stocking hanging over the fireplace.
In his last few games especially, Reimer has let in far more soft goals as opposed to the legit goals that Jonas Gustavsson seems to be letting in now. What makes matters worse is, even if Reimer is letting in soft goals, he isn't coming up with a huge save nightly to keep the Leafs in the game.
What his rise to fame reminds me of is former Leafs goalie Andrew Raycroft. Raycroft also set the NHL on fire with his rookie campaign, eventually winning the Calder Trophy in his first year with the Boston Bruins.
In 2003-04, Raycroft actually finished with better overall stats than Reimer—in more games. With a  2.06 GAA and a .926 SV% along with three shutouts, the Bruins thought initially they had their starting goalie of the future.
Not one season later, Raycroft was figured out, eventually losing his starter's job and finished with an 8-19-2 record with a 3.71 GAA and .879 SV%. Reimer's fall from grace has been bad, but not that bad. However, the comparison still has merit because in his first year with the Leafs, Raycroft set a franchise record with 37 wins, but still had some pretty average numbers with a  2.99 GAA and a .894 SV%.
With the Leafs struggling to win and with coach Ron Wilson hanging on by a fingernail right now, the New Year might prove to be Jonas Gustavsson's coming out party if he can eventually steady the Leafs' ship and get this team back to the playoffs. A position the club hasn't been in since the lockout started after the 2003-04 season.