NFL Picks Week 17: QBs Whose Jobs Will Be in Limbo with Season-Ending Losses
December 30, 2011
Rich Schultz/Getty Images
The NFL is a "what have you done for me lately" league and for quarterbacks who fail to deliver a playoff berth and end the season on a losing note, their futures aren't set in stone by any means.
It's a quarterback-driven league, and most teams who have already clinched a playoff spot tout a top-notch signal caller. While Philip Rivers' future is safe after a disappointing season, there are other signal callers who won't be so fortunate.
Here are two high-profile QBs whose jobs will be in limbo after a Week 17 loss.

Mark Sanchez, New York Jets vs. Miami Dolphins
It seemed like the Jets were really going to turn it on and close out the season with a series of wins that punched their playoff ticket, but after losing to the Eagles and Giants in consecutive weeks in must-win games, it's clear that the magnitude of this matchup won't affect their play.
Mark Sanchez is on shaky ground, but ESPN's Adam Schefter doesn't think he's going anywhere.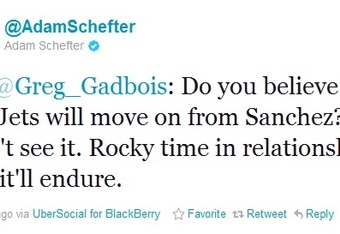 The Jets invested heavily in Sanchez, but there is no reason that their talent-laden team should be in jeopardy of missing the playoffs. Sanchez has led them to the AFC Championship Game multiple times, but losing to Miami this week would certainly cause management to evaluate their situation under center.
The Jets are 2-5 on the road this season and with Reggie Bush rushing for over 100 yards in four consecutive outings, the uncharacteristically porous Jets "D" is in for a harsh ending to their disappointing season.
It's clear that Rex Ryan wants Sanchez to be great, but what if they are presented with an opportunity to upgrade at the position? Is Ryan willing to bet his job on the notion that Sanchez is an elite quarterback?

Tony Romo, Dallas Cowboys vs. New York Giants
Tony Romo is one of the most highly criticized players in the NFL, and rightfully so. There is no reason that with the roster the Cowboys have assembled, they should be missing the playoffs entirely.
We saw Romo's heroics on display in Week 2 when he orchestrated a tremendous comeback win over the 49ers on the road with a punctured lung and broken ribs, but can he put the same heroics on display now that something is on the line and his injured hand has him at less than 100 percent?
The fact of the matter is, Romo has never brought a Lombardi Trophy to Dallas. He shrinks in the big moment and while he looks elite at times, he looks equally as bad at others.
Romo has a play-in game against the division rival Giants. He's going toe-to-toe with Eli Manning and upon failing, the Cowboys are going to be forced to start grooming a guy who can win it all. Romo has had every opportunity to deliver a ring to Jerry Jones and he has fallen on his face.
This season is another harsh reminder that the elusive "it" factor some quarterbacks bring is an immeasurable that is necessary to win a championship. Some guys have it. Romo clearly does not.