Atlanta Braves: Jason Heyward Poised to Flourish in Third MLB Season
February 10, 2012

Ezra Shaw/Getty Images
After a highly successful rookie season, Jason Heyward found himself on the fast track toward stardom. He was the top prospect in baseball, after all—the prodigy destined to bring the Braves back to their 1990s-esque glory. 
But now, a year later, the future looks a lot more uncertain for Atlanta's right fielder. 
Even though Heyward began 2011 on the right foot—hitting a home run in his first at bat of the season for the second straight year—he ultimately failed to meet expectations, finishing with a .227 AVG and a .319 OBP. 
"I wasn't feeling like myself," he said, in an AOL Sporting News story. "I didn't feel that I could make my body do what my mind wanted to do."
Due to his recent (and well documented) struggles, the 22-year-old remains an enigma heading into his third year of Major League service. But his sophomore slump notwithstanding, Heyward's career appears to be moving in the right direction once again.  
He's bumped his offseason workouts up from three days a week to five, losing 21 pounds in the process. Heyward understands that last season was unacceptable, and his increased commitment should be viewed as a very positive sign moving forward. 
"With the help of my parents, I realized that the only way to cope with disappointment is to overcome it with hard work," he said. "Performance comes from work and dedication, belief and strength. Words and excuses get you nowhere."
While many worry about Heyward's ability as a major leaguer, last season's troubles were mostly due to a lack of health, not talent. 
His problems at the plate can, for the most part, be traced to a shoulder injury he suffered last spring—an ailment that severely altered his hitting mechanics, hindering him from extending his arms as much as he needed to cover the entire strike zone.
The insufficient extension in his swing prohibited Heyward from properly reaching the right side of the plate, and it didn't take long for opposing teams to take notice. 
Soon after his injury took effect, he started to see a lot more outside pitches, making it far more difficult to succeed against lefties. This was seen on the stat sheet, as he hit just .192 with two homers, seven RBIs and a .308 slugging percentage against southpaws in 2011. 
"I knew how I felt," Heyward said of his injury. "I knew what I could and couldn't do. My swing got altered. I changed my hands to make up for the shoulder by changing my base load approach, and that got me more out of line. I tried to slow down and regroup, but it never worked on a consistent basis.
"It hurt me, because I love to play. I wanted to be in there every day and contributing ... I just focused on doing the best I could do each day, and when the season ended get my shoulder healed."
Developing consistency at the plate is a matter of muscle memory. The only way for Heyward to correct his flaws is to go back to square one. 
"I was working on my stance, working on my load," he said of his latest training. "Basically all the things I need to have as far as a foundation to allow my swing to work."
He might not be 100 percent ready yet, but with a constant physical therapy regimen and time to heal, expect Heyward's shoulder to be fine by the time April rolls around.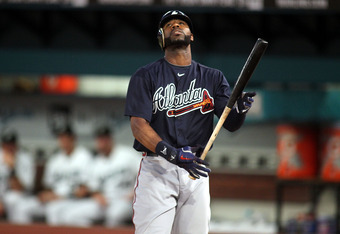 Marc Serota/Getty Images
With a clean bill of health, all signs point to a successful season for the former first round pick.
Chipper Jones, the unquestioned leader of the Braves and a coach in his own right, acknowledged Heyward wasn't the same player last year, but also believes he's on the path to recovery.
"This is what I was concerned with: When he got to spring training in 2010, and into the season in 2010, when the ball jumped off his bat it was a sound and sight unlike anything you had ever heard or seen before," Jones said. "And I didn't see that at all last year. And it's due to some of the things that he was doing mechanically."
"Whether injury caused them or not, he's there. And we've got to get him out of (his slump) ... He's 90 percent of the way back."