So. Miss Football: Golden Eagles, Fedora Ride off into Hawaiian Sunset on Top
December 25, 2011
Honolulu—Larry Fedora stood off to the side behind a curtain, listening, perhaps thinking.
His Southern Miss football team had just beaten Nevada 24-17 in the Sheraton Hawaii Bowl, and three of his players were speaking to the media. He was next.
The motionless four-year head coach appeared like a man with a torn heart.
Understand Fedora will never coach those three players again, or any other Golden Eagles' players. His ticket is punched to Chapel Hill, NC, where he will become the next head coach of the North Carolina Tar Heels, effective immediately.
It can be a cruel world for a head coach in college football, where caring for young 18 to 22-year-old men is paramount and switching schools is oftentimes a necessary evil to help further your career. Of course, one knows this going in, but that doesn't make it any easier when it happens.
Just ask Fedora.
"It's a difficult thing to be honest with you," Fedora said after taking a moment and a deep breath to let the question sink in. "I've got a lot of my heart and soul in this football team, and this staff does, so it's bittersweet. But we couldn't have gone out any better with this football team...The Sheraton Hawaii Bowl has been an unbelievable experience for our football team.
"Our players experienced things this week that obviously they've never had the opportunity to experience, and some of 'em may never have the opportunity again. But this will be a memory for them for the rest of their lives."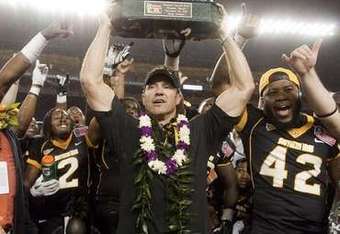 In a game which Southern Miss was held scoreless through the first quarter for the first time this season, the Golden Eagles were able to make big plays when they needed to in all three facets of the game.
A blocked punt by Southern Miss' Tim Green was recovered in the end zone for the game's first touchdown early in the second quarter by Tray Becton-Martin, who became the 25th player to score this year for the Golden Eagles, which leads the FBS.
Nevada quickly responded with consecutive touchdowns to take a 14-7 lead, but a 48-yard field goal by Danny Hrapmann cut the lead to 14-10.
On the ensuing kickoff return, the Golden Eagles forced and recovered a fumble at Nevada's 24-yard line with just over a minute remaining in the half. Seven plays later, quarterback Austin Davis connected with Tracy Lampley for a two-yard touchdown pass and 17-14 lead going into the break.
An assortment of punts, a missed field goal and a turnover on downs by Southern Miss started the sloppy second half before Nevada kicked a 37-yard field goal to tie the game at 17 late in the third quarter.
It would stay knotted at 17 until Davis threw his second scoring pass of the game to Kelvin Bolden with six minutes remaining. The four-yard touchdown was all the Golden Eagles would need to notch coveted win No. 12 on the season. Southern Miss' defense sealed it with a big fourth-down stop moments later.
"They have found a way to win 12 football games," Fedora said.
"It hasn't always been pretty, but they haven't blinked in the face of adversity. And that's why these guys will be successful in life. No matter what's thrown at 'em, whatever the world throws at 'em, they're gonna be successful.
"I'm proud to have been the coach of arguably the greatest team in the history of Southern Miss football. To be 12-2, to be conference champs and Hawaii Bowl champs in the same year. It's just a tremendous, tremendous thing for this football team.
"Twenty years or 30 years from now they'll remember beating the No. 6 team [Houston Cougars] in the country to be Conference USA champs in 2011. And then they'll remember this trip to Hawaii and everything that they took in this week."
And what will he remember 10 years from now when he looks back?
"The thing that I'm going to remember is that Southern Miss is a special place. And the kids that we had they were special kids," Fedora said.
"They are blue-collar, bring their lunch pail and go to work every day. Whether it was the last Thursday practice that we had this week or Aug. 5, our first practice. It looked exactly the same. And that's one thing we said as coaches, 'Wow. Look at these guys.' I mean, it was like that all year, so this is a special group.
"This staff was special, too. These guys did a tremendous job. And their wives and their families and the sacrifices that they made so their husbands could to the job that they did. I can't say enough about them also."
Fedora is now done coaching at Southern Miss, but his torn heart will always bleed a little Black and Gold.
Kevin Riley is a Featured Columnist for Bleacher Report. Unless otherwise noted, all quotes were obtained first-hand.