Premier League Title Race: The Winner of the EPL Will Be a Manchester Club
December 23, 2011
Laurence Griffiths/Getty Images
Last night, third place side Tottenham drew 1-1 with fourth place Chelsea in the final match before Christmas.
The match was an entertaining affair but the draw gave us an unofficial result that came along with the match.
The result was that the winner of the Premier League was not going to be from London, as both Spurs and Chelsea would hope be true. That truth is that the winner of the Premier League is going to be a Manchester club.
Already through 17 matches this season, Manchester City have 44 points while Manchester United have 42 points. Amazingly, both sides are already well ahead of where then-first place United were last year at this time when the Red Devils had 34 points.
Point totals do not support either third place Spurs or fourth place Tottenham.
Right now, Chelsea have 32 points through 17 matches, just one point above fifth place Arsenal. Meanwhile, Spurs have 33 points, though they have played one less match than Chelsea.
The gap in points is already a massive one for any side to attempt to overtake. But there is no way that any side will be able to overtake either Manchester club.
Both Manchester clubs have the best footballing talent in the Premier League on their respective sides and both sets of talent have been phenomenal this season.
The pair of Manchester clubs also have barely lost any matches in the Premier League this season. Both sides have one loss apiece, with United's loss coming to City.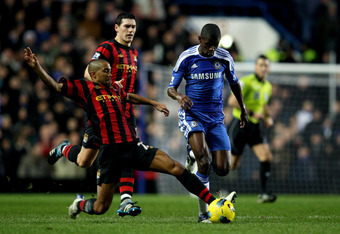 Julian Finney/Getty Images
Right now, it appears that these sides will not lose points to any side either than each other.
It also doesn't hurt to see that this couple will not be playing Champions League football for the remainder of this season. Neither club will put as much emphasis on the Europa League as they would in the Champions League.
This means that there will a stronger emphasis on younger players in European competition, while the important players will be playing in crucial Premier League encounters.
Even in the FA Cup, City or United will probably put out less than their best after their third round matchup on Jan 8.
This Christmas, City are on top of the league for the first time since 1929. However, City were unable to win the league in that season, as they finished third to Sheffield Wednesday and Derby County.
However, City have been incredible at Eastlands this year with a maximum of 27 points gained there already in this young season.
Meanwhile, United are even better than they were last year at this time and appear to only get better with time.
United have only given up three tallies away from Old Trafford this season and even though they are not as good at home as they were last year, Old Trafford still is one of the toughest grounds in all of England for an opponent to win at.
Either way, both sides have proven that they are worthy contenders for the title of Premier League champions and it will be a fantastic ending to this season.
The key to winning this campaign will be whatever side is more fit to the challenge of a Premier League season and the loser of the FA Cup match at the Ethiad in January could easily be the side that wins the Premier League this season.
Follow me on Twitter @Andrew_Jordan