Detroit Pistons Lose to Cleveland Cavaliers 91-87 in Preseason Opener
December 17, 2011
Kevin C. Cox/Getty Images
Friday marked the start of the preseason in the NBA, and by all accounts the lack of time and preparation afforded by this summer's lockout was made very clear as the Pistons dropped their first exhibition game to Cleveland 91-87.  The game was the Piston's first under new head coach Lawrence Frank, who replaced the underachieving John Keuster this offseason.
The matchup marked the professional debut for Pistons first round draft pick Brandon Knight from Kentucky and Cleveland's No. 1 pick from Duke, Kyrie Irving. 
Knight put in nine points in 22 minutes to go along with a team leading four turnovers in a sloppy effort.  Irving scored a team-high 21 for the Cavs despite a poor 4-14 shooting performance from the floor in 27 minutes of play.  Thirteen points from the free throw stripe showed that this young talent is willing to give up his body and drive to the lane to draw fouls, similar to his tactics in an injury shortened season under Mike Krzyzewski.
Neither rookie started for their respective teams, but depending on contract negotiations within their organizations and their play as the regular season approaches both could potentially find themselves in the starting five by the time the season begins.
Forward Austin Daye was the Pistons' leading scorer off the bench with 18 points on 6-12 shooting from the floor including 3-4 from long range. Sophomore center/forward Greg Monroe started right where he left off last season notching a double-double with twelve points and thirteen rebounds. 
Given the opportunity to start through this entire season, a privilege which Monroe has clearly earned, the youthful big-man could open a lot of eyes this year, at least those that take a second to glance toward the Motor City.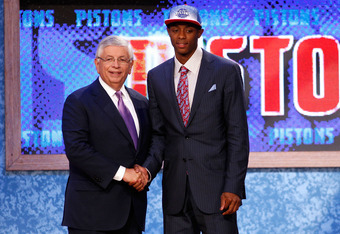 Mike Stobe/Getty Images
The game was very sloppy overall with both teams shooting below 38 percent on field goals and neither cracking 68 percent from the free throw line. 
All in all it was pretty much what you would expect in the first preseason game following a shortened offseason and proved that both of these teams still have a long way to go if they hope to be competitive this year or have any chance at a playoff berth. 
It is ironic, and a bit sad, to see how far these two squads have fallen after residing atop the Eastern Conference consistently over the past 5-10 years, but with key additions like Knight and Irving they have both put themselves in good position to grow and build around those talented guards over the next few seasons.
The teams face off again at Quicken Loans Arena in Cleveland on Tuesday December 20 in the final warm up game before the season kicks off on Christmas Day.