NHL News: Jim Rutherford Works Magic, Unloads Kaberle to Montreal for Spacek
December 10, 2011
Jim McIsaac/Getty Images
Carolina Hurricanes fans can breathe a sigh of relief.
In what should be considered the most lopsided trade of the young 2011-12 NHL season, the 'Canes swapped Czechoslovakian defensemen with the Montreal Canadiens on Friday, shipping Tomas Kaberle north of the border in exchange for Jaroslav Spacek.
To call Kaberle's brief stint in Carolina a bust would be an understatement—zero goals, nine assists and a -12 plus/minus rating in 29 games played. T
hat is not exactly what Hurricanes General Manager Jim Rutherford had in mind when he signed the aging blueliner to a $12.75 million, three-year deal this summer. 
Carolina's well-respected GM has been very blunt about his team's underwhelming start, admitting he should have known better than to sign Kaberle.
Hindsight is always 20/20, but Rutherford deserves credit for taking responsibility for his actions. While his decision to sign the long-tenured Toronto Maple Leaf is worthy of heavy criticism, he should be equally applauded for unloading his least attractive asset the way he did.
This trade benefits Carolina in two major ways: their defense receives an immediate—and much needed—upgrade and they are no longer burdened with one of the worst contracts in recent NHL history. 
Spacek, 37, will boost the Hurricanes' blueline for the remainder of the season. While his career numbers may be inferior to Kaberle's, he's a better player at this juncture than his fellow countryman.
Carolina has allowed more goals against than any other team in the league and Spacek's defensive-minded style will help correct that.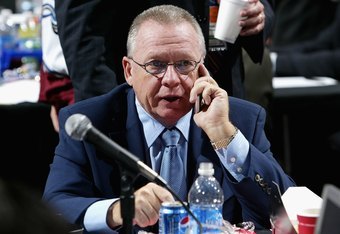 Dave Sandford/Getty Images
The most remarkable—and most important—part of this trade is that the Hurricanes are no longer responsible for Kaberle's inflated salary; the aging defenseman is set to make $8.5 million over the course of the next two seasons, far more than he is worth.
With Spacek's contract expiring at the end of the 2011-12 campaign, Carolina now has a lot more money freed up for the future.
Pure magic from Mr. Rutherford.
There is no reasonable explanation as to why Canadiens GM Pierre Gauthier pulled the trigger on this one. While both players are past their prime, Spacek is the more talented of the two at this point and doesn't come with a dreadful contract.
Gauthier is now paying more for less, giving the always-passionate Habs fans a new reason to fret.
In his first game as a Hurricane, Spacek tallied assists on both of Carolina's goals in a 4-2 loss to Winnipeg. While the loss marks the eighth defeat in the past nine games for his new team, Spacek's presence—and Kaberle's absence—has already been felt.
The current season may be lost for the Hurricanes, but this trade makes their rebuilding process much easier. It's hard for any organization to work around a deal like Kaberle's, but it would have been especially difficult for Carolina.
They currently have the third lowest payroll in the NHL and remain one of the most cash-strapped teams in the league. The $8.5 million they would have paid Kaberle can now be spent productively.