MLB Winter Meetings: Reviewing the Milwaukee Brewers' Winter Up to This Point
December 9, 2011
Jim McIsaac/Getty Images
These winter meetings have caused polarizing feelings among Brewers fans.
I for one, am feeling pretty optimistic right now.
I think that, given the circumstances, the Brewers did a good job at the meetings, and I definitely do not believe they are done adding pieces.
Twitter was awash with news and speculation regarding Francisco Rodriguez yesterday. General consensus quickly changed from one side of the spectrum to the complete opposite.
When winter meetings started, there was no chance K-Rod would accept arbitration from the Brewers, but as the market for closers slowly dried up, people began tweeting in horror that there was a good chance that K-Rod would still be under Milwaukee's control at the 11 o'clock deadline.
And sure enough, K-Rod took the Brewers up on their arbitration offer.
Set to make around $15 million in 2012, Milwaukee is about to have the most expensive set-up man in baseball. Interestingly, John Axford, the lockdown closer for the Brewers, barely makes above league minimum.
If the Brewers don't trade Rodriguez before the season starts, one thing is for certain... Francisco Rodriguez and John Axford will combine to be one of the best relieving tandems in baseball.
And honestly, the price is not as shocking as it sounds, really. If you combine their two salaries, it will average out to be eight million per player. While that is still a lot of money to pay two relievers, it is important to remember that Axford and K-Rod are two of the best relievers in the game, and they basically ensure seven inning games when the Brewers enter the eighth with a lead.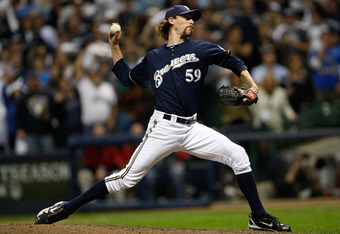 Jared Wickerham/Getty Images
After being traded to the Brewers at the all-star break last season, Francisco Rodriguez was exactly the shutdown pitcher everyone knew he could be. With the Brewers, in 29 innings pitched he posted a stunning stat-line with an ERA of 1.86, WHIP of 1.14, 33 Ks and only gave up one homer. He also memorably took only his second career at-bat and managed to leg out an infield single for his first major league hit.
Axford was equally as impressive, posting a 1.95 ERA, 1.14 WHIP, 86 Ks and 46 saves over 73.2 IP. His 43 consecutive regular season saves set a franchise record--is the fifth longest streak in MLB history--and is currently the second longest active streak in baseball.
These two guys at the back of the bullpen is a great commodity, and while it is expensive, I think the Brewers are going to benefit greatly in the long run.
LaTroy Hawkins is unfortunately gone, and Takashi Saito's future with the club is still up in the air, but I think the bullpen is definitely at least somewhat stable with Rodriguez deciding to stay.
The Brewers also gave another little treat today by signing shortstop Alex Gonzales to a one year deal with a vesting option for a second. Gonzales and Betancourt are virtually identical offensive players (Gonzales: 241/.270/.372, 15 HR, 56 RBI), but the real value with Gonzo is his glove. He is an outstanding defensive shortstop, and is certainly an upgrade over Yuni B in that regard.
I definitely don't hate the YuniBomber as much as most Brewers fans (heck, I would go so far as to say that I liked the guy), but Gonzo is definitely an upgrade and provides defensive stability up the middle.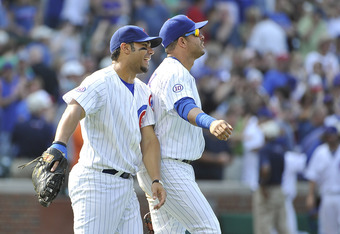 Brian Kersey/Getty Images
The Brewers still have work to do though. I firmly believe that Doug Melvin and Mark Attanasio need to splurge a little bit and sign Aramis Ramirez. With the Phillies no longer interested in A-Ram, and the Angels almost certainly out of money after the additions of C.J. Wilson and Albert Pujols, the Brewers are conceivably the only team still seeking him. That could make him a little cheaper moving forward.
If A-Ram is out of reach, the Brewers should make a move on the left-handed slugging first baseman Carlos Pena. Pena is a cheaper alternative to A-Ram. He certainly doesn't hit for average, but he hits for great power and draws a lot of walks (2011: .225/.357/.462, 28 HR, 80 RBI). Pena is also a Gold Glove caliber defender, and a fantastic presence in any locker room.
If one of these moves is made, and the Brewers are somewhat able to mitigate the impending loss of Prince Fielder's bat, Milwaukee has a lot to look forward to in 2012. The St. Louis Cardinals took a big hit with the loss of Pujols, the Reds and Cubs have done nothing so far this offseason and the Pirates managed to quietly get better, but they're still the Pirates. Also, the Astros are stuck in baseball purgatory, and are shopping the only good players they have on their roster.
The NL Central will be very winnable in 2012, and I think the Brewers are in a good position to be the favorites once again.