Nebraska a Big Deal for Wyoming, but What About the Other Games?
December 7, 2011
When the big shots come to play, War Memorial is as packed as Wyoming will ever see.  But what about when games truly matter?
September 24th, 2011 was viewed nationally as just another day of preseason college football.  But for Wyoming fans it proved to be a historic day.
The (at the time) 9th ranked Cornhuskers rolled into Laramie for the first time ever to play the Wyoming Cowboys.  With a sellout nearing 33,000 fans, it was perhaps the most anticipated game in UW's history.  Many fans bought season tickets just to witness the "border war," so to speak.
Let's face it, while it was a big deal, and Wyoming put up a strong fight only trailing 7-14 at halftime, the likelihood of an upset was improbable at best.  Despite the large presence of red in War Memorial Stadium, Wyoming fans were as hyped up, loud, and rowdy for this game as any in recent history.
Where was this for the rest of the season?
While homecoming against UNLV brought in a mediocre 22,000, attendances at the TCU and New Mexico games were dismal. 
Wyoming fans have been demanding a solid winning team for years, and true freshman Brett Smith and his posse of Cowboys have whipped up a 8-4 (5-2) record to snatch a New Mexico Bowl bid. 
When TCU rolled into Laramie on November 5th to play Wyoming in possibly the Cowboys' most important conference game of 2011, barely 17,000 fans showed up. Snow was in the forecast but it didn't happen. Wyoming wrestled around with the Frogs tying 17-17 at halftime and taking a 20-17 third quarter lead. The Pokes lost 20-31 after some questionable aggression on our quarterback but that's beside the point.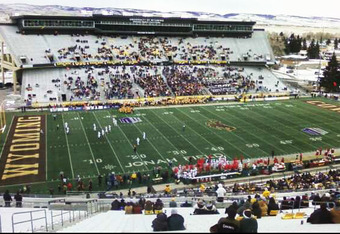 On senior day against New Mexico (whom they beat), the game for which Wyoming could become bowl eligible, 14,000 fans showed up (speaking in terms of ticket sales, anyway). 
Not only was this pathetic turnout a blow to the seniors who have overcome previously adverse seasons (save the 2009 6-6- record and NM Bowl victory) to bring the state a winning team, it was a blow to the entire university.
War Memorial Stadium is not that big, but it can be one intimidating place if more than half the seats are filled. Not being able to fill half the seats of a 30,000 capacity venue just makes one think UW is a cupcake institution since most D1-FCS (formerly AA) schools have better turnouts.
There are plenty of quality fans out there and the Cowboys have the backing of most of the state. But it is apparent sellouts are only generated when the likes of Texas or Nebraska--teams with names--play at UW.
There are legitimate reasons for people not to come to games. Wyoming is a huge state with few people and severe weather conditions. But weather was not the factor people thought it would be this year.
Laramie and the UW student population combined is about 45,000, and much of Wyoming's population is concentrated in the southeastern part of the state (within reasonable driving distance). When it's in the heat of conference play and the Pokes are fighting to be top dog in the conference for once, the War should have a slightly better outing than a high school field.
Wyoming has a reputation for being a loud, tough place to play, especially in the Mountain West.  Now that the Pokes are winning, fans should be there in full support--not just when big shots come to town.