Prince Fielder: Should Washington Nationals Go All-In on 1B?
November 29, 2011
Christian Petersen/Getty Images
According to Fox Sports' Ken Rosenthal, the Nationals are making Prince Fielder their top offensive target, despite previous denial of interest in the services of the 27-year-old. If the Nationals were to add Fielder to the payroll, they'll need to address a few questions and move a number of pieces in the process. 
Acquiring Fielder creates an even bigger logjam at 1B than the one they currently have. Three different players started at 1B for the Nationals in '11 for an extended period of time. Adam LaRoche signed a two-year deal with the club last offseason and had surgery to repair a torn labrum in his shoulder in June. Breakout player Michael Morse and rookie Chris Marrero saw significant time at the position as well, both having success there. 
It is assumed that Morse will return to the OF regardless, meaning that LaRoche would return to starting at 1B, sending Marrero to spend more time at Triple-A Syracuse until injury or trade changes his situation. Add Fielder to the fold, and that leaves the Nationals with four potential 1B, who all are capable of adequate or better play at the position. 
Assuming the Nationals do not add Fielder and Marrero heads to Triple-A, the team's opening day lineup would likely look like this:
CF: TBD (Crisp, Upton, Span, Bernadina, whoever)
SS: Desmond
3B: Zimmerman
LF: Morse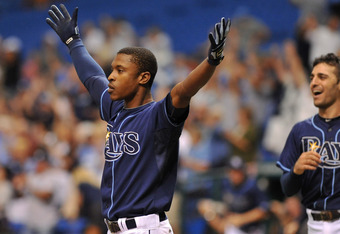 Al Messerschmidt/Getty Images
RF: Werth
1B: LaRoche
C: Ramos
2B: Espinosa
P: Zimmermann/Strasburg/FA
Rotation:
Zimmermann
Strasburg
Wang
Lannan
Detwiler/Peacock/Milone
That offense could actually see great improvement assuming Ramos, Espinosa and Desmond continue to develop and improve, and the addition of a healthy LaRoche and bounce-back year for Werth. The Nationals will also likely get close to a full year of Zimmerman as well.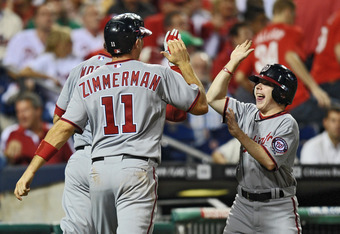 Drew Hallowell/Getty Images
Now, assume the Nationals were to sign Fielder and move LaRoche, a starter like Lannan and a position player like Desmond, along with a prospect or two to acquire a top-flight starter and a CF/lead-off hitter. Here is an example of what it all could look like: 
CF: Upton
2B: Lombardozzi
3B: Zimmerman
1B: Fielder
LF: Morse
RF: Werth
C: Ramos
SS: Espinosa
P: Shields
Rotation:
Shields
Zimmermann
Strasburg
Wang
Detwiler/Milone/Peacock, etc.
I know that the Rays wouldn't likely be interested in someone like Lannan with their SP depth, but they could go on to trade a Niemann or Davis and add a veteran LHP, or potentially move Lannan to the bullpen and work him as a specialist. It may not be the best example, but I could see the Nationals getting it done for a package like this:
Nats acquire:
SP James Shields
CF B.J. Upton
Rays acquire:
1B Chris Marrero
C Derek Norris
SP: John Lannan
RP: Ryan Mattheus 
SS: Ian Desmond
PTBNL (likely another reliever, or a low-level lead-off hitter type OF)
The Rays have been linked to Desmond before, and his returning home to Florida and Upton to Virginia/DC may be the best situation for both players.
The Rays would get a top-flight catching prospect in Norris and a former first-round pick to fill their 1B void for the long term in Marrero. Lannan is a quality No. 4 or 5 starter, and a southpaw at that. Mattheus has solid upside out of the 'pen and would strength the Rays' staff on the cheap. The Nats, of course, would get the true No. 1 starter they've been after for the past two offseasons. 
Fielder is the key to all this because without him, the Nationals need Marrero's depth at 1B in case of injury or a LaRoche trade. The Rays may think my trade proposal is a joke, or the Nationals could just as easily balk at the idea thinking they lose too much, especially if Shields is unwilling to sign long-term. But for the sake of the argument, if this were to happen, one question would still remain: What will it take to sign Prince Fielder?
If this question could be answered in terms of a deal that would be more than five years, I'd believe the Nationals would be making a mistake. I don't think Fielder will sign for less than six, unless he can get close to $30 million per year on a four- or five-year deal.
If the Nationals could sign him for five years at $130 million to $140 million, I'd say pull the trigger and make sure to front load the deal if possible. You could pay him roughly $30 million for the first three years and have it lowered into the low to mid 20s in the final two.
The only question is, would Fielder and his agent, the master of the deal, Scott Boras, go for it?