Roger Federer and Rafael Nadal: Why Indoors Is an Altogether Different Ball Game
November 29, 2011
Michael Regan/Getty Images
Roger Federer and Rafael Nadal's head-to-head record have been analyzed, analyzed more and then over-analyzed.
I've done my own piece here, where I break down their rivalry into periods of dominance (surprisingly to many, it goes: Rafa-Roger-Rafa). 
Needless to say, in all these pieces about their rivalry, many have written about how the two of them meeting on clay 54 percent of the time (14 out of 26 meetings) gives an advantage to Rafa over Roger. 
Why?
Well because meeting 54 percent on a surface that is only played on for about a third of the time is a bit much.
Add to that that Rafael Nadal is the best clay-court player in the history of the sport (sorry Borg, but he is) and you see why Roger has a 12-2 losing record on the red turf that greatly contributes to his 9-17 deficit in their head-to-head. 
Another interesting, and more overlooked, feature of their head-to-head is the fact that they have only met four times post-Wimbledon in all those 26 meetings.
Traditionally, this has mainly been because Rafa plays his best from the start of the clay season until Wimbledon. He simply wouldn't be there to meet Roger in the post-Wimbledon finals.
The last two years, Roger has failed to meet Rafa in the US Open final and neither of them have been able to make it to a second half season final, when the other part did with last years World Tour Finals final as the exception that proves the rule.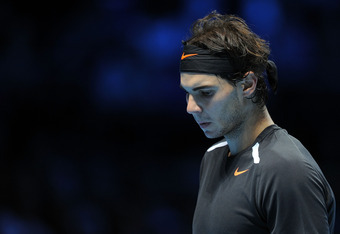 Michael Regan/Getty Images
Back to those four meetings, all of those matches have come at the season-ending World Tour Finals: in the semis in 2006 and 2007, in the final of 2010 and now at the round robin stage this year (read my piece on that match here).
What they all have in common is being indoors. And that Roger has won all four of them and is now 4-0 against Rafa indoors losing but one set. As Roger said after his victory, "at least I have one surface."
We can only imagine what their head-to-head would look like if they had met 14 times indoors in the second half of the season as opposed to 14 times on clay in the first half of the season. 
But the deeper question is this: how come Federer can beat Nadal indoors, when he has such trouble outdoors, on and off clay?
Analysis
Basically, the indoor surface and the indoor conditions provide the perfect launching platform for Roger's attacking style. 
Indoor surfaces tend to play faster and while O2 is not a fast indoor hard court, Shanghai certainly was. And the faster the surface, the greater the likelihood of Roger being able to hit the ball past Rafa.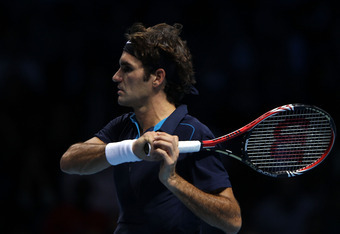 Clive Brunskill/Getty Images
But regardless of surface and surface speed, Roger usually ends up with a higher number of winners than Rafa as he is the attacker and Rafa the defender. 
What often tends to determine their matches is Roger's unforced errors count. If he can keep them in check, he can and often will win. If Rafa can make him go for too much by running down his winners, he loses. 
And this is why the indoor courts are perfect for Roger. Here, there is a hardly ever a bad bounce (though they can occur) as on clay or grass for that matter. There's no wind to change the direction of the ball ever so slightly. And the ball travels through the air faster indoors. 
Moreover, the bounce of the ball tends to be lower, rendering Rafa's cross-court forehand to Roger's one-handed backhand much less effective as has been shown in this years and last years World Tour Finals.
The height of the bounce is surely important, but that the bounce is true is perhaps even as important if not more so.
Why?
Because that allows Roger to take the ball early and attack from the baseline or even inside the court.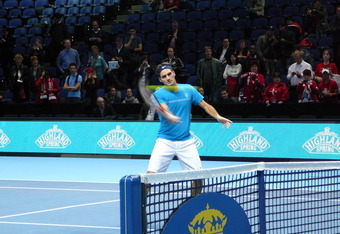 And when he can hit the ball from within the court, he can hit more winners that Rafa can't get to. Moreover, it greatly diminishes his unforced errors count as there are less shanks and less balls hit off the sweet spot. 
When Roger has a true bounce, no wind, no sun and no distractions, he can hit the ball more or less everywhere on court. He already plays with a smaller racquet-head than his peers, so naturally his margin of error is smaller. 
But indoors, when he is on, he can keep those errors to a minimum as the playing conditions are as clean as they get. Last week, he made 28 winners to eight unforced errors against Rafa.
And Rafa? He made four winners and seven errors. 
And that is really what changes the ball game completely between the two of them when they play outdoors and indoors and on clay and elsewhere. 
While bad bounces or the wind can certainly hurt Rafa too, he takes the ball much later and thus has more time to adjust to a bad bounce or a small change of direction by the ball. 
But don't just take my words for granted. In his press-conference, Rafa was asked what the difference is about playing Roger indoors.
First thing, his level is probably higher here. All the conditions are perfect for him because the bounces are not too high. He can go inside the court with less problems than in the other surfaces. He can play inside the court. The ball doesn't move nothing, no windy. He has the chance to attack better in these conditions than in other surfaces.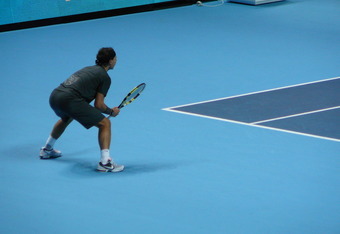 So, the bounce is not too high, no wind and Roger can attack inside the court.
What does Roger think?
I was able to do what I was hoping to do: dominate from the baseline, play close to the baseline, serve well, take his time away. I was able to do that tonight. Hasn't always worked.
And why was that? Was is the difference between indoors and outdoors?
Well, obviously on clay and on grass, you have the bad bounces that come into play more, so it's harder maybe to play some half volleys off the baseline. Today I hit some crucial ones off my backhand side. In key moments I was able to stay put, not move backwards, to give myself time.

That helps on on the indoors, even though you do have the occasional bad bounce as well on the indoors. I don't know. Usually it just plays faster indoors than the other surfaces, so I think that's the biggest difference.
Again, key for Roger is that he was able to stay close to the baseline, because the bounce is true and that indoors plays faster than outdoors, even though the O2 court is not so quick.
Can Rafa beat Roger indoors? 
Yes, no one is unbeatable on any surface and Roger has beaten Rafa a couple of times on clay after all. 
But as Rafa will always be favoured on clay, so will Roger, or at least his type of game (he is aging after all), always be favoured on an indoor hard court, be it slow or fast. 
The combination of a lower and truer bounce is what he needs to play the kind of style that is necessary to get the ball past Rafa without undoing himself by too many unforced errors.