BJ Penn Column: UFC Legend Gives Updates from Hawaii in His First Post
November 23, 2011
I am excited to finally get my weekly writing underway on Bleacher Report. My intentions are to provide the readers here with some insight on the real life of a Mixed Martial Artist and through doing so I will cover a variety of topics ranging from my personal life to my thoughts on the many happenings around the world I think may be of interest to you guys.
For starters, in this first entry I would like to update everyone with what I have been up to and what I have going on in my life at the present.
For the past couple of weeks, ever since my fight with Diaz, I have just been taking it easy. When I am not relaxing at home, I am just hanging out with old friends from high school and spending time with my daughter and family.
I have been back in Hawaii for a while now, but I haven't been doing much as far as athletics go. This is partly because I think I sprained my finger or something, so because of that I have just been kind of laying low and enjoying life.
However, after sitting around the house for so long my body started to get achy. So two weeks ago I started to run again. I just couldn't take sitting around the house anymore without exercising and my body feels so much better now that I have started working out again. I still haven't gotten into the gym and done any type of martial arts training yet, but the runs are definitely fun and, like I said, they make my body feel better.
I am still finding myself very busy with all different types of projects and ventures I am involved in. It seems like even though I have more time to relax without training full time, my focus has turned to other projects and activities.
For those who don't know, I have a foundation here in Hawaii called the "Penn Hawaii Youth Foundation." This foundation helps at-risk children that have been in trouble get back on track through martial arts and several other positive activities. This past Saturday, my latest group of kids graduated from the program and I got to go to the ceremony. It was great to see the progress they have all made.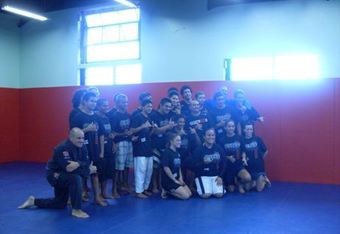 The day after the graduation, my girlfriend and I had our baby shower. I am expecting a new daughter to come into the world this December and the party was fun. We got a lot of support from friends and family and everyone had a great time. It's nice to be able to do these types of things, spending time with my loved ones and being there to celebrate the new life that is about to come into this world.
It's funny, because one of my friends asked me the other day what I have been doing for fun now that I am not training for a fight and competing.  It's these things that I now have time to do that I get my day-to-day enjoyment out of. It's great to spend time with everyone and stay busy in a different way for once.
As I am working on this piece, I am on my way to Oahu. I was given a part in an episode of the hit TV Show, Hawaii 5.0, and I will be filming for the next few days on set. It's really good timing to be out in Oahu because the president of RVCA, Pat Tenore, and his whole family have taken a vacation this week out there, so when I'm not filming I plan on going and hanging out with them.
Pat has been challenging me to a surf competition for years now and I am hoping while we are all out on Oahu we can finally settle this once and for all. I haven't surfed in a few months because I was training for the Diaz fight, and from what I hear Pat has been training for a boxing match somewhere and is in really good shape. So, it will be interesting, but I still think I can give him a run for his money.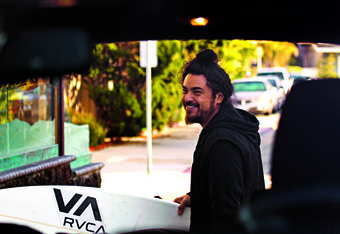 We've been meaning to do this for some time, so I will have to see if we can take care of the contest and see who the better surfer really is. If the waves are too big I won't go out and I don't know how big Pat goes either. If they're too big he may wimp out, but hopefully we can put it together.  
Speaking of surfing, the entire RVCA Pro Surf team is out there too, so I plan on relaxing and spending time with guys like Makua Rothman, Danny Fuller, Logan Dulien and the rest of the RVCA team while I am visiting too.
On the MMA front, what about last weekend's fights?
I think Dan Henderson versus "Shogun" was the best fight I have ever seen in my life. What a fight! It was very close; I think the first three rounds were close. I didn't feel like Dan really pulled away from "Shogun" in any of those rounds. I know at one point Dan dropped him and went in for the kill and unloaded but "Shogun" handled it and came back to win the last two rounds.
It was great to see two legends of the sport put it all on the line like that. Dan is just a beast and like I said, it was the best fight I have ever seen.
That is really all I have for this week, so far so good as far as life after UFC 137 goes. I am in great spirits and I am really enjoying the break from competition. I still find myself very busy with all the things going on and I look forward to keeping up these columns and keeping you guys informed.
Until next week, Mahalos.