Manny Pacquiao Victory over Juan Manuel Marquez Was No Robbery
November 17, 2011
Ethan Miller/Getty Images
All my friends knew I was up late last Saturday night, watching both MMA (UFC on FOX) and boxing (HBO pay-per-view).  So they thought nothing of calling and texting me into the wee hours of Sunday morning.
None of them had a problem with the result of the UFC fight they had watched on FOX TV earlier in the evening.  However, nearly all were outraged at the decision that was rendered in the PPV boxing match.
I'm outraged that they were outraged! Get over it!
I feel like UFC President Dana White, who yelled "Shut up! Just shut up!"after being asked for the millionth time why only one fight was shown on FOX—that being Junior dos Santos' 64-second blowout of Cain Velazquez.
"Hey Commish, sorry to call so late, but I know you had to be watching that fight. Was that the worst decision you've ever seen?" is what one of my friends asked me in his call of a little past 1:00 a.m., as he vented over Manny Pacquiao's 12-round decision against Juan Manuel Marquez.
 Another asked "How crazy are you gonna go on your show about that decision?"
 Yet another wanted to know "Is that decision bad enough to make your 'Top 10 Bad Decisions' list?"
 Top 10? I'm not sure if that was bad enough to make my Top 10 of 2011!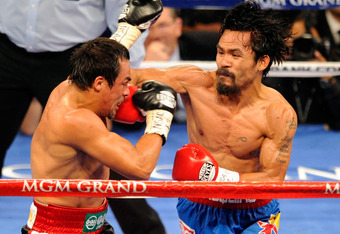 Ethan Miller/Getty Images
 Shut up! Just shut up! 
Can't we have a two-sided fight that goes to a decision without fans yelling "Robbery!"?
 But the calls kept coming.
 "Randy, you've gotta do something. That decision was outrageous!"
 Outrageous? Huh? Did I miss something?
 "We just witnessed a high-stakes robbery on PPV," whined another friend.
 Robbery?
"That was the worst decision I've ever seen!" complained another friend.
"Worst decision" he's ever seen? The guy is a new boxing fan. I think he started following the sport two years ago. He hasn't even seen that many boxing matches, let alone bad decisions. So calling this the "worst decision" he has ever seen—when there have been several in 2011 alone—is laughable.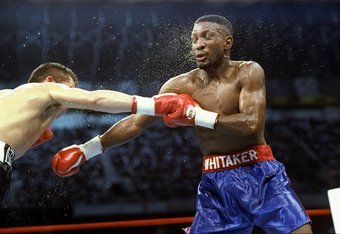 Holly Stein/Getty Images
Shut up! Just shut up!
Remember back in May, when Devon Alexander was handed a gift decision over Lucas Matthysse?
And how about last June, when a packed crowd and television audience saw Matthew Macklin beat Felix Sturm for the WBA Super World Middleweight Title, only to find out after 12 rounds that two of the three judges had Sturm the winner?
Want to talk about robberies? Want to talk about bad decisions?
Talk to me about Pernell "Sweat Pea" Whitaker against Jose Luis Ramirez in 1988 or against Julio Cesar Chavez in 1993. Now those were ripoffs!
At the time, Ramirez was the WBC lightweight champion. He went into the fight having won 100 bouts while losing only six. On March 12, 1988, a national television audience saw Whitaker hand Ramirez his seventh loss and take his lightweight crown.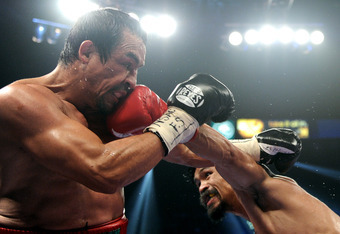 Harry How/Getty Images
One of the judges, England's respected Harry Gibbs, agreed with the viewing world, awarding the title to Whitaker by four points. Only two people who watched the fight—Newton Campos and Louis Michel—had Ramirez the winner.
The problem is, they were the other two judges. Michel had Ramirez winning by one point, while Campos, in one of boxing's history's worst scoring travesties, had Whitaker winning only two of the 12 rounds. Now, that was a robbery!
Pacquiao vs. Marquez a robbery?  Shut up! Just shut up!
Keep it going with Whitaker. Over the next five-and-a-half years, "Sweat Pea" picked up, not only the lightweight title, but jr. welterweight and welterweight titles as well.
During that time, he had won 17 fights in a row. His only loss in 33 fights remained the fight he was robbed at pencil-point against Ramirez. Then, on September 10, 1993, he faced Mexico's legendary—and unbeaten—Julio Cesar Chavez, who brought a record of 87-0 into their welterweight title fight.
After 12 rounds, the world once again saw Whitaker handily win a fight. But, once again, two men with pencils, judges Mickey Vann and Franz Marti, saw the fight even at 115.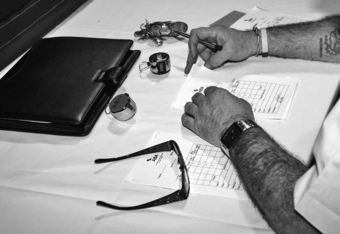 Mark Wieland/Getty Images
A third judge, Jack Woodruff, called Whitaker the winner by two points. The fight was a majority draw! My scorecard, as well as the scorecard of so many who watched, saw Whitaker winning by at least four points.
And you say Pacquiao-Marquez was a robbery?
Shut up! Just shut up!
Want to talk about robberies? Want to talk about bad decisions?
Talk to me about one of history's worst decisions—the one given to WBC junior lightweight champion Alfredo Escalera over Philadelphia's Tyrone Everett in 1975.
The undefeated Everett gave the champion a thorough boxing lesson over 15 rounds. At minimum, Everett won 10 rounds. My card had him winning 12 rounds.
Unfortunately for Everett—and for boxing—two of the judges had Escalera winning rather comfortably. It may be the worst decision ever rendered in boxing.
And you're calling me up telling me Pacquiao vs. Marquez was a robbery?
Shut up! Just shut up!
Lennox Lewis vs. Evander Holyfield in March 1999 was called a 12-round draw. That was so off that a Senate investigation was launched to look into the scoring. We love ya, 'Vander, but that was no draw. That was a huge win for Lewis.
In June, 1989, Thomas Hearns fought to a 12-round draw vs. Sugar Ray Leonard.  The fight was a rematch of their battle almost eight years earlier, won by Leonard.  In the rematch, however, Leonard was knocked down in the third and 11th rounds. 
Somehow, only one of the three judges saw Hearns winning.  The other two scorecards showed the fight even and Leonard incredibly ahead.  Even Leonard will openly tell you he lost the fight.
Why can't ringside judges get it right?
Unfortunately, some are incompetent. Commissions should know who they are and pull them off their judging lists immediately. Others are not incompetent. They're dishonest. They should also be pulled off judging lists. They should even be investigated.
I once suggested public flogging of boxing judges who mess up the scoring, but that idea—while popular—didn't sit too well with lawmakers.
At seminars for officials I give, I implore judges to keep their minds on the fight and on the fighters for 180 seconds a round. Do not allow your mind to wander. Stay with the action (or lack of it). Watch it. Feel it. Absorb it. Analyze it.
Are three crisp rights by fighter "A" worth more than the 12 jabs landed by fighter "B"? Is winning 170 seconds of a round for fighter "A" enough to lose that round if fighter "B" has a blistering five-second burst, his only output in the round?
Watching at home is very difficult, especially in a room filled with viewers. You're talking. You're looking at Mike, who just asked you a question. You answer him, looking at him most of the time. You look at Joe on your right, who just said something funny. You reach for your drink. The round ends, and you've just watched three-quarters of it. You're now gonna' tell me who won the round? I don't think so.
And that's the case that happened with Manny Pacquiao vs. Juan Manuel Marquez. Most of you were watching but not paying 100 percent attention to the fight. Scoring needs 100 percent of your attention.
For those of you who watched, you know who won.
A robbery?
Shut up! Just shut up!