Arkansas Football: 5 Things We Learned from the Hogs' Win over Tennessee
November 14, 2011
Wesley Hitt/Getty Images
It didn't take long Saturday night to learn that Arkansas was a significantly better football team than Tennessee.  Here are five other things we learned from the Hogs 49-7 win.
Joe Adams and Jarius Wright will be hard to replace
Conventional wisdom around the Arkansas program has been that there are talented receivers waiting in the wings, and that if the Hogs lose one, they can just plug in the next guy.  This is true to some degree, but as Joe Adams and Jarius Wright were putting on a performance Saturday night that resembled the Harlem Globetrotters, it occurred to me that the 'Trotters were never as good without Curly Neal and Meadowlark Lemon. 
Adams and Wright are the two leading receivers in program history, and their contributions to turning the program around should not be forgotten.
The Hogs have their swagger back
By the end of last season, the Razorbacks had a swagger that was visible.  When they took the field against LSU last November, Arkansas knew they would win. 
For a number of reasons, that swagger has been missing this season.  That is, until the last two weeks.  This team is hitting their stride at the right time and they know it.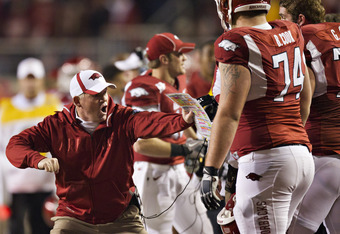 Wesley Hitt/Getty Images
Defense better with Bequette and Wright
I listened last night as the talking heads made excuses for Oregon, saying that they are not the same team that got handled by LSU in Week 1.  I'm still waiting hear someone say that about Arkansas and their loss to Alabama. 
Look, I know it's football, injuries happen, and Alabama dominated that game.  I'm not saying if they played tomorrow, that Arkansas could beat the Tide, but you have to be blind not to see that this is a different defense with Jake Bequette and Tank Wright healthy. 
If a team goes into a big game without two of their biggest offensive playmakers, that team get's a pass from the media, but when it comes to defense nobody notices.  For all of the hand wringing with regards to the Arkansas defense this season, it is now the 30th-ranked scoring defense in the nation. 
Passing game struggling?
No, not really.  It is still the best passing game in the SEC, but I needed a new headline after weeks of beating up on the Hogs rushing attack. 
For the first time this season, the Razorbacks had more rushing yards than passing yards.  Dennis Johnson has settled into the feature back position with 140 total yards against Tennessee, but the Hogs are still finding ways to work in Ronnie Wingo Jr. and Broderick Green.  Senior De'Anthony Curtis got into the act as well against the Volunteers, with the first rushing touchdown of his career.
Arkansas fans need to enjoy the moment!
Arkansas fans are enjoying the best stretch of Razorback football in at least 20 years, and have even gotten to the point that they are so used to it, that they are taken this success in stride. 
Bobby Petrino has repeatedly said that he wants the high expectations, but good times don't last forever and for proof of that Hog fans need look no further than the product Tennessee is putting on the field.  There was a time (1999), when beating Tennessee warranted tearing down the goal posts.  Now, it means leaving half way through the fourth quarter to beat traffic. 
The SEC is better when Tennessee is good, and I'm sad to say that Tennessee is not even close to good right now.