Why Ryan Broyles' Injury Isn't a Major Concern for Oklahoma Football
November 15, 2011
Brett Deering/Getty Images
Before I get started, let me first applaud and congratulate Ryan Broyles for a tremendous career at the University of Oklahoma. Not only is he without a doubt one of the best wide receivers OU has ever had (if not the best), he is also one of the most prolific wide receivers in college football history.
Broyles recently broke the NCAA record for receptions in a career, and had he remained healthy, he would have had a shot at breaking the record for reception yards in a career, as well. 
Unfortunately, Broyles' season and career at the University of Oklahoma were cut short after he tore his ACL in the Sooners' most recent victory against Texas A&M. His 349 career receptions and 4,586 career reception yards will forever remain a justified testament to his overall talent and hard-working demeanor. 
When Broyles was seen crying on the sidelines after receiving the news of his ACL tear, your heart couldn't help but break. The injury couldn't have happened to a nicer guy, and he deserved a chance to finish out his career. 
However, Broyles was quick to show his true character. After the game, Broyles sent out this tweet to his supporters:
"Thank you all for ur prayers! I have God and he is good! So that means I am good! He has a plan for me and his timing is perfect! #blessed!"
Broyles' career at the University of Oklahoma may be finished, but his football career is only beginning. There's no doubt that a NFL team within the first few rounds (possibly later depending on how his rehab goes) will draft him, and they will be continually pleased with the him not only as a player, but also as a person.
Now, onto the "hard-hitting" journalism: How does OU replace a guy like Ryan Broyles? The quick answer to that question is simple: They can't. Broyles' 83 receptions was more than double Kenny Stills' 41 receptions, which is good enough for second on the team.
Broyles is the most consistent and talented receiver on the roster, and his efforts will be missed both in the passing and return game. However, don't be so quick to rule out the Sooners now that Broyles is forced to spend the remainder of his collegiate career as a cheerleader on the sideline.
Yes, Broyles is quarterback Landry Jones' favorite target; the stats prove that. However, how many of those receptions were bubble screens, quick slants or other short-yardage passes? His average reception yardage is 13.9, and that definitely alludes to a lot of short-yardage, create-your-own-yards type of passes.
Sophomore Kenny Stills, who is more or less a slightly taller, younger version of Ryan Broyles, is more than capable of handling his fair share of short-yardage targets. His quickness and ability to create make him tough to handle in the open field, and his eight touchdowns on the season (only two fewer than Broyles) prove that he is a worthy red-zone target.
Stills might even have more touchdowns than Broyles if it weren't for his absence during two games this season (one for suspension, one for injury).
And Stills might not even be the Sooners' best option to replace the production that Broyles is leaving behind. Fellow sophomore Jaz Reynolds has really stepped up since sitting out the first two games of the season.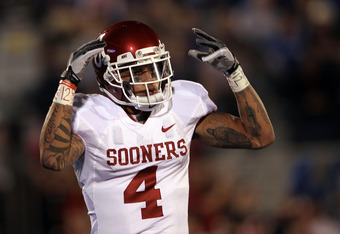 Jamie Squire/Getty Images
Currently, Reynolds is third on the team in both receptions (32) and reception yards (578), but he leads the team with an average reception yardage of 18.1. Over the past few weeks, Reynolds has proven to be Landry Jones' favorite downfield target.
His 6'2" frame and leaping ability make him a tough cover for undersized cornerbacks. Reynolds has not only been making a name for himself as a deep threat, but he's been doing it in style, thanks in large part to his enormous hands (seriously, they have their own Twitter account "@jazreynoldshand").
Reynolds has been making highlight-reel, one-handed catches for two games in a row now, and if he continues his stellar play, he may be the beneficiary of most of Broyles' targets.
Broyles will surely be missed, but it's always a great feeling to have backups like Stills and Reynolds—but it doesn't even stop there! With Broyles out of the game, the Sooners' spread-attack offense is likely to become even more spread than normal.
Sure, Stills and Reynolds will see the most gain in targets, but with Broyles out, the Sooners will have to mix in more receivers to compensate for the loss. This gives senior WR Dejuan Miller and senior TE James Hanna bigger roles in the offense.
When your leading receiver has more than double the receptions of your second-leading receiver, it's easy for your spread attack to become predictable. Broyles' injury actually opens up the Sooners offense more and should put more pressure on defenses.
Of course, all of that relies on how guys like Miller and Hanna respond to the added responsibility. Miller had a surprise showing against Kansas State, finishing the game with three receptions for 42 yards and a touchdown. However, he quickly faded back into obscurity, as he was held without a reception the next week against Texas A&M.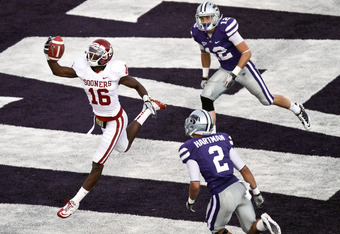 Ed Zurga/Getty Images
So, will Broyles be missed? Of course, there's no question that losing the NCAA's all-time receptions leader is a bad deal, but it would be a much larger issue if Broyles played for a team that wasn't the Oklahoma Sooners.
With Reynolds and Stills as backups, and a spread-attack offense that runs like a machine, the Sooners offense is still leaps and bounds ahead of most other FBS schools.
It will be interesting to see what the Sooners' game plan will be like this week against Baylor. Will they continue to keep playing like they have been (like they should), or will Bob Stoops and Company decide to play more conservatively with their star wide receiver gone?
If Baylor QB Robert Griffin III plays like he has been all season, the conservative playbook is going to go out the window fast. Here's to hoping the appropriate Sooners step up and make the big plays they're capable of.