Sakes Alive!! Bruins Win 5!! Miller Heated After Lucic Hit
November 13, 2011
At the end of October, there were people who all but wrote off the Boston Bruins.  
To a degree, I wouldn't blame them. Only to a degree. It was only 11 games into the season.
Being so early in the season, it's understandable that a team can have a slow start. Especially when a team played the entire season...right to the last possible game of the season...you know...like taking a big shiny trophy with the inscription "Dominion Hockey Challenge Cup" presented as a top prize to the best hockey club of the year by Lord Stanley of Preston.
Sorry. As a Bruins fan, it still feels good to say that. Especially seeing that they only won it twice in my lifetime.
Then November came along and the proverbial "all heck broke loose."
Since November started, the Bruins have yet to lose a game and have won them all by two goals or more. In fact, the Bruins have outscored their opponents 30-10 in the last five games.
In their last tilt, they took on their divisional opponents, the Buffalo Sabres.
The game began with a surprise.
Pembroke residents Daron and Lori Jacobs, the parents of 24-year-old Lt. Charlie Jacobs, who is currently serving his first tour in Afghanistan with the Massachusetts Army National Guard's 182nd infantry, thought they "were just out there to be supporting family members."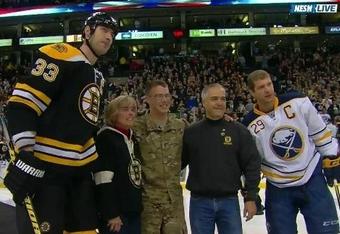 Little did they know that just before they were supposed to do the puck drop, the presenter turned out to be none other than Lt. Jacobs himself on a surprise leave. As anyone can well imagine (or not), it brought tears to the Jacobs, the Garden and admittedly the commentators.
The game wasn't without controversy. As Bruin Milan Lucic was on his horse for a breakaway, he let the puck get too far ahead. As Sabre goalie Ryan Miller came far out of the net to play the puck, Lucic ran Miller over in a huge hit.
As a hockey fan, this could have been avoided and I do not agree with the play. Miller didn't seem worse for wear as he made some good stops after the hit. However, Sabres coach Lindy Ruff did report that Miller had a stiff neck and he felt it should have been a major.
Miller described the play as "gutless" when he spoke to the media scrum.  
NHL.com's Matt Kalman reported his quote:
"I'm not going to go into that. I just stuck around because I just wanted to say what a piece of [expletive] I think Lucic is," Miller said. "Fifty pounds on me and he runs me like that? It's unbelievable. Everyone in this city sees him as a big, tough, solid player. I respected him for how hard he played. That was gutless. Gutless."
Bruins netminder, Tim Thomas was completely understanding of Miller's viewpoint:
"I will say that as a goalie, you're not really prepared for people to hit you in a situation like that," Thomas said. " You've been trained over the course of your whole career [to believe] you're not going to get hit in situations like that. It must have taken him by surprise."
As much as I love Lucic's physical play, this did not sit well with me.
I really didn't completely buy his explanation of:
"He came out of his net. I was going full speed," he told NHL.com. "There's not much I can do. So that's basically it."
I felt, at watching the replay in full speed, he could have at least let up on Miller. Could he have avoided him entirely? Maybe not. He was going full tilt so that I would give him that, but to whack him full hammer? That I believe could have been avoided.
The goalie is not fair game when he is out of the net. That is the literal writing of the rule 69.4 Contact Outside the Goal Crease.

That being said, it did seem to wake up the Bruins and some of the Sabres were trying to get a shot into Lucic after the hit during the rest of the game.
The consensus that I was getting is that when they asked Lucic what would have happened if their goalie was run like that, it would not happen in the same fashion.
When talking to WEEI.com, he responded:
"Definitely. You know, we wouldn't accept anything like that," Lucic said. "We would have taken care of business. But we're a different team than they are."
That is completely fair.  The Bruins would have mopped the floor with anyone who would have messed with their backstop in that manner and I think that was something that they have been doing since Marc Savard was taken out with a blindside hit by Pittsburgh Penguin Matt Cooke.
After the hit, the Bruins scored three times with two of those goals just 16 seconds apart (fifth time this season they have scored back-to-back goals inside of 30 seconds).
Sabre backup goalie, Jhonas Enroth, stood between the pipes for the final frame, but he didn't fare better with three more goals scored.
At the end of the day, Tyler Seguin is still on a blistering pace after adding two more goals and an assist for a three-point night, increasing his tally to 11 goals and nine assists for 20 points in 15 games.
Outside of the horrible goal that Sabre Thomas Vanek scored on Tim Thomas (which looked virtually identical to a goal that Vanek scored last season), the Bruins goalie played very well stopping 21 of 23 shots on the night.
This is Cory Ducey saying "Hit Hard, But Keep It Clean...Lucic".