NHL Trade Rumors: How Kyle Turris Can End Up with the Flames
November 11, 2011
Christian Petersen/Getty Images
Pheonix Coyotes center Kyle Turris has expressed his interest in leaving the team and has a deadline to do so.
Turris has to sign a contract with a team by December 1st if he wants to remain in the NHL.
The No. 1 suitor at this point is the Coyotes. But with Turris expressing his interest in leaving the club, there may be other teams that might take a crack at him. One that has been in talks recently are the Calgary Flames.
The Flames are reportedly interested in the 22-year-old that has been going back and forth from the American Hockey League and the NHL.
The only problem is that attaining Turris will require a decently steep return for the Coyotes. While he lacks the stats, he brings a level of offense that could benefit a team like the Flames.
Why do the Flames want him?
Turris can bring a level of youth to a team which has an average age of 29, second highest in the NHL. The Coyotes are asking for a lot, but if they cave there are a few ways that the Flames can steal Turris.
One possible trade scenario could be a first round pick and mid-round selection to Coyotes.
Another could be to trade defenseman T.J. Brodie and either one of wingers Patrick Holland or Greg Nemisz with another mid-to-late round pick.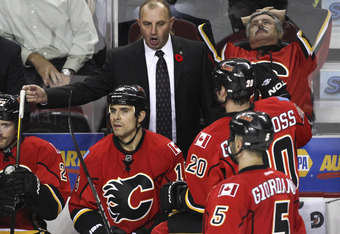 Mike Ridewood/Getty Images
If the Flames did not want to give a pick away, they could try and send Rene Bourque, T.J. Brodie and winger Boyd Gordon.
The Flames are giving up a decent amount in these trade scenarios, which raises another question: Is Turris worth it? I don't think so.
Turris has a terrible attitude. After never really finding consistency for the Coyotes, he automatically wants out.  Secondly, Borque is a really good player for the Flames. If they did not have a very big, very talented roster, Borque would not even be in the trade rumors.
Also, Phoenix has repeatedly stated that they are not going to part ways with Turris. Even though it could be a stunt for teams to raise their price, they might not be lying.
So could it happen in the end? Yes and No.
It could happen if the Flames give up talent and draft picks that the Coyotes want. Or if the Yotes lower the asking price for Turris.
It might not happen if the Flames are unwilling to give up that much talent and chances for future talent.