Penn State Scandal Clouds Joe Paterno's All-Time Wins' Lead over Bobby Bowden
November 9, 2011
Handout/Getty Images
TAMPA—With so much information coming out in recent days regarding sexual abuse allegations against former Penn State Defensive Coordinator Jerry Sandusky, outraged members of the public have begun to focus on the complete mismanagement and lack of reporting conducted by several key members of the Penn State Football team; not surprisingly, at the center of the crossfire is embattled head coach Joe Paterno.
While the allegations that Sandusky may have had inappropriate sexual conduct with as many as 40 underage men is surprising; what seems increasingly appalling is the fact that this information had already been communicated to many key individuals both in law enforcement, and at Penn State—with several notable accusations documented over a span of over a decade.
While it may be premature to pass judgment on any one member of the Penn State organization, one thing is apparent—Coach Paterno missed crucial opportunities to follow up on information that was provided directly to him regarding the behaviors conducted between Sandusky and one particular victim in the Penn State Football locker room showers.
It has been announced that the legendary coach will be permitted to remain with the team through the end of the season, at which point he plans to retire from the game.
While it may make some fans happy to see Paterno going out on his own terms, there are plenty of others who feel that the circumstances surrounding his tenure at Penn State will no longer carry the legacy perhaps it had once promised. 
To complicate matters, Paterno's "All-Time Wins" record seemed to be nearly controversy-free, unlike that of his oft-compared competition, former Florida State head coach Bobby Bowden.
Having survived a tenure with one institution for over 40 years, Paterno had cemented his legacy, not only with the most career wins in the game, but also with the reputation of being one of the few schools to never suffer the wrath of a dreaded NCAA major sanction.
In contrast, Bowden made several stops on his way to Florida State, and many of his wins in the early going were at a current FCS school and a brief stop in Morgantown. Bobby was characterized as "too soft" and drew criticism due to some of his players collecting inappropriate benefits, breaking laws and even making bribes.
While it was apparent Bowden took chances with "high-risk, high-reward" players, Paterno seemed to be in stark contrast, the "no-nonsense" head coach.
In 2008, following a cheating scandal that led to an NCAA vacation of 12 wins spanning two seasons, a "lack of institutional control" sanction prompted major changes to how Florida State University would run its athletic program going forward. 
Following a subpar 2009 campaign, in which the Seminoles finished 7-6, Bowden was informed he would not be retained, and heir-apparent head coach-in-waiting Jimbo Fisher would replace him immediately, a year ahead of a promised succession.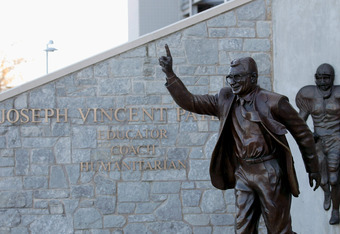 Rob Carr/Getty Images
After the vacation of wins, Bowden had no realistic shot of catching Paterno even if he had remained for an additional season, needing more than one season to catch Paterno's 394 wins. Bowden and his staff were never found to have had any knowledge of any alleged cheating, nor any conduct with parties involved in the scandal, which spread across several sports. 
With the knowledge that Paterno was made aware of repeated misconduct and the failure to act on such information effectively, it would appear Paterno has greatly tarnished a once sterling legacy.
The question now is: had Paterno stepped down when the information was first made available to him and other members of the Penn State Athletic Department—over 10 years ago—would Paterno have finished as the top FBS head coach?
All indications are he would not have. Following Sandusky's departure from the Nittany Lions in 2000, Paterno was sitting on 317 wins—well short of Bowden's record.
What does all of this mean exactly?
While there will be much speculation in the coming weeks, months or perhaps years, it is fair to say that Bobby Bowden's legacy is secure, even if the record books do not agree.
Bowden never endangered the life of any man, woman or child. Bowden also never pleaded ignorance to any facts that were ever presented to him, even if it came at a cost.
While Bowden may be looked upon by naysayers as many things, it is worth debating that the man who was once considered the squeaky clean and obvious choice for the all-time winningest record in Division I history is perhaps more underhanded than the man people scoffed at for being involved with an incident that would tarnish one of the greatest records in the game.
Concealment, and ignorance occurs behind the scenes of every front office, and Penn State is no different.
So, when the asterisks are being handed out, perhaps the experts and fans alike should remember the real number of wins Joe Paterno "earned."
Perhaps fans and experts alike should not recognize wins that were credited to a man who had an obligation to do the right thing, to make a moral judgment, and to follow up with legal authorities—to protect the innocent.
Perhaps the wins earned during this blanket of shame should be removed for that very reason, and for his ignorance to repeated tragedies that were being carried out right under his nose.
Bobby Bowden—No. 2? Only on paper.