Why Reggie Bush, Not Daniel Thomas, Is Future of Miami Dolphins Backfield
November 9, 2011
Peter Aiken/Getty Images
Throughout the first half of 2011, the Miami Dolphins have had one running back that has clearly established himself as the future and present star in Miami's young backfield.
However, it isn't the one they may have hoped.
Daniel Thomas, Miami's second-round draft pick out of Kansas State, has struggled adjusting to the NFL game. Thomas has missed nearly half of the season with lingering injuries, and is averaging just 3.8 yards per carry.
While Thomas has shown a few flashes, his largely inconsistent performance has given life to the other running back in Miami's backfield.
The forgotten Reggie Bush.
Bush seems to finally, in his sixth NFL season, be learning how to run behind blocks like a true No. 1 NFL back. Bush is showing the burst we all expected when he came out of USC, but seems to have developed the cerebral intangibles of his game. 
His place atop the Dolphins depth chart at running back will not be short-lived. In fact, don't expect Thomas to be Miami's go-to back anytime soon.
Even when Thomas has run the football well, he doesn't possess the added dimensions to make him an every down back. While Bush has added 24 receptions to 4.9 yards-per-carry average, Thomas has struggled understanding the Dolphins passing game. 
Thomas has been a liability in pass protection and has added only 49 yards receiving for the Dolphins in 2011. With a league that is ever-more reliant on passing to be a successful offense, Thomas can't become a true No. 1 back until he brings the third-down presence Bush has added to the Dolphins.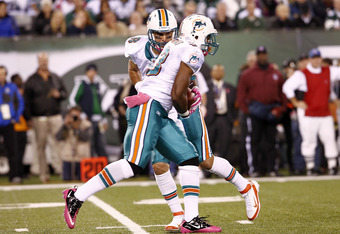 Jeff Zelevansky/Getty Images
For those who think a sixth-year back can't be a long-term option over a second-round rookie with big expectations, consider the age difference between Thomas and Bush. Although possessing five more years of NFL experience, Bush is only 26 years old, while Thomas is an "older" rookie at 24. With the limited window of success for NFL running backs and Bush's presence in the Dolphins backfield, it's unlikely that Thomas will become a 20-plus carry back in a Dolphins uniform.
Thomas simply hasn't shown burst, acceleration or stamina in 2011, which are all concerns for Miami. While Bush certainly has had his spotted past on injured reserve, he seems more durable in a more traditional No. 1 tailback role as opposed to the gimmicky way in which he was used in New Orleans.
Furthermore, with all the weapons present in New Orleans, how was Bush supposed to truly stand out? He struggled early to supplant the veteran Deuce McAllister, and when he saw the lion's share of the Saints run-game activity, New Orleans experienced discontinuity along the offensive line and relied heavily upon Drew Brees and the passing game. 
In either case, the Dolphins have a win-win in their backfield for the long haul. While I expect Bush to continue as the primary back, the addition of Thomas, who will eventually mature into a good situational back, will provide the Dolphins with a backfield full of dangerous variety.
Maybe they're only one Andrew Luck away from being a good offense.