Remeber That Time Kelly Kelly Hugged Me?
November 5, 2011
When I stood on line at the Mid-Hudson Civic Center box office that freezing November morning waiting for tickets to go on sale, I never thought I'd be attending probably the most memorable WWE show in my life. To that point I had been to countless house shows and live events, including SummerSlam in 1998 at Madison Square Garden.
But what happened at this particular house show set it apart from every other wrestling show I have ever been to. It was packed with moments I'll remember forever.
My friends and I were able to score front row seats to the March 1, 2009 Raw house show at the Civic Center in Poughkeepsie, N.Y.; one frost bitten, chilling morning was certainly worth it.
A few weeks before the event, my friends and I contemplated doing something we don't normally do when going to house shows: making signs. The TV cameras aren't rolling and if you're not sitting in the front row, there's only a small chance the wrestlers will see your sign.
But we had front row seats and we came up with a plan.
"Why don't we make signs?" we thought.
"There's no harm in it and at the very least we could get acknowledged by some of the wrestlers, even though we won't be on TV. They'll definitely see the signs since we're so close, and maybe it'll cause us to get involved in the show, somehow. You never know."
The day before the match we got together with sheets of poster board and colored markers. Since we knew Shawn Michaels—our all-time favorite wrestler—was in the main event, we made three signs: an "H," a "B" and a "K." Me and two of my friends decided we would hold them up when he made his way to the ring.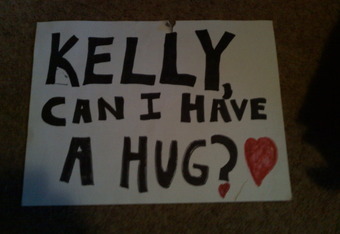 Along with the Heartbreak Kid, we also knew Kelly Kelly—my absolute favorite diva—was going to be there.
When Kelly Kelly debuted in June of 2006 on ECW, my jaw just dropped and my eyebrows raised; I hadn't seen a more beautiful diva in a long time, probably since Trish Stratus. I couldn't stop drooling at her striptease dance moves every week and it shocked me when I found out she was just as old as I was!
Hoping to make this a really memorable experience I made a sign. It read:
"Kelly, can I have a hug? <3"
I didn't expect anything to happen, to be honest. I thought she would just walk by my sign and I wouldn't get a hug from her. Yet, understanding completely that we were in the early stages of the PG era in a kid and fan-friendly environment, there was still hope.
We got to the show that night and went to our front row seats. In silence I shook my head and thought to myself, "My goodness. This is something else."
After the first two matches, which involved Melina pinning Beth Phoenix and Kane squashing Santino Marella in 10 seconds after a choke slam, they announced Kelly Kelly as a special guest announcer for the next match.
Her music hit. "Holla!" And out she came through the curtain—and out came my sign from underneath my seat.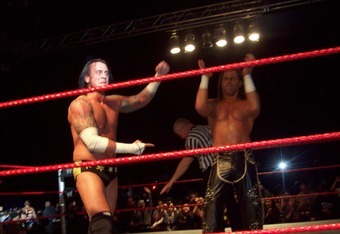 She made her way from the aisle around to our side of the ring, slapping hands with everyone who stuck out their arm. But when she got to me, my arm wasn't outreached. I stood holding my sign in front of me with a hesitant and faithful expression on my face, hoping she would give me my wish.
She took a step back, a smile across her face. She let out a small chuckle, and said, "Awwww!"
Kelly Kelly then proceeded to wrap her arms around me, immediately making me the envy of every red-blooded male inside the Mid-Hudson Civic Center that night.
My wish came true and I got a hug from my favorite diva. The rest of the show I couldn't stop thinking about it—that is until the main event.
The famous music hit: "I think I'm cute. I know I'm sexy. I got the looks that drive the girls wild!"
The Heartbreak Kid came out to a thunderous ovation, one of the loudest and most deafening reactions I have ever heard at a live event; people screaming and just losing their minds for the legendary Shawn Michaels. I will be the first to admit, I was marking as hard as any fan in the building.   
We draped the "H-B-K" signs over the railing and held them there throughout the whole main event, which featured Michaels teaming with CM Punk against Edge and Randy Orton, Team Rated RKO, in a tag match.
Punk hit a GTS on Edge before Michaels booted him with his patented Sweet Chin Music and pinned him for the win. After the referee raised Punk's and Michaels' hands in victory, the first thing he did was climb through the ropes out of the ring, and he came over to us.
"Thank you guys," he told me and my friends, who were still proudly holding up the "H-B-K" signs. "I appreciate it!"
He gave each of us a high five before rounding the corner to the aisle. I looked at my friends in stunned amazement.
"Wow!" I exclaimed. "Shawn Michaels just thanked us!"
It was truly the best WWE show I have ever been to, from a fan's standpoint.
Now Every time I see Kelly Kelly wrestle a match on TV I say the same thing to myself:
"I still can't believe I held that girl in my arms."
And every time I watch a Shawn Michaels match, I remember how humble he was, thanking us after that tag team match.
In just 15 days I will be going to Madison Square Garden for the 25th annual Survivor Series. For the first time since 2004, Dwayne "The Rock" Johnson will be stepping into the ring and competing in a match, teaming with (of all people) John Cena.
Our seats are in the nosebleeds.  
Survivor Series is bound to be historic, and it will feel nice to be there for a taste of WWE history. Yet as historic as it can and probably will be, it will not compare to March 1, 2009—the night Kelly Kelly embraced me. And the night my hero thanked me.