St. Louis Cardinals: Should John Mozeliak Trade Matt Holliday for a Closer?
November 7, 2011
Ronald Martinez/Getty Images
Do the Cardinals have enough depth to deal Matt Holliday? If so, should they pull the trigger on a blockbuster trade? If they deal him, should they go after a closer, a prospective shortstop or a second baseman?
Please note these are scenarios thought up entirely by me. In other words, there aren't any rumors to provide for sources.
Now, the top second basemen in the NL last season were Brandon Phillips and Rickie Weeks. If the Redbirds, theoretically, deal Holliday to the Reds, it could haunt them.
Cincinnati general manager Walt Jocketty isn't above turning the Reds into the Redbirds of Ohio. Holliday would face the Cardinals at least 18 games per season as a Red. Meanwhile, Phillips has become a Cardinals nemesis on and off the field.
His counterpart at second base, Weeks, also hit the Cardinals hard when he was healthy this year. Weeks' Milwaukee Brewers teammate, Prince Fielder, could opt to leave for greener pastures via free agency.
Likewise, Albert Pujols—surprise, surprise—could choose to leave St. Louis via the free-agent market. That would be a nightmare scenario for fans of the Redbirds and maybe for Holliday.
I'm not sure if Holliday can thrive at first base, but I'm willing to say the Cardinals or Brewers would try him there. Ryan Braun could also slide over to right field and Corey Hart to center in Milwaukee.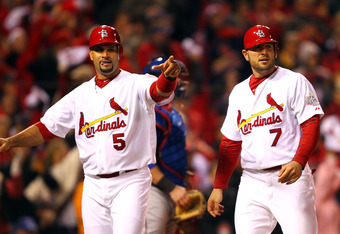 Dilip Vishwanat/Getty Images
Last season, Holliday inked the biggest contract the Cardinals have ever granted to a player. He signed for a reported seven years and $120 million.  
Weeks signed a four-year, $38 million deal with Milwaukee this past spring, according to reports. Fielder was making $15 million last season after signing a one-year deal that he deemed as "cool."
Recently, baseball players were coyly able to file for free agency. After the World Series ended, the Yankees presented an offer to CC Sabathia. He quickly re-upped with New York.
Likewise, the Redbirds will try to get Pujols to quickly re-up. If he doesn't, on the other side, the Cardinals showed their depth this season while Holliday was injured.
Thankfully, Allen Craig filled in with electrifying power in the World Series to help propel the Redbirds to the championship. Batting in front of Pujols, Craig was able to take advantage of the pitches he was given to hit.
Holliday isn't as good of a fit for hitting right before Pujols, which is one of the toughest spots to bat in the majors. Mark DeRosa, Colby Rasmus and others struggled likely in part due to the pressure.
Going further, Holliday has been almost prone to injury during his stint with the Cardinals.
He missed Game 7 of the World Series with a messed up arm. The injury occurred after he'd been picked off at third base by Mike Napoli and Adrian Beltre.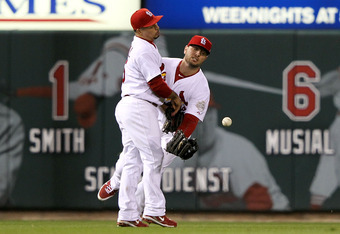 Jamie Squire/Getty Images
Gold Glove third baseman Beltre blocked the base and Holliday slid into his cleat head first. Replays looked like Holliday's elbow got jammed during the impact of his hand colliding with Beltre's foot.
I heard a Rangers fan on the local Texas station prognosticating about Holliday's injury for the final World Series game. The fan speculated that Holliday being hurt was the worst thing that could happen to the Rangers.
As it turns out, the fan of the Rangers was Nostradamus-like for baseball. Craig blasted a home run in Game 7, scored two runs and caught the World Series-clinching final out in the ninth inning.
During the interview on MLB after the game, the interview with Holliday and Allen in the same shot looked awkward. It made me wonder if all of the talk and hoopla about the extremely cohesive locker room was all hype.
Now, if a trade did occur, Craig would likely take Holliday's spot in left field. However, the Cardinals shouldn't trade Holliday. With him, the Redbirds will be one of the deepest teams in 2012. Instead, Mozeliak should first concentrate on re-signing Pujols.
The Cardinals should then try to work a deal for an elite second baseman by using some of their minor league pitching talent as enticements. At the risk of being labeled a non-Cardinal, I want Brandon Phillips in the mix.
There is no need to trade Holliday because the Cardinals can get Phillips for prospects. The Reds, it seems, are especially always looking for young pitchers.
Next, Rafael Furcal should be brought back as the starting shortstop. Further, Jason Motte should be given a chance to blossom into elite closer status.
Now, I'd like to remind you to check for my somewhat elite status on Facebook and Twitter. This has been your favorite twit sending you all a big God bless. Catch me next time on Lake's Redbird Roundup.
Contact Lake Cruise: Lakecruise@att.net