Stephen Tulloch, "Tebowing" and Why Everyone Needs to Just Calm Down
October 31, 2011
Justin Edmonds/Getty Images
Why is it that the Detroit Lions can't play a game anymore without some kind of controversy?
Either it's Handshake-Gate, or taunting an injured player, or cries of dirty play, or running up the score or something. Now it appears the Detroit Lions are Godless heathens for mocking Tim Tebow's prayer/celebration.
Or so goes the story after Tim Tebow had his unintentional meme mimicked by not one, but two Detroit Lions yesterday.
But before I address that, let's discuss the back story behind "Tebowing."
Last week, Tebow went to one knee after leading a miraculous comeback against Miami in an obvious display of worship. The camera caught it, and, in true Web 2.0 fashion, the move was given a name and became an overnight phenomenon.
Suddenly, there was a website, imitation photos, t-shirts and all manner of spectacle around it. It took all of a week for everybody to know what "Tebowing" was and what it meant. It was a religiously-inspired touchdown celebration, in effect.
You say it wasn't a celebration? Did Tebow give praise after an incomplete pass or a sack? Did he "Tebow" every time the Dolphins scored last week? Of course not. He was celebrating his own success in his own individual way. "Even if everybody else is doing something different," right?
This is why religion has absolutely nothing to do with anything in this instance. The argument that has everyone up in a tizzy in comment boxes across the Web is that Stephen Tulloch and Tony Scheffler, by doing their own takes on "Tebowing," are mocking Tebow's faith and Christianity as a whole.

Look, it's unfortunate that Tebow's chosen celebration happens to be a prayer-like stance. I mean, it's fine for him, and I have nothing at all against it. But for football purposes, if he does it as a celebration of success (and we have determined that he has), it's fair game, and this is far from the first time somebody has co-opted a particular celebration.
Atlanta's "Dirty Bird?" Check.
Aaron Rodgers's "Championship Belt?" Check (no, actually, discount double-check).
Green Bay's Lambeau Leap? Check by everyone.
For that matter, Tony Scheffler and Calvin Johnson mocked the Mile-High Salute in the same game. Anybody upset about that?
I can go on, but the point is that if you become well-known for a celebration, you have to be prepared to have said celebration thrown back at you when the defense takes you down.
Tebow didn't intend to start a nationwide craze, but he also didn't mean to splinter the Denver Broncos fanbase. For better or worse, his open display of his faith and his poor play on the field make him a highly divisive figure both in and out of Denver.
If he had it his way, Tebow would have gone to one knee in Miami, given his praise and moved on with his life with nobody being any the wiser. But he's a celebrity now. Everybody knows what he does, and with the "mania" surrounding him all week, it stood to reason that what should have been a mundane act on his part became an internet phenomenon.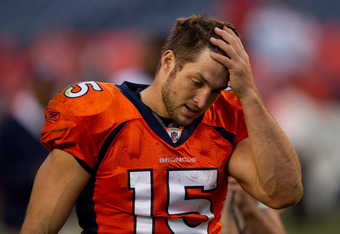 Justin Edmonds/Getty Images
And so, with "Tebowing" being the thing to do all week, it's no surprise that his opponents caught wind of it. And so Tulloch, who effectively spied Tebow all day, took his first available opportunity to mock the craze.
Note what I said there. Mock the craze.
Not God, not Christianity or its followers, not Tebow's faith. But the craze that is "Tebowing" itself. If you don't believe me, just listen to the man himself.
If Tebow's supporters want to blame anyone, it should be the people who turned a subdued moment of faith into something on the same level as LOLcats. But I didn't hear anyone shouting this down during the week, so I assume it was OK then.
It's just when somebody takes it for what it was—a football celebration—and does what every team does with opposing players' football celebrations, that it becomes a problem? And suddenly, Tulloch isn't just a guy having fun on the field, but some sort of petulant anti-Christian? That's not taking the moral high ground, and that's not defending religious beliefs from a Bible burner.
That's just being a poor sport, and failing to grow up enough to realize it.