2012 MLB Offseason: New York Yankees Fielding Breakdown
October 26, 2011
Nick Laham/Getty Images
The New York Yankees have been ground zero for the great fielding debate for some time. Derek Jeter is at the center of it all. The future Hall of Fame shortstop has a few Gold Gloves to his name despite the fact that numerous prominent sabermetricians call him the worst fielding shortstop in baseball. In fact, when Alex Rodriguez was acquired from the Rangers, the joke amongst statisticians was that the best Yankees shortstop was playing third base.
Yet, defense is about more than just your shortstop. The Yankees lost something following their heartbreaking 2001 World Series defeat. It's hard to say exactly what was lost, but defense was a part of the equation. Suddenly, solid contributors like Tino Martinez, Scott Brosius and Paul O'Neill gave way to A-Rod, Jason Giambi and a revolving door of sluggers. The end result was a team that blitzed through the regular season and then struggled come playoff time.
DER: .688 (21st)
RA: 657 (10th)
FLD%: .983 (15th)
Baseball Reference: +14 runs (13th)
Fangraphs: +23.2 runs (8th)
Fielding Bible: -6 runs (18th)
Baseball Prospectus: +2.0 runs (13th)
Composite Runs: +9.3 runs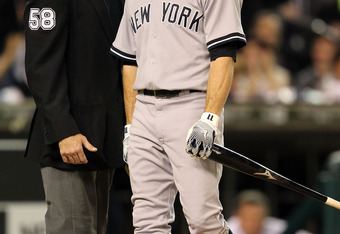 Leon Halip/Getty Images
2011 ended up being a little different for the Yankees and it showed in their pitching. A staff that looked very thin ended up finishing in the top 10 in runs allowed. This is despite the fact that new Yankee Stadium is a hitter's paradise. Changes behind the plate and an improvement from A-Rod are part of that equation. However, the turnaround began a while back when credible fielders like Nick Swisher and Mark Teixeira were added to the fold.
Best Defender
This one isn't even close. Brett Gardner is a center fielder by trade, so I suppose this makes a great deal of sense. He is by far the best defensive left fielder in baseball. In fact, when you consider wins above replacement, he was the most valuable fielder in all of baseball at any position. The debate will be whether to switch him to center field and Curtis Granderson to left field. Granderson was almost as bad defensively as Gardner was good. Of course, we are getting ahead of ourselves.
Worst Defender
Many of you would expect this to be Jeter, but it was actually Granderson. The debate should begin about whether Gardner and Granderson should be flip flopped. While Gardner will lose most of his overwhelming advantage, Granderson's lack of range will be mitigated as well. Plus, Granderson's career will likely be extended by having to cover less ground. He definitely proved his worth with the bat last year.
Possible Changes
The infield is intact for another season, so most of the changes would come in the outfield. No one inside the organization has publicly stated they want to see Granderson and Gardner switch. It just makes sense at this point. Nick Swisher is a free agent, and there is speculation that the Yankees should make a run at Carlos Beltran to play right field. I think that would be a mistake, but that is a different column for a different day.
2012 Outlook
The Yankees have gone from being a poor defensive team to being above average. Derek Jeter and Curtis Granderson are the only drags at this point. There isn't much you are going to do with Jeter. The switch of Gardner and Granderson would leave them with only one defensive hole. It makes too much sense not to do it at this point.