Milwaukee Brewers Can Make History in NLCS Thanks to GM Doug Melvin
October 16, 2011
Jeff Gross/Getty Images
After five games played, the Milwaukee Brewers find themselves in a dangerous predicament.
Lose their next game, and it's all over. Win their next game, and it's down to Game 7.
Lose Game 7 and it's all over. Win Game 7, and the Brewers will win the National League pennant for the first time ever.
Exactly 13 months ago, the Brewers were in the midst of a struggle. It wasn't the first time the Brewers had failed to secure a winning record, and it wasn't the first time they had missed the playoffs.
The picture of consistency, left fielder Ryan Braun, once again reached the .300 mark, hitting .304 with 25 home runs and 103 runs batted in.
Prince Fielder also hit an impressive 32 dingers but recorded his lowest RBI count since 2006, driving in 83 runs. His consistency accordingly suffered, as Fielder recorded his worst seasonal average since making it to the big leagues, hitting a measly .261.
The 2010 Brewers also experienced significant pitching woes, finishing next-to-last in team ERA.
Sensing some significant shortcomings, general manager Doug Melvin launched into a hectic offseason.
After publicly announcing to Brewers fans his intention on getting more starting pitching, Melvin traded, released and acquired like there was no tomorrow.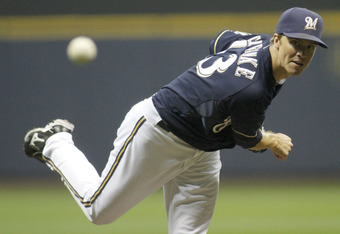 Darren Hauck/Getty Images
Out were Suppan, Bush and Davis. Legendary closer Trevor Hoffman retired. Prospect Brett Lawrie was on the trading block, as were Brewers shortstop Alcides Escobar, prospects Lorenzo Cain, Jack Odorizzi and Jeremy Jeffress. Cutter Dykstra left the Brewers organization and took his awesome name to Washington.
In were pitchers Shaun Marcum, Zack Greinke and Takashi Saito. John Axford was selected to replace the retiring Hoffman, while shortstop Yuniesky Betancourt found his way over to Milwaukee from the Royals. Mark Kotsay and the volatile Nyjer Morgan completed the long-winded maze of transactions.
At the end of it all, the Brewers looked promising but not overwhelming. Many baseball experts chose Milwaukee to win the NL Central. Some ambitious writers put the Brew Crew in the NLCS, while their odds of winning it all were set at 100-to-one.
The Brewers were not involved in one of the four monumentally exciting final series of the 2011 season. The Brewers didn't suffer the Boston Red Sox's most epic collapse of all time, nor did they experience the exuberance of sneaking into the postseason.
But the St. Louis Cardinals overtook the Atlanta Braves and did experience that most jubilant of joys.
Now the Brewers face elimination from the 2011 postseason. The Brewers have never won a National League pennant—they only came over from the American League in 1998. The Brewers have never won a World Series since their 1970 debut.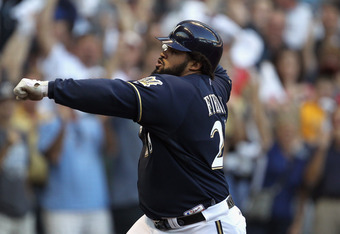 Jonathan Daniel/Getty Images
When it comes to rating a general manager's performance, GM Doug Melvin deserves an A+.
In his frantic 2010-2011 offseason, Melvin did something every other GM should aspire to do.
He put his team in a position to win it all.
He took a floundering team with a losing record, turned it around and set it up for postseason ball. He added tremendous talent to a stale and staggering roster. He injected life into the Beersmen.
If the Brewers can find a way to win their next two games, they will make history.
And if they do, they can thank GM Doug Melvin, who put his team into a position to do exactly that.