Ken Griffey Jr: Where Does He Rank Among All-Time Center Fielders?
September 27, 2011
Otto Greule Jr/Getty Images
There can be little doubt as to where Ken Griffey Jr. belongs in the Hall of Fame. He surpassed 600 home runs and practically invented web gems on ESPN. Most Mariners fans focus on what could have been with the kid, but as his playing career moves further and further back in the rear view mirror, we all gain some perspective. He could have been the best that ever played the game, but he'll have to settle for pretty darn good.
The question in everyone's mind will be where he will eventually rank among the all-time greats in center field. I think everyone believes that Ty Cobb, Willie Mays, and Mickey Mantle (in no particular order) will rank above him. Will he be the fourth best center fielder in the game? I know a lot of people believe so.
In 2010, I published the Hall of Fame Index in part to answer these questions. Before we dive into the discussion, I thought we should discuss the Hall of Fame Index and how it is deciphered.
The Formula
 The idea behind the Hall of Fame index was the fact that the Baseball Beatwriters Association of America (BBWAA) and Veterans Committee often overlook certain players based on prejudices they have. In the sabermetric field, there have been numerous "ubermetrics" designed to evaluate the whole player. Unfortunately, all of those have their own sets of assumptions that sometimes overlook or overvalue certain things.
The most popular of these are called win shares, wins above replacement player (WARP), and wins above replacement (WAR). What I did was combine these three numbers into one number. I also added an element for peak value as well. The end result was that the combination did a better job of matching the selections made by the BBWAA.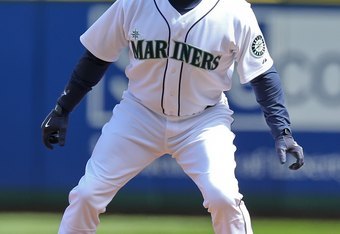 Otto Greule Jr/Getty Images
The implication here is that if it does a better job of explaining what has been done in the past, then it will do a better job of predicting who will make it in the future. It also will help the voters separate the deserving candidates from the pretenders. Naturally, it can also help rank players, but that was not its intended purpose.
Career Value= Win Shares/3 + WAR + WARP3
Peak Value= Win Shares best 10 years + WAR best ten seasons + WARP3 best ten seasons.
The book was published at the end of 2010, and the data was compiled as of the end of the 2009 campaign. Therefore, the numbers have changed since then, and WARP3 doesn't even exist anymore. At the time, it was compiled to allow for differences in length of schedule. The current formula is similar, but not exactly the same. We'll use current numbers.
Career Value
Win Shares: 134.33
This means that Ken Griffey Jr. has more than 400 career win shares. No one with that many win shares who is eligible (yes, that means you Pete Rose) has not been inducted. Since Griffey has not been involved in any scandals to this point, I don't see anything like that happening with him.
WAR: 79.2
This is a radical difference, and I can tell you that most of it comes on the defensive end. One of the best kept secrets in baseball is that Ken Griffey Jr. was never as good as people thought he was. He made spectacular catches that better center fielders made look easy.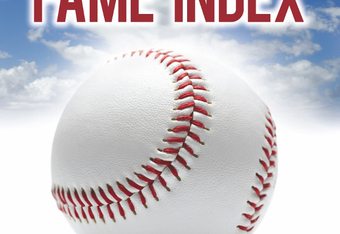 WARP3: 79.2
Again, see the comments above. In this case (as in most cases), WAR and WARP3 agree more often than either agree with win shares. However, both marks are comfortably over the mark where we want our Hall of Famers.
Career Value: 292.73
Peak Value
Win Shares: 92.0
Again, we see win shares possibly overestimating his defensive value. No matter, Griffey was legitimately either the best player or second best player in baseball for about five seasons. The trade to the Cincinatti Reds ended up being the beginning of the end. Who knows what could have happened if he stayed with the Mariners?
WAR: 68.2
This is still a very good total. These days, the MVP winners typically finish with about eight wins above replacement. Averaging nearly seven a season means he was legitimately the best player in the American League at least a few times.
WAPR3: 64.6
This is similar enough to WAR that we can go ahead and call it. Yes, he is a Hall of Famer, but he is not immortal in the same way that Mays, Mantle, and Cobb are immortal. There might be a couple more names mixed in there as well.
Peak Value: 224.8
Total: 518.03
Putting it all together
Typically, anyone with 500 or more index wins is what I would call a first ballot type of Hall of Famer. Anyone between 450 and 500 is comfortably in. Anyone between 400 and 450 is what I would categorize a borderline Hall of Famer. 
Ken Griffey Jr. ends up finishing in a comfortable sixth place on the center fielder list. In addition to the three mentioned, Joe DiMaggio and Tris Speaker also finished in front of him. Of course, this is more of a testament to their careers than anything bad about Griffey Jr.
Want More?
If you are interesting in reading more about the Hall of Fame Index you can find it at Amazon and Barnes and Noble. Both sites have them available in paperback and ebook form.