New York Yankees: Reviewing Derek Jeter's New Book
September 13, 2011
Although I'm a hockey fan at heart, I join my family in following the New York Yankees during what seems like an eternal offseason for my beloved sport. I'll freely admit that I became truly interested in the Yankees during the 2009 World Series year, but over time, I have become fascinated with the team's history and can't wait to plan at least one trip to Yankee Stadium each year.
When I got a Barnes and Noble Nook for my birthday, one of the first books I downloaded on it was called The Captain: The Journey of Derek Jeter by Ian O'Connor, a columnist with ESPNNewYork.Com. I recently finished the book on a quest to continue building my Yankee knowledge base, and I came away impressed by O'Connor's work.
The Captain is about the life of the current Yankees captain, Derek Jeter. It starts by talking about his relatives before he entered the world, including the story of how his parents met. At the time of his parents' marriage, a biracial relationship was considered unusual and even frowned upon, but O'Connor does a great job telling the story of how the marriage became well received and how the Jeters made it work, even before Derek was born.
Derek had a grandfather who never missed a day of work and didn't believe in the word "can't." O'Connor explains that this helped shape Derek's work ethic as we see it today. Over the course of Derek's personal and professional life, we learn that he set goals for himself at a young age and was determined to fulfill them despite others' reactions. For example, his classmates and teachers just shrugged him off when he said he would be the shortstop for the New York Yankees. As we know, it's a good thing he didn't listen.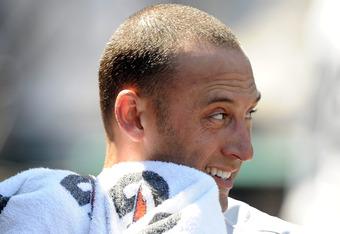 Harry How/Getty Images
O'Connor takes us on a journey through Jeter's career, starting with high school and how he was watched intently by scouts from other teams such as the Cincinnati Reds, Houston Astros and of course, the New York Yankees. Each of the scouts from the five teams that picked before the Yankees in the 1992 MLB Draft had reasons for and against Jeter. Those scouts ended up picking other players they saw more strengths in, but as time went by, none of these players ended up amounting to what Jeter accomplished.
Like any good biography on an athlete, we find out things that we never would've imagined about Jeter, like his struggles as a young minor league player as he works his way through the ranks. Like many young kids away from home their first time, he feels homesick and thinks he made the wrong choice. He wonders if he should've gone to college instead of jumping right into professional baseball. But on advice from others and his own dedication, he sticks with baseball and continues improving his game.
Although many diehard Yankees fans will know about Jeter's career in New York, that doesn't make the book any less interesting. O'Connor gives an inside view of how Jeter saw New York during the September 11 terrorist attacks and goes behind the tumultuous relationship between Jeter and Alex Rodriguez during A-Rod's early days in the Bronx. The story of how Jeter slowly came to embrace A-Rod and work with him to achieve a World Series championship is worth sticking around for.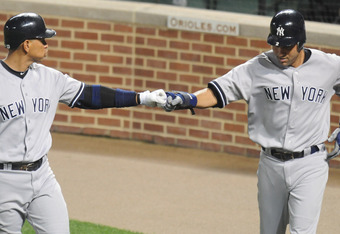 Mitchell Layton/Getty Images
The book was published in May of this year, before Jeter's 3,000th career hit. The epilogue talks about the 2010 deaths of legendary Yankee Stadium announcer Bob Sheppard and owner George Steinbrenner. From there, it re-lives Jeter's contract talks in this past offseason.
The Captain features interviews with many prominent figures in Yankees history, including Paul O'Neill, Tino Martinez, YES Network broadcaster Michael Kay, Brian Cashman, Joe Torre and many more. There is also information taken from various newspaper and magazine reports over Jeter's career and some interviews with Jeter, his family and teammates from his minor league baseball and high school basketball days.
If I had to grade this book, I would give it an A+. O'Connor goes into detail about each part about Jeter's career rather than glazing over certain parts, and he also shows us a lot about what the captain is like off the field. It is a fairly recent book, and when it ends, you almost can't wait to see what is left to be written in Jeter's story.
If you're a Yankees fan or just a baseball fan who wants to learn more about one of the finest players in the game, I suggest picking it up.