New York Yankees: Why Jorge Posada Doesn't Deserve a Thing From Bronx Bombers
August 17, 2011
Christopher Pasatieri/Getty Images
New York Yankees catcher Jorge Posada is not having a good year. He's not even having a decent year. He's having the worst year of his career and it is causing the Yankees front office and their manager to make a tough decision.
What should they do with Jorge?
From 1998 (the year he became an everyday player) through 2010, Posada was one of the best offensive catchers in the game. He batted .277, with an OBP of .379, a slugging percentage of .482, an OPS of .861 and had an OPS+ of 124.
During this time he also hit 255 home runs, had 996 RBI and 1,535 hits, making him a borderline Hall of Famer and putting himself into the discussion for a top-five Yankees catcher of all time (behind Yogi Berra, Bill Dickey, Elston Howard and Thurman Munson, in that order).
In 2011, he is batting .239 with 10 HR, 37 RBI, an OBP of .317, a slugging percentage of .388, an OPS of .704 and an OPS+ of 88. His splits are even worse.
Prior to the start of the 2011 season, Brian Cashman and Joe Girardi informed Jorge that he would no longer be a catcher and instead would be the everyday DH. Well, against left-handed pitchers, he is batting a whopping .102 with a .185 OBP and a .119 slugging percentage.
What those splits mean is one of his primary benefits of being a switch-hitter is not a benefit anymore because he simply can't hit left-handed pitching and this is where the problem arises.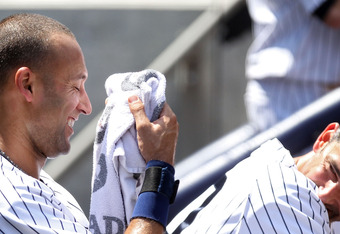 Nick Laham/Getty Images
Do you bench one of the cornerstones of the Yankees for last 12 years who is also making $13.1 million this season and use him solely as a pinch-hitter? Do you simply release him to make room on the roster for an up-and-coming prospect such as Jesus Montero? Do you beg him to simply retire?
The answer all depends on the angle you're coming from. 
As a Jorge Posada fan, I say just bench him and let him go out on his own terms. He may still have something left to contribute as this season winds down.
As a Yankees fan, I say you have to simply release him and eat the remaining salary (if he won't simply retire). Player loyalty is only a priority when it doesn't affect the team's goal, which is winning. Jorge Posada simply isn't the best option for that to happen. Current players such as Andruw Jones or Eric Chavez are better options as the DH. Also, it is time for Jesus Montero to make an appearance and that really can't happen with Jorge on the roster.
I know all pro athletes want to go out on their own terms. However, that isn't always allowed to happen (nor should it be allowed). Sometimes, Father Time intervenes instead. That's what's happening here.
Jorge Posada turned 40 years old today. He's played in over 1,800 games, most of them behind the plate. He had a great career—a career that might result in him having his name enshrined in Cooperstown along with the other great catchers in baseball history such as Yogi Berra, Bill Dickey and Mickey Cochrane.
Posada has made a great deal of money from the Yankees during his career (deservedly), so they don't really owe him anything more (except maybe a job). If he chooses to leave instead of being forced out, it would be better for all parties involved.
The time has come for Jorge Posada. Time for him to step away from the game as a player and instead stay with the Yankees has a coach. Catchers make the best coaches (Mike Scioscia, Joe Torre etc.) and I do believe that this is what is going to happen for Posada. He will be a mentor to young players like Jesus Montero and Austin Romine. I only hope Posada does it sooner than later and of his own free will.