UFC's "The Hammer" Matt Hamill Officially Retires from Mixed Martial Arts
August 8, 2011
As reported by the UFC, Matt Hamill has decided to walk away from the sport of mixed martial arts.
Hamill was defeated this past weekend by Alexander Gustafsson at UFC 133, thus ending his career that started with his performance on season three of The Ultimate Fighter when he was coached by Tito Ortiz.
On the show, Ortiz praised the toughness and wrestling ability of Hamill, calling him a future champion of the sport. While he may have never captured the gold while fighting for the UFC, Hamill did capture the hearts of many fans with his inspirational story of becoming a mixed martial artist despite his hearing impairment.
Hamill competed with some of MMA's best and most talented fighters. He has wins over Tito Ortiz, Keith Jardine and Mark Munoz. At age 34, "The Hammer" retires with a mixed martial arts record of 10-4 and should have nothing to regret.
Hamill stated that he just doesn't have it in him to compete anymore.
Hamill was a dedicated wrestler who was a three-time NCAA Division III national champion and a silver medalist in the Deaflympics.  
An inspiration and hero to all fans of the sport, Hamill has shown that it takes a lot of heart to compete and that you can truly dedicate yourself to a goal in order to achieve it.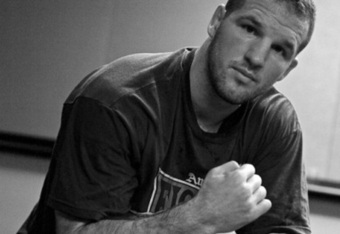 The message from Matt Hamill left on his website, www.matthamill.com, reads as follows:
Today is a sad day for me. After six years and 13 fights in the UFC I'm ready to hang up my gloves and retire from this amazing sport.
The UFC has been extremely good to me and given me an opportunity to make a great living. That exposure has allowed me options outside the Octagon as well. I just don't have it in me to fight anymore and my last two performances have shown that.
I was ready to make this decision after UFC 130 but my friends, family coaches and most importantly my daughter encouraged me to give it one last chance. My career has been plagued by injuries starting with The Ultimate Fighter and disrupted my training ever since.
There hasn't been even one training camp where I've been able to train without training around an injury. I have not been kind to my body and it has nothing left after 28 years of non stop competition. It's time to finally give it a rest.
I can't continue to fight without having the hunger and desire to do so. I can't let my performances reflect on my coaches who are the best in the world and the reason I've made it this far.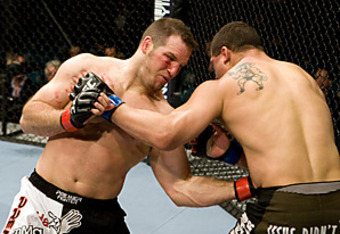 I have fallen in love with the sport of Mixed Martial Arts and I will continue to coach at our gym Mohawk Valley MMA along side my teammates and help the next generation of fighters make it to the UFC. I also look forward to continuing my business ventures outside the UFC including "Hamill" the movie based on my life story set to be released this fall.
I want to thank Dana White, Joe Silva Lorenzo Fertitta and everyone at the UFC for the opportunity to make something special out of my life.
Thank you to Duff, Holmes, Bruno Tostes, Dave Kingwater, Renzo Gracie, Tim Greene, Daniel Gracie, Pat Popolizio, Ron Gross, Doug Blubaugh and Mark Dellagrotte.
Thank you to all my training partners who have shared their blood sweat and tears with me along the way. Thank you to all my friends and family for their unconditional support and most of all thank you to my fans! It's the fans that have made this the truly special experience it has been.
The UFC has become family to me and I hope to be involved with the number one mixed martial arts organization in the world as a coach, ambassador and fan for a long time to come.
-Matt "The Hammer" Hamill