WWE Releases Melina, Gail Kim, D.H. Smith, Chris Masters, and Vladimir Kozlov
August 5, 2011
Chris B. noted earlier that Gail Kim has been released by WWE (which she claims to have requested), and that has turned out to be part of a bigger purge of undercard wrestlers released today.  Let's take a look at who they are and where they stood before their firings:
Melina being released shouldn't necessarily come as a surprise, but she's had so much heat in the locker room for so long that the surprise may be that it took so long. 
A pretty solid wrestler and personality who had made it to one of the late rounds of an early Tough Enough, she eventually and signed a developmental deal after a makeover. 
While in then developmental territory Ohio Valley Wrestling, she broke out as part of MNM with Johnny Nitro (long-time boyfriend John Hennigan, known now as John Morrison) and Joey Matthews/Mercury (Adam Birch, now a trainer in current developmental territory Florida Championship Wrestling).  When they got called up to the main roster on Smackdown, they immediately won the tag team titles.
While Mercury was the glue holding the team together in the ring, they were a tremendous act overall.  Melina was great as the screaming valet.
Their entrance was tremendous, with a red carpet being rolled out as "paparazzi" followed them, Mercury and Nitro strutting with the belts hanging off their pants at an odd angle, and Melina doing a full split on the ring apron.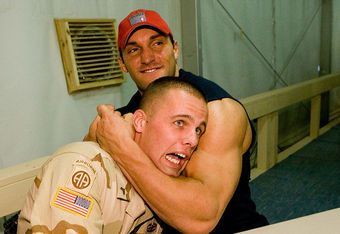 The team was eventually split up due to Mercury's drug problems, which he has since gotten a handle on.  Melina and Nitro eventually split on-screen when he became John Morrison.  She then became a mainstay in the women's/diva's division. 
She became a very solid worker, with Bret Hart infamously calling her the best in the world at one point.  While she did well at her job, she was hated backstage for her attitude as well as her affair with Batista. 
With Morrison being so well-liked, that made things even worse.  It also hurt his push, as apparently Vince McMahon felt that a real man would've gotten in a fight with Batista.  Really. 
Lately she's acted weirder and weirder on Twitter and YouTube and it seemed like her time was about to be up, especially as she kept losing on TV, including in one match where she was never named.
Gail Kim, as I said earlier, is saying she quit.  She is also one of the more talented women in the company, but hadn't been used well at all since returning from TNA, where she had a well-regarded feud with Awesome Kong/Kharma.  She says she quit on Monday after she eliminated herself in a battle royal as an act of defiance.
D.H. Smith is the son of the late "British Bulldog" Davey Boy Smith, grandson of Stu Hart, and nephew of Bret Hart.  He's a talented in-ring worker, but lacks color.  He's been treading water for much of his run, which started with a push that reportedly only happened so an old steroid test failure could be dug up and used as proof that WWE would suspend a rising star. 
With long-time best friend Tyson Kidd and cousin/Kidd's girlfriend Natalya (Natalie Neidhart), he got his one real push as The Hart Dynasty.  They got a decent push last year as tag champions and on the sidelines of Bret's storylines before being split up for no apparent reason.  He's been invisible since then.
Chris Masters is a sad case.  Called up too early because of his physique.  Reportedly developed severe emotional problems coming off steroids.  Was mocked on TV for shrinking.  Eventually got his physique back, had good hair transplants put in to cover up his prematurely balding head (guess why that happened), and became a great, respected worker who couldn't get past working random matches on Superstars. 
Superstars lost its U.S. TV deal a few months ago, which probably hurt him.  He did everything they ever asked for him and all they did was chew him up and spit him out.
Finally, Vladimir Kozlov was the last one on today's firing list.  Real name Oleg Prudius, he was brought to the company by Jerry Jarrett when the latter had a falling out with his son Jeff and left TNA.  Kozlov is a legit martial artist who did well at Sambo, the incredibly cool Russian martial art. 
He never got especially good in the ring, though he had some good matches here and there, most notably a match on Smackdown with Festus that was very well regarded.  Lately, he's been Santino Marella's comedy sidekick in an entertaining role.  His firing is neither a surprise nor expected, and his absence will be explained on tonight's Smackdown.