Costly Promotion: Brett Lawrie Is Up and Travis Snider Is Demoted
August 5, 2011
Al Messerschmidt/Getty Images
Well Blue Jays fans, Brett Lawrie will make his MLB and Blue Jays debut tomorrow.
The 21-year old third baseman, a native of Canada has been tearing up AAA Las Vegas this year. He was hitting .353/.415/.661 with 18 home runs and 24 doubles in only 69 games.
Keep in mind, Lawrie was hitting in the hitter-friendly Pacific Coast League, though. His defense at third has shown signs of improvement and last week I saw him make a few good plays at third.
A lot of pressure has been put on Lawrie, especially since Jayson Nix and Edwin Encarnacion (earlier in the year) were playing horrible defense at third and were hitting below .200 combined.
There has been a lot of expectations on this kid (am I allowed to call him kid, he is four days older than me?) and please do not expect him to be the savior. I expect him to hit seventh in the lineup and play a decent third base.
I want to make it clear that I am absolutely ecstatic to see him get the call and wish him the best of luck. I am glad the Blue Jays did not rush him, as ironically, the demoted player in this transaction was rushed to the big leagues.
On the flip side, the promotion cost Travis Snider his job. Snider has been demoted back to AAA nearly a month after his promotion.
It's disappointing to see him get such a short leash, as I thought he would have been here until the end of the season so the Blue Jays get a better look at him. Snider has not played more than two months in the big leagues without being disrupted by a demotion or an injury.
Now as much as Snider has struggled lately, Eric Thames has been as bad lately, though his great start masks his recent struggles. Travis Snider has been 6 for his last 46 but Thames is currently 8 for his last 46. Since the All Star game, Eric Thames has been hitting .234/.271/.406.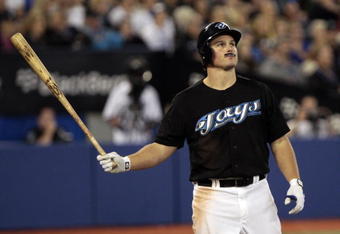 Abelimages/Getty Images
Since the second call up of Thames, many have written off Snider as a bust, even though many scouts still think he does have 5-tool potential. Snider has clearly shown us in his speed, range and arm and a glimpse of his fourth tool, power.
Snider has had a rough ride in the major leagues. People must remember that Snider was drafted in 2006 out of high school, not college. If he had decided to go to college, he would have been drafted in 2009, that's a year after Eric Thames (drafted in 2008).
If Snider would have been drafted in 2009, he would have probably made his major league debut in 2011, thus it is normal to see him struggling. To make matters worse, Snider's route to the MLB has not been easy.
He was promoted to the big leagues one year early, where he struggled and was yo-yoed between Las Vegas and Toronto. The following year, he got off to a cold start but just as he was heating up, he injured his wrist and was placed on the disabled list for two and a half months.
Upon his return, Cito Gaston wisely decided to platoon him with current Reds fourth outfielder Fred Lewis. Did I mention he was the lead off hitter when Lewis was not playing?
Finally, in September, Snider started getting regular playing time and thus, started heating up, though the hitting barrage was cut short as the season came to an end. After such a tumultuous season, Snider managed to play in 82 games, and hit 14 home runs (evidence of power).
It is imperative that Snider gets regular playing time for the rest of the season so the Blue Jays can better understand if Snider is truly going to be a great hitter or just a AAAA player.
It is unfair to pull the plug on the guy after one month. After all, Snider has always been a slow starter, as it took him a month and a half to finally heat up in 2010. 
Eric Thames got off to a great start in his second go round with big league team. However, Thames has cooled off since the All-Star game and now has been dropped in the lineup since Colby Rasmus was acquired.
Thames features two tools at best, power and hitting for average. He is not a great defensively, possess a weak arm and is the slowest outfielder of five the Blue Jays have. Thames has what many scouts would say as 'holes' in his swing as he strikes out too many times and does not compensate the fact by drawing a steady diet of walks.
I was annoyed by the demotion of Snider, but the reasoning was even more hysterical. Alex Anthopoulos suggested that the demotion was going to be in between Thames or Snider, and if in 10 days, Thames continued to struggle, he would be demoted to AAA Las Vegas and Snider will be back up.
So why could not the Blue Jays wait one week to make a decision and prevent Snider form being demoted in the first place? It's not like the team is competing for a playoff spot and is dire need of a third baseman.
Jose Bautista has done a great job filling in at third and it would have given the Blue Jays a week to observe Thames' play to determine if he or Snider merits a demotion. Was it because Anthopoulos wanted Lawrie to make his debut on the road?
Anthopoulos has done some great things while he has been the general manager of the Toronto Blue Jays (click here for evidence), but this move is a real head-scratcher. If he really wanted Lawrie to be up, he should have demoted Thames instead of Snider. The Blue Jays are running out of time on Snider, as he will be out of options next year.
The Blue Jays have plenty of time to determine what Thames might become, though many scouts are not sold on him, too. I would not be surprised if the Blue Jays trade Snider in the off-season, though it would not be the wisest option considering he is at his lowest value.
Feel free to chime in and share your thoughts, I can be reached and followed at @ShakeelSalamath on twitter.