MLB Power Rankings: How the MLB Trade Deadline Affects the NL Central
August 2, 2011
Doug Pensinger/Getty Images
OK, this is being typed up quickly and with error I must admit. It's a long article and I have other articles to churn out. I don't get paid for this so you aren't getting the flashy bits (this means you, forum Nazis).
Are in a win-now mode so any move they do has to be a plus for this year. I disagree with a lot of folks, especially writers, because let's be honest here: There is a World Series in 2011 to be played out, and I am not worried about 2012 until we get there.
I am also not a fan of getting rid of good prospects, but then you have to look at how many top prospects equal their weight in paperclips (and by that I mean Brett Wallace). Let me work backwards here I guess:
It seems as if the city of St. Louis was going to crucify Tony LaRussa for running Ryan Theriot out to the field every day to play shortstop, when he makes constant errors.
However, let's put this in perspective once again: He has pleasant company when it comes to shortstops that are errant fielders. In the company of errant fielders (bottom 10 roughly in MLB) are Elvis Andrus (TEX), Hanley Ramirez (FLA)  and Starlin Castro (CHC). Nobody could argue that they are top-tier hitting shortstops. They also stink on the field; it's all about sacrificing offense for defense.
Jared Wickerham/Getty Images
Some fans don't like these guys, but I would take any of the three if they keep producing at the level they are. As far as overall hitting, Theriot isn't bad. He is overall a talented slap-hitting hitter with zero power.
So, lets take a look, shall well? Cardinals want to shore up that infield defense and sacrifice a little bit of that offense in Furcal. Furcal is so low on the list it's unreal in terms of errors (also because of games played). But he has been hitting hot as of late so John Mozeliak and LaRussa aren't totally blind to the defensive woes of the infield and decided to trade for a guy who may stay hot in the second half of the season pending any injuries. 
Rasmus Trade
I have stated this numerous times and I will try to keep it short: He doesn't fit the current scheme. Perhaps there was a plan to move Skip Schumaker to platoon in the field and move Theriot to second with Furcal at shortstop (or any name moved around for that matter). Skip plays right field like Willie Mays (OK, not quite but still, he is a very good fielder with plus-numbers and a meh bat).
Bottom line, the kid couldn't get along with the boss, and natural selection of the workplace dictates: If you don't get along, you get out. Numerous writers and analysts quoted prior to the trade that his trade value was on the decline and it would be hard to get top dollar for the kid. It appears that GM John Mo wanted to get many holes filled with the trade of Rasmus and since many teams were in the race, not a lot of GMs were about to give up a fire sale of players, especially in one trade. Trading within the division is also a taboo usually.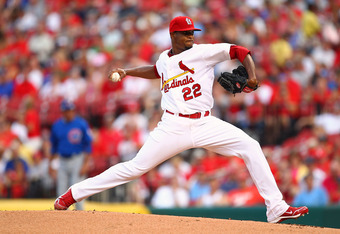 Dilip Vishwanat/Getty Images
Toronto seemed to be the only fit where St. Louis could trade out 20.00 ERA of the bullpen and get four in return. Kyle Lohse and Jake Westbrook are Jekyll-and-Hyde-type pitchers this season, mainly due to the declining defense of the Cardinals middle infield. Adding a better bullpen, a new shortstop and a really decent middle-of-the-road starter in Edwin Jackson (who hovers around the sub-four ERA, mind you, and tends to be more of a K pitcher) will help these pitch-to-contact-type pitchers and perhaps give them better ERAs and records over the course of the season.
This also allows the flexibility to use K-Mac and Rzep in and out of the rotation but according to fangraphs.com, Rzep has better numbers starting on the mound in about the same sample size.
I give the grade as of right now a B+. What I would like to have seen was a more offensive shortstop with a little more umph that could or could not be Orlando Cabrera. People wanted Bartlett but the sad thing is Bartlett is another Theriot. There weren't a lot of shortstops on the block to begin with, and the ones that were had bad defensive numbers ala Theriot once again. Hanley Ramirez would have been overpaid for what the Cards didn't need.
Wow. What a season, no?
Really just a collection of guys and a decent rotation bustin' hump like the blue-collar old-school USA types. I like them a lot. They're finally showing that they want to win now as well.
At the end of the deadline, the Pirates traded for first baseman Derrek Lee. Why? I have no idea. He is not a huge improvement over Lyle Overbay by any stretch of the imagination.
The big trade for the Pirates was Ryan Ludwick. Ludwick is a plus-defender and helps give the weak Pirates outfield depth plus a potential impact power bat. PNC is a bandbox hitters' park and as we all know, PETCO Park is where good hitters go to die.
Can he return to his 2008 numbers? Not likely, as he's injury-prone and getting older but does provide options. I give the Pirates a C-. They really should have gone after some better quality bats and perhaps some depth at pitching. Their starting rotation will stand the true test of time here.
They got 10 players in return for losing Pence, Bourn and Keppinger. If this works out, it will look genius in the future. It is clear they are not worried about the 2011 season but are jockeying for position years later. I give this a solid C+ because of the unknowns in the prospects they get in return, but just from the sheer amount, couldn't there be someone they can use later? Time will tell.
Felipe Lopez and K-Rod. Naturally anyone who gets K-Rod is bolstering a bullpen with fire. With John Axford on the mound, you can't ask for a better one-two combo. However, he's a rental. It's clear that the Brew Crew are in win-now mode as well with Fielder taking off for free agency next season and he will command more money than I want to talk about.
Brewers aren't exactly running away with the division, however. So what was their answer? Felipe Lopez and Jerry Hairston. Lopez provides depth at shortstop, third base, second base and first base while Hairston will start because Counsell is beyond his years and can't seem to find the ball anymore.
These moves are keeping their heads above water to hold onto the division lead rather than run away with it because Weeks is on the DL. When Weeks returns from the DL, both of these names are irrelevant once again and just provide middle infield depth. I would have thought with Carlos Gomez on the DL they would have traded for Beltran, but I was mistaken as they perhaps didn't have the chips.
The only move that matters here for the Brews is the trade for -Rod. Being that it's a win-now move, it was just. However, because the offense is ailing overall and can't seem to stay healthy, I say they fall out of the division lead very soon, and I feel they could have done better. Trading for K-Rod was genius but their other moves were standard.
Since they are in win-now mode, I call their trade deadline moves D+.
Of all the teams in the NL Central, the Cards made the best strides that made sense to improve the team. The rest did what they could to make par for the course with the exception of K-Rod. The Cards made the best sense and filled the most holes they needed with quality athletes.
The only question for the Birds is Octavio Dotel's aging arm. Furcal most likely won't be back so this is an all-in move that looks great if it works. If it fails, Mozeliak will feel the fire.
The Reds did nothing and neither did the Cubs aside from getting rid of the under achiever Fukodome. The Cubs are shedding salary to begin rebuilding next year and the Reds are really in stand-pat mode even though they lost Johnny Gomes. It's clear who should hands down run with this division and I think you know who they are.
Even though I do say that with just a little bias.